The kids are out of school for the summer so now is the time to plan that perfect family vacation in Vermont.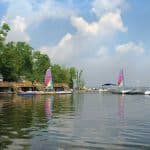 The Tyler Place Family Resort, one of the top all-inclusive family destination resorts in the U.S. is located in Swanton, VT. Unspoiled and undeveloped for over 80 years, the family owned resort sits on 165 acres and a mile long private shore line, which makes it the perfect place to relax and reconnect with your family.
There are plenty of family activities to choose from: Rent some bikes and go for a ride, enjoy the zip lines and trampolines, or get off the beaten path and go on nature walk with the whole family. Whatever it is you want do to The Tyler Place has something for everyone during your entire stay.
There are also plenty of children's programs to keep
the kids occupied if you want to have some time to yourself. They have something for all age groups to keep them busy for the day so you can go and enjoy some of the adult activities the resort has to offer.  Play some tennis, grab a kayak and relax on the lake or just enjoy some spa time.   You can even enjoy a romantic dinner while the camp counselors feed the kids an early dinner and then they are off and running with the friends that they have made.
With everything that the resort has to offer there is no need for you to ever leave the grounds.  Call 802-868-4000 or visit The Tyler Place Family Resort for more details.
Do you like Stowe?
Smugglers Notch Resort , located in Stowe, VT, is America's Fun Family Resort.  Their three Family Vacation Packages, are designed to offer you the complete family vacation experience.  The FamilyFest Vacation Package is the most popular for kids and the Adventure Connection Vacation Package maximizes your ultimate family vacation. Enjoy everything from their waterpark, climbing adventures, flyboarding and so much more.  There are also plenty of children activities to keep them busy if you want to enjoy a day with your spouse. There are many adult activities to choose from: Try your hand at disc golf, go on a nice hike or just kick back and relax in one of their hot tubs.
After a day in the sun everyone is bound to be hungry. Smugglers Notch has many restaurants to choose from so that you do not even leave the resort.
Whatever you choose to do on your vacation at Smugglers Notch, you are sure to leave with many happy memories. Call 800-521-0536 or Visit Smugglers Notch Resort for more details.
Next we head down to Central Vermont to see what Okemo Mountain Resort has to offer for your family vacation.
Okemo Mountain Resort, a family operated, four season resort,
located in the town of Ludlow, is another perfect spot for your family vacation.  Check out their Adventure Zone Package which includes a one-day Adventure Zone wristband per person, access to the Spring House Pool & Fitness Center and coupons for 20% off at Coleman Brook Tavern, Willie Dunn's Grille and the Okemo Valley Golf Club Pro shop.
There are many other family activities to enjoy during your stay. Try your hand at Ziplining or go mountain biking in their new Evolution Bike Park. How about learning how to ride a segway?  Whatever activity you choose to enjoy, you and your family are sure to go back home with some wonderful family memories.  Call 800-78-OKEMO or visit Okemo Mountain Resort for more details.
Last but not least we head on down to Southern Vermont and see what Stratton Mountain Resort has to entice you.
Stratton Mountain Resort is located in the town of Stratton and is right in sight of southern Vermont's highest peak. There are plenty of things for the entire family to do while on your stay there.  Try the Summer Cross Fun Pass,  which includes a Stand-up Paddle rental, Stratton Training & Fitness Center Admission or a beautiful Gondola ride to the top of the mountain. If you are feeling a little more adventurous, the Mountain Park Adventure Package is the one for you.
This package includes a one day pass to Bromley
Mountain's  Sun Mountain Adventure Park, located in Peru, which is just a short drive away. With your free, one day pass you can enjoy North America's first triple-tracked Alpine Slide, Space Bikes or check out the Giant Swing. These are just a few of things you will enjoy on your adventurous day.
When you get back from your day at Bromley, head out to the Village for a bite to eat.  Stratton Mountain has many restaurants to choose from right here at the resort, from fine dining to pizza.  I am sure you will be able to find something for the whole family to enjoy. So what are you waiting for?  Call 1-800-STRATTON or visit Stratton Mountain Resort for more details.
Well that wraps up our quest to find the perfect family vacation spot for you in Vermont.
Where do you like to bring your family when you stay in Vermont?