Ah, Vermont during Foliage. Think picturesque landscapes, trees dripping with colors of burnt orange, golden yellow, and ruby red. Now, imagine soaring over these landscapes, feeling the rush of the cool autumn air on your face, and experiencing Vermont's famous Fall Foliage in the most thrilling way possible. Welcome to Bromley Resort's Mountain Adventure Park - where your leaf-peeping endeavors get the adrenaline injection they didn't know they needed.
Ride the Slide:
Ever heard of an Alpine Slide? Bromley is not just any Alpine Slide; it's North America's first triple-tracked one and still remains among the world's longest. That's a whopping 2/3 mile of exhilarating downhill adventure. Hold on tight, feel the rush, and let the colors of fall blur by.
Soar & Explore with the Scenic Chairlift Ride:
When people think chairlifts, snow-covered mountains and ski trails often come to mind. But during Foliage at Bromley Resort, the chairlift offers an entirely unique autumn experience. Open daily until October 9th, the Scenic Chairlift Ride transforms your leaf-peeping adventures into something straight out of a dream.
Why it's a Must-Do:
Elevate Your View: Perched atop Bromley's south-facing slopes, you're treated to panoramas that are nothing short of breathtaking. As the chairlift ascends, the tapestry of fall unfolds below – sun-drenched hillsides awash with fiery reds, deep oranges, and shimmering golds. Talk about some primo-social media opportunities!
Peak Adventures Await: Once you've made your way to the mountain's summit, it's not just the views that await. Unleash your inner explorer and check out the surrounding trails and hikes at your fingertips.
Picnic in Paradise: And for those moments when you want to pause and truly soak in the beauty, what better way than with an afternoon picnic? Find your perfect spot atop the mountain, lay out your spread, and bask in the glory of a Vermont fall. Imagine biting into a crisp sandwich or sipping on fresh apple cider with the entire valley unfurling beneath you. [Locals-tip: Make your picnic gourmet and hit up the stunning JJ Hapgoods just a few miles down the road.]
All Ages Welcome: Whether you're bringing along the little adventurers (as young as 3 years) or the seasoned leaf-peepers, there's something for everyone. Kids under 48" can ride free with a ticketed adult, ensuring the whole family gets to partake in this majestic journey.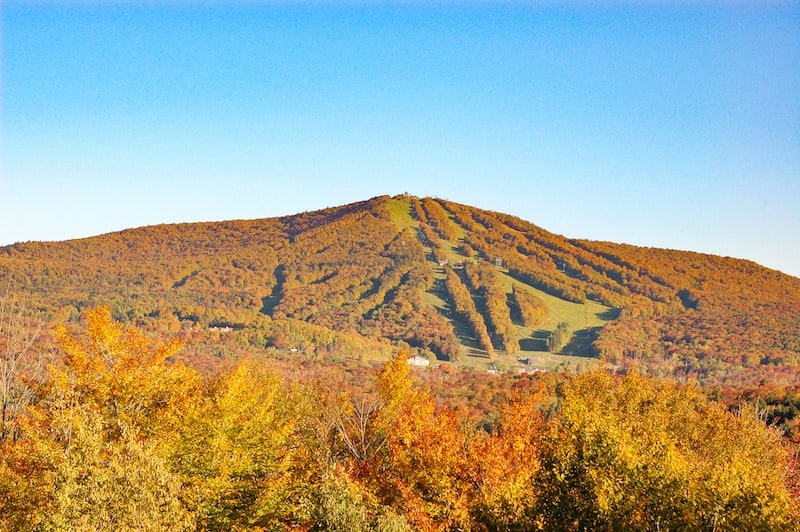 So, if you're looking to experience Vermont's Fall Foliage in its full, glorious spectrum, Bromley Resort's Scenic Chairlift Ride is an adventure not to be missed. It's more than just a ride; it's a journey through the very heart of autumn.
But wait, there's more!
Get Swingin':
Why admire the trees from the ground, when you can swing through them at nearly 40 mph? The Giant Swing stands as tall as a four-story building and offers views that'll make you gasp in awe (or maybe that's just the 3G's of gravitational force).
The Mini Golf Glow-Up:
Recently revamped and better than ever, challenge your crew to a round of Mini Golf amidst the backdrop of Vermont's finest autumnal display.
Climb & Bounce:
For those who like their feet off the ground, Bromley's Climbing Wall and Trampoline Thing promise thrills of varying heights. Whether you're scaling new heights on the wall or bouncing your heart out, you're in for a treat.
Pedal into Space & Slide Down in Style:
With Space Bikes and the Spider Climb, defy gravity in ways you never imagined. Pedal upside down or scale a 30-foot inflatable slide - it's all in a day's adventure.
Zip through Autumn on the Sun Mountain Flyer:
New England's longest ZipRider, the Sun Mountain Flyer, is not just another zipline. It's an experience. Zip side-by-side with a friend, feel the rush of 50 MPH, and let Vermont's autumn splendor unfold beneath you.
Stay in Style at Bromley Village:
After a day of non-stop action, retreat to Bromley Village. Slopeside lodging, tastefully decorated condos, and a bunch of amenities await. Plus, if you're booking this season, there's a 15% discount with code BVSUMMER23. And guess what? Four FREE Scenic Lift Tickets are on the house!
Ready for the Ultimate Fall Foliage Adventure?
Look no further than Bromley Resort in Southern Vermont. Grab your tickets, pack that adventurous spirit, and let's turn leaf-peeping into an epic adventure.
Pro tip: Before heading out, call 802-824-5522 to check the schedule of the Scenic Chairlift and other attractions.