Publick houses have traditionally offered hospitality, food, and drink to travelers and locals alike.  The Burke Publick House is that and more.  Located in the heart of the Northeast Kingdom in East Burke, Vermont, the Burke Publick House bills itself as "a mountain gastropub."  Inspired by his passion for craft beer, owner Curt Cuccia had a vision for a great gastropub in his community. (Cuccia is also the owner of Covered Bridge Craft Brewery.) From this vision, the Burke Publick House was born.  Chef Kyle Phillips, also a native of the Northeast Kingdom, is as at home on a snowboard as he is in the kitchen.  His food is honest, utilizes local ingredients whenever possible, and is hearty enough to stand up to the many beer and craft cocktail selections available.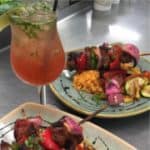 The Burke Publick House is the perfect stop to rest and refuel when visiting the Northeast Kingdom this fall.  Whether you are hiking, biking, just enjoying the fall foliage, or taking in some of the local fall festivals in the area, drop by the Burke Publick House for old-fashioned hospitality plus excellent food and drink. Open Tuesday through Sunday for dinner, Saturday and Sunday for lunch, and the bar is open late on Friday and Saturday.
For more information on fall festivals in the Northeast Kingdom, check the Vermont.com Fall Festivals  page or the Calendar of Events.
More information:
Burke Publick House
Fall Festivals