We know that your time is precious. Between work, kids, and all around life, it can be hard to fit everything into a tight schedule. But Fall Foliage in Vermont is something that needs to be experienced now and not pushed back to 'next time'. Keeping in mind that you have less time than an average Vermont grow season [it's very short] – we're always on the lookout for activities, events, and places that pack as much into your experience as possible. Enter Green Mountain Orchards.
As perhaps the most all-encompassing Fall Foliage experience that we've encountered, Green Mountain Orchards has it all. Outdoor, family experience? Check. Amazing views and vistas? Check? Pumpkins, Apples and Cider? Check, check and check. With horse rides, a country store, pick-your-own, and more delicious pies, crumbles and buckles than you can imagine, Green Mountain Orchards has got all the bases covered and then some.
After our recent visit, we put together our top 6 reasons why Green Mountain Orchards is your one stop Vermont fall foliage experience.
1. Central, Idyllic Location
Conveniently located just a short drive from I-91, Green Mountain Orchards is easy to get to. Once you're here however, you may never want to leave. With over 800 acres of rolling hills, wide open meadows, and spectacular mountain and valley views, this place is as close to perfection as we may ever find. Breathtaking no matter what time of year, it is particularly stunning during the foliage season. The view of the surrounding valley explodes in vibrant colors and provides the perfect setting to pause and take it all in.
2. All About The Family
Going on its 100th year of continuous operation, the Darrow family has been stewards of this amazing land for four generations – and we can't imagine a more perfect family to be at the helm. Incredibly welcoming and generous, the Darrow's make you feel as though you were picking apples in your own back yard. Even though their primary role at the orchard is to grow apples and blueberries for the wholesale market (you undoubtedly have them to thank for enjoying such amazing fruits in the middle of the winter), they go far and beyond to make sure that your experience is unforgettably warm and special, and can not wait to welcome you back.
3. Horse-Drawn Wagon Rides
While you certainly wont be breaking any track records – although these guys do get moving pretty fast – you will be blown away by the sheer size and power of these gorgeous creatures. Getting a proper tour of the orchard while riding in a horse-drawn hay wagon, is not only a great way to learn more about the history and behind the scenes workings of the business, but also to get a glimpse of just how far the property reaches.
4. Blueberry Buckle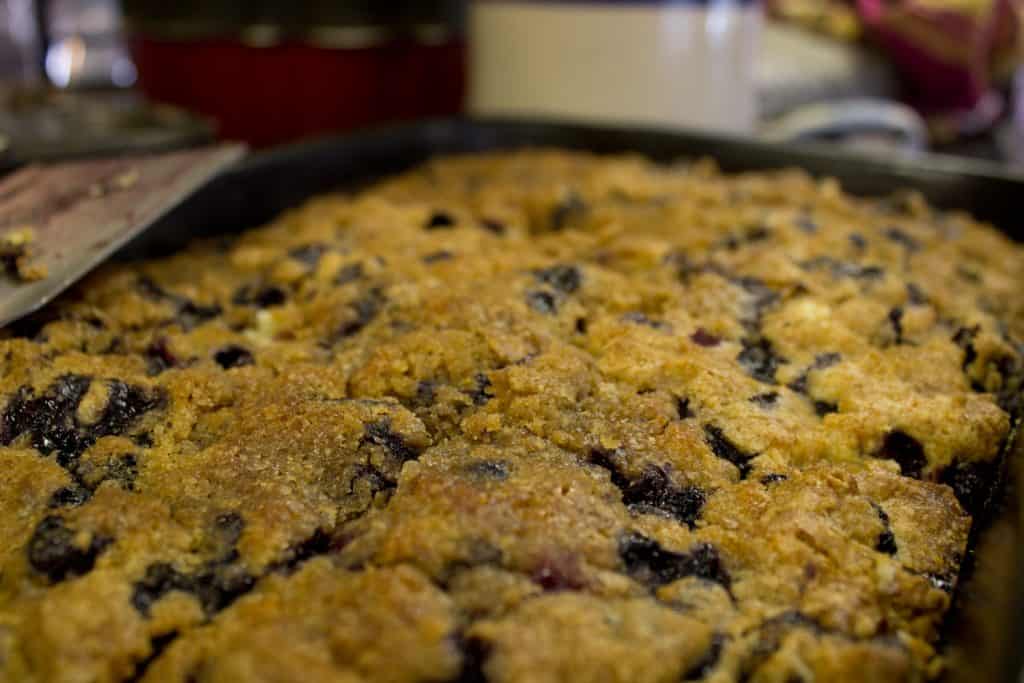 Alright, we realize that Blueberry Buckle may not be as synonymous with fall and an orchard as say, Apple Pie (which is beyond delicious here), but this dessert/breakfast/snack/food-of-the-gods is out of this world amazing. Buttery, sweet, tart, crunchy, flakey, gooey, and all the other words that describe this dish could never do it justice – so just please take our word – it's worth the trip alone!
5. Cider ( and Donuts!)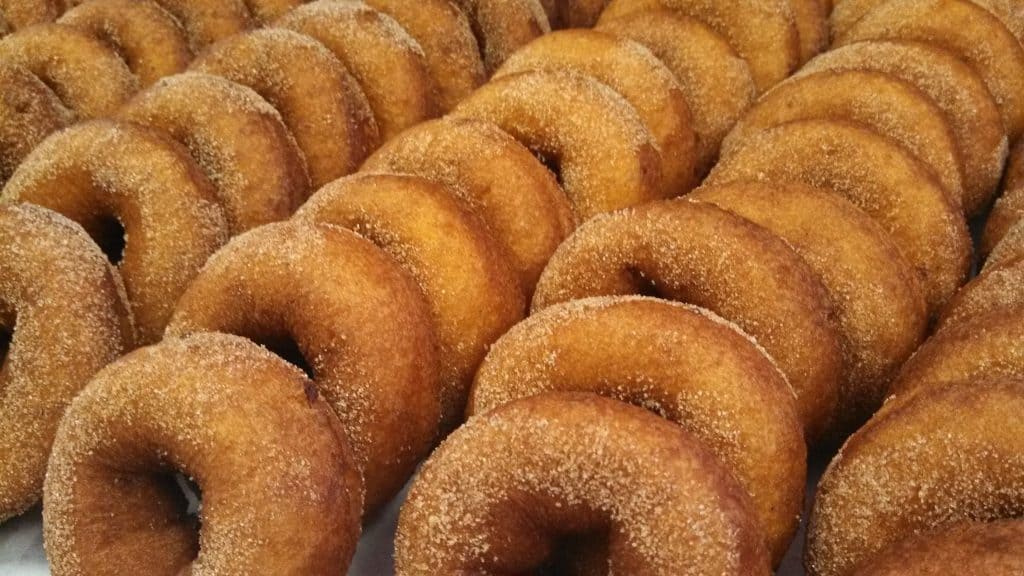 With a do-it-yourself press on premise, you just can't get a fresher fall taste than that of Green Mountain Orchards Cider. Not in the mood for manual labor, but still after the flavor? Freshly made jugs are available in the store and just begging to be taken home and heated up [/added rum to]. And good god, do not forget the donuts. Ridiculous.
6. Toby
And finally Toby! What a great life this happy pup has. Spending all day outdoors and in the fields going from family to family, assisting in apple picking, and receiving his fair share of 'dropped' treats for his efforts. Makes us seriously question our choices in life and how we can be more like Toby.
—
Green Mountain Orchards is located at 130 West Hill Road in Putney. Open daily from 8AM – 6PM, you can pick your own apples, grab a pumpkin, find a Christmas tree, make some cider, taste a pie, harvest the blueberries, go for a wagon ride…you get the idea, Green Mountain Orchards is pretty darn cool.