Now is the perfect time to plan a getaway to Vermont because fall is a very special time of year here. The days are pleasant, the nights delightfully cool, and the scenery breathtaking. You can't go wrong choosing Holiday Inn Club Vacations Mount Ascutney Resort as your base of operations. Situated at the foot of Mt. Ascutney in Brownsville, VT, the resort is an outdoor lover's paradise. Located just steps from the hiking trails of Mt. Ascutney State Park, your trail adventure awaits. You can also bike the backroads of Windsor County and take in the fall color, kayak local rivers or lakes, play some golf, or shop in nearby Quechee or Windsor. Whether you're a couple, a family or a larger group, the resort offers accommodations that are a perfect fit. Choose from standard double rooms, to 1-3 bedroom villas with fully equipped kitchens.
In addition, the resort also offers a huge number of amenities on site. You'll find indoor and outdoor pools, tennis and volleyball courts, racquetball, a fitness center, and a movie theater, to name a few. If you've got kids, not only can they access all these amenities, there is also an arcade and playground to keep them amused. At the end of the day, enjoy Vermont's freshest and tastiest offerings at the resort's own restaurant, The Maple Kitchen.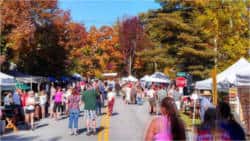 A great hotel with abundant amenities, fabulous scenery (check out Vermont.com's Fall Foliage page), and extensive outdoor activities – that might be enough for a memorable getaway, but fall in Vermont offers even more. Fall is the season for a modern take on the traditional harvest festival, and Vermont has embraced this concept wholeheartedly. Wherever you are in Vermont during September and October, you will find festivals celebrating everything from local foods to the arts to music and antiques. (For a full listing of fall festivals, go to Vermont.com's Fall Festivals page.) Here are a few of the festivals near Mt. Ascutney Resort you may want to take in.
Plymouth Folk & Blues Festival (Plymouth – 40 minute drive) 8/31-9/1 – A lively two-day festival featuring Vermont and internationally-known musicians of folk and blues music. Kids' activities also available.
2019 Peru Fair (Peru – 1 hour drive) 9/28 – Fun for everyone at this annual fair! Food, entertainment, plus arts & crafts vendors. Fun for the whole family!
2019 Killington Brewfest (Killington – 45 minute drive) 9/27-28 – Sample over 80 of the finest craft beers in the region while enjoying fall foliage, fabulous food, and live music. Over 21 only.
Vermont Sheep & Wool Festival  (Tunbridge – 1 hour drive) 10/5-6 – For something completely different, head to the Tunbridge Fairgrounds for the Sheep & Wool Festival. In addition to handspinning and fiber crafting supplies, there will be demonstrations and workshops to educate and entertain.
Fall Foliage Art in the Park (Rutland – 1 hour drive) 10/12-13 – For art lovers, don't' miss the 58th Annual Art in the Park Fine Art & Craft Festival in Main Street Park.
The Harpoon Riverbend Taps and Beer Garden Octoberfest (Windsor – 15 minute drive) 10/12-13 – Eat, drink and be merry at this annual event. Enjoy a selection of Harpoon beers, live music and special menu options.
Harvest Weekend at Billings Farm (Woodstock – 30 minute drive) 10/12-13 – Take part in a traditional Vermont harvest festival with activities like a husking bee and barn dance, cider pressing and much more. A perfect choice for the whole family.
For even more fall festivals and other local events, consult Vermont.com's Calendar of Events.
For more information:
Holiday Inn Club Vacations Mount Ascutney Resort
8/21/19