Have you ever dreamt of playing detective in a stunning vintage mansion, surrounded by the beautiful mountains and valleys of Vermont? Put on your detective cap (and maybe even a flapper dress or pirate outfit!) because The Wilburton Destination Resort has an unmissable treat in store for you!
From November 10th to 12th, 2023, step into the spellbinding world of The Case of the Bridesmaid's Revenge, the 10th annual Murder Mystery Weekend at the Wilburton. If you've got a penchant for intrigue and a thirst for adventure, this is a Vermont getaway that you simply cannot pass up.
The Scene of the Crime
Nestled atop a rolling hill with far-sweeping views of the valley beyond, The Wilburton Mansion isn't just your average lodging spot. With its rich history and architecture reminiscent of a 1902 Clue board, this luxe manor is straight out of an Agatha Christie novel. Whether you're soaking in the ambiance of its romantic guest rooms or sharing laughs with friends in the spacious, dog-friendly vacation homes, every corner whispers tales from the past, while enjoying all the modern conveniences and amenities befitting such a gorgeous locale.
A Weekend to Remember
Kick off your weekend by rubbing elbows with the "suspects" at a wine and cheese reception. Will the wine help loosen some secretive lips? Or perhaps the morning's country inn breakfast, featuring divine pancakes and, of course, authentic VT maple syrup, will energize your detective senses.
If the mansion's allure doesn't make you want to explore every hidden nook and cranny, then the guided sculpture tour at The Museum of the Creative Process certainly will. And as the sun sets, get ready for the main event – The Case of the Bridesmaid's Revenge dinner party. While indulging in a sumptuous feast, piece together clues, navigate through interpersonal intricacies, and see if you can crack the case wide open!
The Mystery Behind the Murder
The narrative is inspired by the real-life escapades of daring debutante, Louise Gilbert. Louise, tired of the monotony, yearns for a life less ordinary. But with a looming wedding, a groom gone AWOL, and possible bootleggers or pirates (yes, pirates!) in the mix, there's much more to the story than meets the eye. Will you uncover the truth?
Dress to Impress
Now, this isn't just about playing detective. It's also about doing it with style! Whether you're channeling your inner Hercule Poirot, dapper flapper, swashbuckling pirate, or wedding guest, make sure you're dressed to kill (pun intended). A professional photographer will be on the scene, capturing your most sleuth-y moments. And if you really nail your look, you might just snag a prize for best-dressed guest or group!
Ready to Dive into the Mystery?
For a unique Vermont experience that combines the thrill of a mystery with the charm of a boutique getaway, [CLICK HERE TO RESERVE]. Questions? The Levis family are the most welcoming and hospitable innkeepers we've ever met - just a phone call away at (802) 362-2500.
This November, make memories, solve a murder, and immerse yourself in the luxurious Vermont vibe at The Wilburton's Murder Mystery Weekend. After all, some secrets are just waiting to be discovered!
Ah, Vermont during Foliage. Think picturesque landscapes, trees dripping with colors of burnt orange, golden yellow, and ruby red. Now, imagine soaring over these landscapes, feeling the rush of the cool autumn air on your face, and experiencing Vermont's famous Fall Foliage in the most thrilling way possible. Welcome to Bromley Resort's Mountain Adventure Park - where your leaf-peeping endeavors get the adrenaline injection they didn't know they needed.
Ride the Slide:
Ever heard of an Alpine Slide? Bromley is not just any Alpine Slide; it's North America's first triple-tracked one and still remains among the world's longest. That's a whopping 2/3 mile of exhilarating downhill adventure. Hold on tight, feel the rush, and let the colors of fall blur by.
Soar & Explore with the Scenic Chairlift Ride:
When people think chairlifts, snow-covered mountains and ski trails often come to mind. But during Foliage at Bromley Resort, the chairlift offers an entirely unique autumn experience. Open daily until October 9th, the Scenic Chairlift Ride transforms your leaf-peeping adventures into something straight out of a dream.
Why it's a Must-Do:
Elevate Your View: Perched atop Bromley's south-facing slopes, you're treated to panoramas that are nothing short of breathtaking. As the chairlift ascends, the tapestry of fall unfolds below – sun-drenched hillsides awash with fiery reds, deep oranges, and shimmering golds. Talk about some primo-social media opportunities!
Peak Adventures Await: Once you've made your way to the mountain's summit, it's not just the views that await. Unleash your inner explorer and check out the surrounding trails and hikes at your fingertips.
Picnic in Paradise: And for those moments when you want to pause and truly soak in the beauty, what better way than with an afternoon picnic? Find your perfect spot atop the mountain, lay out your spread, and bask in the glory of a Vermont fall. Imagine biting into a crisp sandwich or sipping on fresh apple cider with the entire valley unfurling beneath you. [Locals-tip: Make your picnic gourmet and hit up the stunning JJ Hapgoods just a few miles down the road.]
All Ages Welcome: Whether you're bringing along the little adventurers (as young as 3 years) or the seasoned leaf-peepers, there's something for everyone. Kids under 48" can ride free with a ticketed adult, ensuring the whole family gets to partake in this majestic journey.
So, if you're looking to experience Vermont's Fall Foliage in its full, glorious spectrum, Bromley Resort's Scenic Chairlift Ride is an adventure not to be missed. It's more than just a ride; it's a journey through the very heart of autumn.
But wait, there's more!
Get Swingin':
Why admire the trees from the ground, when you can swing through them at nearly 40 mph? The Giant Swing stands as tall as a four-story building and offers views that'll make you gasp in awe (or maybe that's just the 3G's of gravitational force).
The Mini Golf Glow-Up:
Recently revamped and better than ever, challenge your crew to a round of Mini Golf amidst the backdrop of Vermont's finest autumnal display.
Climb & Bounce:
For those who like their feet off the ground, Bromley's Climbing Wall and Trampoline Thing promise thrills of varying heights. Whether you're scaling new heights on the wall or bouncing your heart out, you're in for a treat.
Pedal into Space & Slide Down in Style:
With Space Bikes and the Spider Climb, defy gravity in ways you never imagined. Pedal upside down or scale a 30-foot inflatable slide - it's all in a day's adventure.
Zip through Autumn on the Sun Mountain Flyer:
New England's longest ZipRider, the Sun Mountain Flyer, is not just another zipline. It's an experience. Zip side-by-side with a friend, feel the rush of 50 MPH, and let Vermont's autumn splendor unfold beneath you.
Stay in Style at Bromley Village:
After a day of non-stop action, retreat to Bromley Village. Slopeside lodging, tastefully decorated condos, and a bunch of amenities await. Plus, if you're booking this season, there's a 15% discount with code BVSUMMER23. And guess what? Four FREE Scenic Lift Tickets are on the house!
Ready for the Ultimate Fall Foliage Adventure?
Look no further than Bromley Resort in Southern Vermont. Grab your tickets, pack that adventurous spirit, and let's turn leaf-peeping into an epic adventure.
Pro tip: Before heading out, call 802-824-5522 to check the schedule of the Scenic Chairlift and other attractions.
Ah, autumn in Vermont. A symphony of colors where every leaf plays its part, warm apple cider teases your taste buds, and the crisp mountain air whisks away your everyday worries. Now, imagine experiencing all of this not just anywhere, but at the epicenter of fall festivities: Stratton Mountain Resort. Whether you're an adventurer keen to ride the biking trails, a nature lover seeking the perfect foliage-viewing spot, or simply someone needing a break from the hustle, Stratton's HarvestFest is where you ought to be this season.
Ready to deep dive into this autumnal wonderland? Keep scrolling and let us entice you further. Because Stratton's fall isn't just a season; it's an experience you'll cherish forever.
Stratton's HarvestFest Weekend 2023
Date & Time:
Oct. 5, 2023 — Oct. 9, 2022
Mark those dates, folks. That's five days, or 120 hours, or 7,200 minutes – however you wanna slice it, that's a hefty dose of fall fun. Clear your schedule, set your OOO (out of office, for those less acronym-savvy), and let's get festive!
Highlights of HarvestFest Weekend
Brewfest & Chili Cook-off | Sat. Oct. 7
Brewfest 2023 is where you can sample Vermont's finest craft brews including ales, lagers, porters, sours, ciders, and more. As you savor every sip, let the live music at the outdoor stage from Dave Dominick, The Commonheart, and the Amish Outlaws serenade your ears, all while being surrounded by the mesmerizing peak fall foliage. Saturday's Brewfest promises a full day of enjoyment, starting from 11:30 AM and winding down by 6:00 PM. Be sure to leave room to dive into a bowl of chili at the annual Chili Cookoff and vote for the champion of your taste buds.
Start Making Sense | Sun. Oct. 8
Dive deep into the nostalgia of the 80s with Start Making Sense, a masterful tribute to the iconic Talking Heads! Set against the scenic backdrop of Stratton's HarvestFest, groove to the rhythms of your favorite classics and as the evening sun bathes the mountain, let frontman Jon Braun transport you to the golden era of new-wave with his uncanny David Byrne performance.
Whether you're indulging in the melodies from Grizzly's exclusive Michelob Ultra Lounge (be sure to select this VIP Add-On at checkout) or soaking in the vibes at the main stage, this is the evening to "burn down the house" with fellow Talking Heads fans.
📍 Stratton Mountain Resort - Main Base Area
📅 October 8, 2023, 5:30 PM - 9:30 PM
🎟️ Grab your tickets and set the tempo right!
The Lodging Scoop - Stay and Play
HarvestFest Lodging Deals: Stay Longer, Pay Less
Here's the thing: a weekend like Stratton's HarvestFest is just too jam-packed with awesomeness to rush. You've got the Brewfest, soul-stirring live music, and let's not forget those Instagram-worthy Vermont fall foliage shots you've been dreaming of capturing. So take a break and make a weekend getaway of it with this lodging special.
Just for the HarvestFest Long Weekend, Stay two nights and get the third night 50% off! That right, snap up Sunday night for a song. Three total nights to revel in the fall festivities, right at the heart of the action. You're looking at a weekend filled with buddies and brews, melodies and memories, framed by a backdrop of the most stunning foliage you've ever seen. So, why wait?
Make Every Day Count: Your Daily Activities Guide (Oct. 5-9)
Scenic Lift Rides: Elevate Your Fall Experience
Look, if you've never seen Vermont's fall foliage from the summit of its highest peak, you're missing out. Board the Gondola and be prepared to get your breath taken away, quite literally. The panoramic views stretch across four states – the White Mountains, Adirondacks, Berkshires, and Green Mountain ranges are all at your fingertips.
And if you're feeling particularly adventurous? Lace up those hiking boots and take to the trails, or maybe just lounge with a picnic lunch. Just remember, catch the last Gondola down by 4:45pm unless you fancy a full mountain descent - which honestly, is a pretty great time, too!
Fall Mountain Biking at Stratton Bike Park: Ride the Rush
Close out the biking season with a bang! With over 10 miles of sinuous trails carved right into Vermont's lush landscape, Stratton's Bike Park promises thrills with every turn. Whether you're a newbie or a seasoned pro, these trails, curated by the master trail builders at Sinuosity, beckon with the promise of adrenaline and adventure. And if you've been here before, come on back, because Stratton has been busy adding miles of new routes. Ready, set, ride!
Vermont ATV Tours: Adventure Awaits, Pedal to the Peak
Ever wished for a magic carpet? Well, UTVs are the next best thing! Dive into Stratton's latest Foliage sensation – UTV Tours. Kick-off at the Sun Bowl, and then let the mountain paths guide you to the summit. Here's your moment for that jaw-dropping group selfie; just make sure you get first dibs on posting!
Golfing amidst Fall Foliage: Championship Course, Legendary Views
What is it like to golf at Stratton? How about twenty-seven holes of championship golf that's hosted LPGA tournaments? Three distinct 9-hole sections, be it Forest, Lake, or Mountain, offers a unique blend of challenge and charm. As Golf Magazine aptly puts it: "The golf is superb at this all-inclusive resort, which boasts a scenic and challenging championship 27-hole course that played host to six LPGA tournaments."
Hiking in the Green/Orange/Red/Yellow Mountains
Last but not least, if you really want to get up close and personal with Vermont's fall colors, hit the trails at Stratton's HarvestFest. There's something for every nature enthusiast, from laid-back strolls to challenging treks. Just pick a path, and let Vermont's autumnal beauty work its magic.
Conclusion: Seize the Vermont Vibe
Look, there's a reason we can't stop raving about fall in Vermont, especially at Stratton's HarvestFest. It's not just about the brilliant hues of gold, crimson, and amber that paint our landscapes. Nor is it merely the rush of mountain biking, the thrills of ATV tours, or the serene moments on the golf course. It's about the entire experience – the blend of adventure, relaxation, and pure, unadulterated nature.
But here's the clinker: reading about it is one thing, living it is another. And trust us, you don't want to be the person hearing about it from friends; you want to be the one sharing those incredible stories!
So dive deep into Vermont's fall magic and seize a weekend of memories waiting to be made. Click below, book your stay at Stratton, and transform your fall fantasies into vibrant, colorful realities.
See you on the mountain!
Fall Foliage in Vermont is more than just a season; it's a full-on experience. A mesmerizing display of vivid oranges, fiery reds, and sunlit yellows stretch as far as the eye can see, painting the canvas of the Green Mountain state. But where does one start to explore this autumnal wonderland? Enter Basin Harbor Resort, your ideal fall foliage basecamp.
Nestled amongst the serene shores of Lake Champlain, it's not just a luxurious lakefront haven but also your gateway to thrilling hikes, mouthwatering culinary delights, and that rejuvenating crisp, autumn air. Dive in to discover a Vermont adventure that promises memories and stories as vibrant as the foliage.
Brief Itinerary
Day 1: Basin Harbor & Vergennes
Morning: After a relaxing night's sleep at your lakefront cottage hideaway, you'll be rested and ready for an early (yet leisurely) morning hike along the Button Bay trail. Following past the golf course, this 2+ mile excursion will bring you through vibrant forest trails to Button Bay Point where dramatic views of Lake Champlain and the foliage across the lake await. There are many opportunities to extend your morning hike with loops and trails leading throughout Basin Harbor's stunning 700-acre property.
Once you make your way back to the cottage, it's time to fuel up for breakfast/brunch at the unbelievable Ardelia's breakfast buffet. Like everything at Basin Harbor, this buffet is comprised of quality ingredients and perfect presentation. We were particularly partial to the whipped ricotta crepes (with caramelized bananas!) and the chef-carved sea salt & maple candied bacon station. What a way to start the day!
Afternoon: After breakfast, it's time for the second hike of the day (we have to burn off those crepe calories somehow). Twenty minutes down the road (we suggest taking Jersey Street to really capitalize on those Autumn views) in nearby Addison, VT, you'll find Snake Mountain. Pay no attention to the name, we've yet to spot a snake while hiking here, instead, you'll find peaceful wooded trails and sweeping summit views. There are several routes to choose from, but we suggest the West Trail to Hotel Overlook.
A four-mile out-and-back hike (~2.5 hours round trip), the trail up is moderately rated with one or two steeper areas, but primarily consisting of gradual and consistent elevation gains. As the name suggests, there was a stunning hotel at the top of the mountain at one point, but a fire in the mid-1920s left just the large foundation behind. This foundation is the perfect spot for a picnic or water break as there are many nooks and crannies to lean against and rest up for the hike back down. The views here are stunning and endless, as you look out onto Lake Champlain, local farmlands, and the Adirondacks below.
Post hike, it's time to hit the charming streets of Vergennes. Head back north (this time taking VT22-A) and you'll find quaint village shops and delicious eateries around the central town green. Take a breather and dig into the culinary wonders at Vergennes Laundry. Part bakery/part café, with a dash of Montreal flair and French gourmet tradition. We usually like to give a specific recommendation on what to order, but quite honestly everything here is next-level delicious. Just a few doors up, be sure to visit some excellent boutiques, like The Joy Shop and Malabar, where take-home treasures abound.
Evening: When you're planning on six hikes in three days, it's important to take your downtime seriously. Luckily Basin Harbor has all your basecamp needs covered. Dinner reservations are waiting for you at Basin Harbor's Red Mill, a renovated sawmill serving up local comfort foods, cold beers, and excellent cocktails. After dinner, you'll find movie nights, bonfires, or calming lakefront strolls before hitting the hay for a great night's sleep.
Day 2: Shelburne and Burlington
Morning: A leisurely morning awaits, as you either grab a hot coffee and breakfast sandwich from Basin Habror's Breezeway Cafe or hit up the breakfast buffet for round two (with all the options they have to choose from, there's no way to have tried them all in just one go!).
After squaring away breakfast, head up Rt. 7 until you get to Mt. Philo State Park in Charlotte, VT. The perfect hike to start your day, Mt. Philo has several routes to the top, but we've always been fond of the Summit Trail from the lower parking lot. While steep in spots, the trail is well maintained and there are many great places to stop, rest, and enjoy being out in nature.
Massive boulders, winding trails, and secret turnoffs are all part of what you'll find on the lower section of this trail, followed by a quick ascent up steep, yet fun, routes to the summit. Expect this 1.7 mile out and back trail to take roughly an hour and fifteen minutes round trip, but we absolutely suggest budgeting additional time to spend at the top. Long views of Lake Champlain, from beyond Basin Harbor to the south and past Burlington to the north, are always worth the extra time to appreciate.
Afternoon: After taking in Mt. Philo, you'll continue heading north on Mt. Philo Road, which is particularly stunning this time of year. Winding country roads, with excellent views of Vermont Farmland and fall foliage can be found everywhere you look as you make your way to Philo Ridge Farm for an early lunch.
This 400-acre sustainable farm, cafe, and restaurant is one of our absolute favorite stops in the entire state, as their attention to detail and quality is top-notch. Farm-fresh, seasonal ingredients make the sandwiches, salads, and soups absolutely mouth-watering, and with the fall bounty recently harvested, you can rest assured that your lunch will be phenomenal.
Following lunch, drive north along Lake Champlain to the Shelburne Bay Loop at Shelburne Bay Park. Following the shores and rising above in dramatic fashion, you'll find cliff faces looking towards both Burlington and back to the east, small bridges crossing babbling brooks, and gentle woodland paths. This 2.5-mile loop will take approximately an hour to complete, but if you want to continue the adventure, Shelburne Farms is just two minutes away where miles of additional trails can be found.
After hiking along the lake, it's time to make your way to Burlington where you'll find the many eclectic shops of Pine Street. We love stopping into The Soda Plant, a small business market collection featuring more than 40 studios, galleries, shops & services. You'll also want to make a pit stop for a chocolate tasting at Lake Champlain Chocolates - who can resist?
Evening: As the sun sets, you'll make your way to either Church Street Marketplace (a pedestrian-only street lined with restaurants, shops, galleries, and more) or to Waterfront Park (a Lake Champlain boardwalk with stunning views), for an evening stroll. After getting some air and seeing the sights, it's time for dinner, and while there are many excellent options to choose from, we love the timeless classic American Flatbread.
Wood-fired pizzas served around multiple hearths, this warm and welcoming atmosphere is just what the end of day two's adventure called for. All the pies here are excellent but we always seem to gravitate towards Punctuated Equilibrium (kalamata olives, roasted red peppers, fresh rosemary, red onions, Vermont creamery chevre, mozzarella, grana padano, fresh herbs) and Power to the People (chicken, buffalo sauce, red onions, carrots, blue cheese dressing, mozzarella, grana padano, fresh herbs).
Day 2 Alternative: Hinesburg
Now if you're in the mood to kick things up a notch and really test your hiking mettle, this slightly more aggressive option is up to the challenge.
Morning-Afternoon: Breakfast this morning is at Three Squares Cafe in downtown Vergennes. As the power you need to conquer the peaks, it's best to eat up. Also, grab one of their sandwiches or burritos to-go as a summit meal refuel.
Afterward, you'll be heading east to Huntington, VT to find the third-highest mountain in the state, Camel's Hump. Appropriately named as you'll see, Camel's Hump is a challenging hike and a ton of fun, so bring extra water. A six-mile out-and-back hike, Camel's Hump will make your legs burn and your heart pound, but the steep path up is packed with scenic lookouts and unique natural features that bring you above the treeline.
The summit scenery is certainly the payoff as on a clear day, the foliage views that await are nothing short of breathtaking. With 360º panoramas, the mountains and the trees below are filled with vibrant reds, oranges, greens, and yellows that would make any painter proud.
Evening: After your four-and-a-half-hour adventure, you've earned some well-deserved R&R back at Basin Harbor. Take in the sunset at your cottage and catch up on some reading, make the most out of their hot tubs and pool, or enjoy a pre-dinner cocktail at the Champlain Lounge.
No matter which route you take, be sure to find your way to Ardelia's for dinner as Chef Chris Bonniver has prepared an unbelievable Fall Dinner Menu. From 24hr Slow Roasted Bone-In Short Rib (charred sweet onion soubise, porcini mushroom, olive oil marcona almond, hakurei turnip, coca nib, and sorrel) to Kabocha Squash Ravioli (brown butter, crispy sage, confit cranberry, caramelized walnuts, salsify, mascarpone cheese, and fig), and Scuttleship Farm Lamb Shank (white beans, garlic sausage, escarole, roasted peppers, preserved lemon, arugula chimichurri, and Lucques olive vinaigrette) - your dinner will be just as sensational as the views from your hike.
Day 3: Adirondack State Park
Now we know that this is a Vermont-centric guide, but one of the amazing things about having Basin Harbor as your foliage home-base is their proximity to Adirondack State Park.
Morning: After a quick breakfast sammie from Breezeway Cafe, it's time to head out on a guided tour of the largest park in the United States, which just so happens to be across the lake. A short, scenic boat ride on Basin Harbor's EScape brings you to a cliffside cove where you'll head out into the park for a hike amongst the pristine landscape. A moderately difficult hike, you can expect winding trails through deep forest paths, and gorgeous fall scenery on this hour-and-a-half day-hike. As you head back across the lake, take in the views of Basin Harbor from this vantage point, as it has welcomed visitors from near and far to enjoy foliage in Vermont for five generations.
Afternoon: It's time to check out and reflect on the simultaneously relaxing and adventurous time you've spent amongst the Green Mountain foliage. From fine dining to mountain-top picnics, casual waterfront strolls to thrilling, heart-pounding expeditions, boutique shopping to hot-tub decompressing - this has been a trip to remember and be proud of.
—
All listings featured on Vermont.com are independently selected by our editors. If you book or purchase something through our links, we may earn an affiliate commission - which in turn helps support our work - so, thank you!
Hey there, leaf peepers and cozy cabin lovers! When the calendar flips to fall, there's nothing quite like a Vermont Fall Getaway to sweep you off your feet and fill your Instagram feed with envy-inducing snapshots. It's not an exaggeration when we say that the whole state turns into a jaw-dropping canvas of reds, oranges, and golds that screams 'road trip' louder than a car packed with excited weekend warriors.
But where to stay during this foliage getaway? The stunning selection of cabins and cottages below are sprinkled throughout Vermont's picturesque locales and set in charming little havens nestled among trees that are practically on fire with autumn hues, (not to mention featuring amenities that make you feel right at home amidst the great outdoors)!
Stick with us as we dig into the most Insta-worthy cabins and cottages that you've got to check into this fall. We're diving deep into what makes each spot unique, from sipping morning coffee with panoramic views to snuggling up in the coziest corners that Vermont has to offer. So grab a hot cup of cider, and let's get this leaf-peeping party started!
Why Choose Vermont? Here's Why!
Natural Beauty
Where do we even start? Vermont is like stepping into a live-action painting once fall rolls around. Trees practically competing to show off their best reds and oranges, while the mountains play backdrop to your personal autumn movie. And those crystal-clear lakes reflecting the fiery foliage? It's nothing short of amazing. So, if you're looking to bask in Mother Nature's best show, you'd better believe the Green Mountain State has got front-row tickets with your name on it.
Adventure and Relaxation
But it's not all about sitting back and enjoying the view – though, we wouldn't blame you if that's your jam - Vermont has this incredible knack for serving up a smorgasbord of adventures, from hiking trails that lead to jaw-dropping vistas, to mountain biking and cycling routes that offer the freshest of air and the cleanest of lines. And when the sun dips low, how about unwinding at a cabin with a hot tub waiting to soak your worries away? Whether you're an adrenaline junkie or a chill-seeker, Vermont's fall season is your playground.
Accessibility
Okay, here's the cherry on top: these drop-dead gorgeous spots are just a hop, skip, and a jump away from major cities. We're talking easy-breezy drives from New York City or Boston. Imagine swapping the concrete jungle for a foliage-rich paradise in just a few hours, making it the ultimate weekend retreat. Plus, with scenic drives that have you reaching for your camera at every turn, getting there is half the fun! So, rev up those engines and hit the road because Vermont is ready to welcome you with open arms and vibrant views!
Without further ado, here's our handpicked list of the top Cabin and Cottage Getaways for a magical Vermont Fall Foliage experience.
Location: Nestled in the heart of Stowe, Vermont, The Summit House promises an unforgettable retreat just a mile away from the bustling downtown. Whether you're here to gaze at the phenomenal fall foliage or to catch the morning light filtering through the forest right from your bedroom, this prime location got you covered. Seriously, a 5-star rating from 95% of recent guests can't be wrong!
Amenities: Step inside and prepare to be wowed. This isn't just a cabin, it's a haven of modern comfort blended with rustic charm. Picture yourself unwinding by the modern wood-burning fireplace, a cool drink in hand, and your favorite shows playing on a massive 50" TV. And that spa-style rainfall shower? Pure bliss after a day exploring the mountains. With the convenience of self-check-in and an array of top-notch amenities including a fully equipped kitchen and WiFi, you're all set for a cushy stay. And let's not forget the private patio, where you can kick back and soak in the gorgeous views.
Activities: When you're not lounging around enjoying the chic interiors, the vibrant town of Stowe offers a treasure trove of experiences. Get ready to explore the charming downtown brimming with quaint shops and cafes or venture out on a myriad of heart-pumping hikes to take in the awe-inspiring fall foliage that the region is renowned for.
Rates: Planning to hole up in this slice of paradise? It's going to set you back about $533 per night. But trust us, for a getaway that promises not just a stay but an exceptional experience, it's totally worth it. Plus, with rave reviews and a near-perfect rating, you know you're in for a treat!
Location: Get ready for a distinctive lakeside escape that screams personality at every turn. Situated on the picturesque banks of Lake Champlain, Basin Harbor is a sprawling paradise that offers not one, not two, but a whopping 74 unique cottage choices for your very own slice of lakeside bliss during your Vermont Fall Getaway.
Amenities: Bid goodbye to the cookie-cutter vacation experience and say hello to a place that embraces individuality and charm. Each cottage at Basin Harbor is a testament to creativity and personal taste, boasting distinctive layouts, decor, and features that echo the golden days when families would send in their own specs and designs for a personalized lakeside oasis. But don't fret, modernity has graced Basin Harbor too, with a slew of renovations that bring in contemporary comfort without compromising the unique charm of each cottage.
Activities: Ready to embrace the outdoors? Basin Harbor is your playground! Spread across 700 acres of pristine tranquility, this is where adventure meets relaxation. Tee off at the golf club, dip into the heated outdoor pool, or indulge in a spirited game of pickleball or croquet on the perfectly manicured courts and lush lawns. Oh, and your furry best friend? They're going to have the time of their life at Fanny's Beach, a dedicated doggy swim area.
Rates: For the specifics on rates, check out Basin Harbor's online reservation platform, or better yet, give their friendly front-desk a call to help set up a personalized pick that suits your style and budget. Trust us, diving into the details is part of the fun here!
Location: We know what you're here for - those lush multi-colored mountains and that crisp Vermont air! Nestled in the rustic embrace of Granville, this snug loft offers the perfect vantage point to soak in all of that majestic beauty and more. Picture yourself amidst the natural wonders, just a stone's throw away from exhilarating hiking, biking, and kayaking adventures.
Amenities: When it comes to comfort, this great loft doesn't hold back. Though compact, the space radiates an enormous charm and coziness, thanks to the mini-fireplace/stove that warms up your space after a thrilling day outdoors. And can we talk about those copper countertops and handrails?
Activities: Your schedule here could be a whirlwind of outdoor adventures or a tranquil retreat amidst nature - the choice is yours! Either way, you've got hiking and biking options galore mere minutes from your front door. And once back, why not enjoy a warm soak in the hot tub while drinking in the expansive views from the patio or the upper deck? Remember, the breathtaking vistas are a part of the package!
Rates: Ready to whisk your significant other for a memory-making escape? The price is just as cozy as the loft itself, at an average of $206 per night. Trust us, this little haven is big on exceptional experiences without breaking the bank.
Location: Welcome to your secluded retreat in the woods of Southern Vermont! Just imagine, being fully immersed in nature with 17 vertical feet of floor-to-ceiling windows, offering you an uninterrupted view of the forest canopy. And don't worry about missing out on nearby attractions, with Bromley Mountain's Adventure Park just a 15-minute drive away and vibrant Manchester within a 25-minute drive, boasting fine dining and delightful spas.
Amenities: "Tiny" doesn't mean compromising on luxury! This tiny home has everything you need for a cozy and indulgent stay. Cook up a storm in the full kitchen, enjoy movie nights with the in-home theater, and let your worries melt away in the expansive 71-inch soaking tub.
Activities: Whether you're hiking peaks and valleys at nearby state parks or exploring apple orchards and mountain biking parks within a 20-minute radius, there's no end to the adventures that await. And after a day of exploring, return to your private sanctuary nestled amidst the trees, providing the perfect blend of relaxation and rejuvenation.
Rates: Ready for a luxury retreat without the luxury price tag? This unique getaway is all yours for an average of $275 per night. Considering the one-of-a-kind experience you're set to have, it's an absolute steal!
Location: Just 20 minutes away from the Sugarbush Resort, this gem is tucked away in the serene embrace of Roxbury, VT. With 330 acres of woods surrounding you, lovebirds seeking a cozy nest during their Vermont Fall Getaway have hit the jackpot. Picture yourselves waking up to the gentle rays of the morning sun, exploring the walking trails, and maybe even engaging in a bit of impromptu birdwatching.
Amenities: Leave the chaos of the city behind and step into a world where modern comforts and rustic charm meet. From the cuddly leather loveseat to a fully equipped kitchen where you can whip up some breakfast with the complimentary local eggs and homemade preserves, this cabin is a slice of heaven. And the cherry on top?
Activities: Whether it's a BBQ session on your sunny deck, cozying up by your very own fire pit, or venturing out to nearby attractions like the Warren Covered Bridge or hiking trails, adventure is just around the corner. And with the Mad River Valley offering an array of activities, your getaway can be as laid-back or action-packed as you want!
Rates: Planning a romantic escapade has never been this rewarding. For an average price of $185 per night, you can unlock the doors to this paradise, where every moment is a memory in the making. Go ahead, treat yourselves to a vacation that's a perfect blend of luxury and nature.
Location: Ready for a fall vacation that's all about vibrant foliage, private beaches, and sunset campfires? Say hello to your dream getaway nestled in Vergennes, right on the magnificent shores of Lake Champlain. Picture yourself having a laid-back morning with views of the Adirondack mountains, or perhaps, embarking on a historic journey with a short drive to Chimney Point State Historic Site. And hey, if you're into birdwatching or game walks, the surrounding area is your playground.
Amenities: Welcome to your "large" tiny house that's packed with all the comforts of a home and then some. Let's talk about those bedroom lofts, each boasting a comfy queen bed promising restful slumbers amidst the serene surroundings. Plenty of room for everyone!
Activities: The cabin itself is an adventure waiting to happen. Venture down simple paths leading to spectacular overlooks of the lake, relax in the hammock or get your adrenaline rushing with some kayaking - the choice is yours. Not to forget, the private shale beach beckoning you for some sun-soaking sessions if the weather is cooperative. Working remotely? The fiber-optic WiFi has your back, allowing you to stay connected amidst nature.
Rates: Gear up for a stay that won't break the bank, with prices averaging at $345 per night. Considering the private beach access, well-appointed interiors, and the pristine location, we'd say it's a steal. And remember, the vibrant colors of Vermont in autumn are priceless!
Location: Picture this: You're perched on a hill just a smidge away from the vibrant heart of downtown Stowe, enveloped in the sounds of Vermont trees and nature. Sound surreal? Welcome to The Canopy House, your gateway to the very best of Vermont's breathtaking fall foliage, a mere hop, skip, and a jump from the bustling Main Street of Stowe and only 9 miles away from Stowe Mountain Resort. But hey, it's not just about the spectacular views; you've got the von Trapp's lively brewery scene just 5 miles away and hiking trail options galore for all those autumn escapades.
Amenities: Step into an oasis that marries modern luxury with rustic elegance. The Canopy House is where your comfort meets style, boasting amenities that cater to both relaxation seekers and tech-savvy travelers. Lounging in a living room adorned with OM Home Furniture while enjoying the warmth of a crackling fire? Yes, please! And we haven't even gotten started on the six-person hot tub under the starry Vermont sky!
Rates: Fancy a stay at this enchanting retreat? It's yours for a stellar rate of $464 per night. With a 4.93 rating from a whopping 279 reviews, it's clear that guests find value in every dime spent here.
Location: The Trout Cabin is your tranquil log cabin set amidst the lush greenery of Londonderry, VT, with Magic Mountain practically at your doorstep and the shimmering trout pond just a stone's throw away. Whether you're a hiking enthusiast eager to hit the trails or someone looking for a quiet refuge, this cabin, minutes from Magic Mountain Resort (and the famous Black Line Tavern) and a 4-minute drive from the Lowell Lake State Park, has got all bases covered.
Amenities: We're talking rustic vibes with all the comfort of home. The cabin comes equipped with a cozy kitchen area housing a stovetop, microwave, and coffee maker - all ready for you to whip up some homely meals. And don't forget about the BBQ set up outside for some grilling fun. For those chilly nights, the fireplace indoors promises warm and snug evenings. And get this, if you're up for the adventure, you can enjoy a refreshing outdoor shower with a stunning view of the Green Mountains to boot!
Activities: Now, this is where the fun begins. Get ready to dive into a world of adventure with hiking trails and mountain biking just a walk away. And for the angling aficionados, your very own trout pond is waiting for a session of fly fishing. Fancy a quiet day instead? The porch facing the pond promises serene moments amidst nature. Trust us, with an almost perfect score of 4.9 out of 5, you're gearing up for an exceptional stay.
Rates: Ready to nab that September special with a cool 15% off on mid-week bookings? It's all about seizing the moment here. The prices are a steal, especially when you consider the wealth of experiences awaiting you.
Location: Ah, Eden, Vermont, the place where dreams come true, especially at this teeny tiny cottage nestled right on the water's edge of Lake Eden. Imagine waking up to serene beachfront views, just a stone's throw from the sparkling lake that beckons you for a morning swim. And when it's time to venture out, you're just minutes away from attractions like the Green River Reservoir State Park and a hop, skip, and jump from downtown Stowe. Your scenic adventure in the Northeast Kingdom awaits!
Amenities: This one-room cozy paradise packs a punch when it comes to amenities. Offering everything you need to make your stay comfortable and memorable - a fully-furnished kitchen, a snazzy corner shower, and even an incinerating toilet. Settle down in the living area, with a foldable table set for four and enjoy your meals with a panoramic view. Did we mention the loft that houses a king-size bed and a TV equipped with a VCR for a nostalgic movie night? You're all set!
Activities: Whether you're here for the summer splash or winter wonder, this cottage has got you covered. Dive into a plethora of water activities with kayaks, paddle boats, and canoes available for rent. Picture yourself gliding through the lake, basking in the sun, and taking in the scenic vistas.
Rates: Here comes the sweet part - not only does this little retreat offer a tranquil getaway, but it also doesn't break the bank. Head on over to the booking platform, and make sure to glance through the hospitality welcome guide section "essentials" to get all the deets on what you need to bring along. Your perfect vacation is just a click away!
Location: Cradled amidst the scenic beauty of the "Golden Triangle" of Southern Vermont, Seesaw's Lodge is your ticket to a breathtaking retreat that brilliantly blends the old Vermont world charm with modern luxuries. Imagine gazing at the spectacular mountain views and soaking up the warm southern exposure right from your snug cabin or the expansive seven-bedroom lodge. Yes, this is real, and it's all set to welcome you for an unforgettable Vermont Fall Getaway.
Amenities: Step into any of the recently rebuilt cabins, and you'll be greeted with spaces that exude warmth and comfort. Think living rooms flaunting exposed beams, mud rooms with floors radiating heat, and kitchens brimming with modern amenities for a seamless stay. Relaxing by the gas fireplace or taking in the cool Vermont air from your private deck balcony. And guess what? Each unit promises high-speed wifi, air-conditioning, and large smart TVs to keep you entertained throughout.
Activities: Whether you're meandering through the scenic paths at Mad Tom Orchard, or catching the panoramic vistas from Stratton Resort's gondola, the local experiences here are nothing short of magical. Kids and adults alike will love the vibrant corn mazes and pumpkin patches at Equinox Valley Nursery - don't forget to snag a fresh apple cider donut while you're there! And when it comes to dining, Johnny Seesaw's Restaurant on site is a meal to remember, dishing out comfort food with a fresh Vermont twist. Trust us, it's a culinary journey you don't want to miss.
Rates: The rates here vary depending on the season and the type of accommodation you choose. But rest assured, the unique blend of vintage charm and modern comfort at Seesaw's Lodge offers bang for your buck. For the most accurate pricing, check out their official website or give them a ring.
Location: Nestled in the serene setting of Castleton, VT, this lakefront retreat known as "Blues Views" stands as your private gateway to the alluring waters and majestic nature vistas of Vermont.
Amenities: Imagine stepping into a home that blends the charm of the 1920s with the modern comforts of today. This dog-friendly sanctuary boasts a full suite of amenities, including a cozy sunroom perfect for late-afternoon chit-chats, a well-equipped kitchen to whip up your culinary delights, and central AC to keep you cool when the leaf-peeping adventure heats up. And don't forget about that high-speed WiFi, keeping you connected for all your streaming and social media needs.
Activities: It's all about lakeside bliss at the Blues Views. From boating to fishing, biking to hiking, an array of activities awaits you just a few miles from your home base. And with picturesque lake views gracing almost every room, you'll have the perfect backdrop for all your vacation selfies and group photos. Trust us, your Instagram feed has never looked this good!
Rates: The rate details are as dynamic as your vacation plans, so just hop on over to the site, plug in your preferred dates, and hit 'Book Now' to get an accurate quote. Oh, and if you're bringing along your furry friend, rest easy knowing the nightly pet fee is included in your quote.
Location: Calling Montpelier home, this delightful Vermont Cottage is nothing short of a fairy tale waiting to unfold for couples. Nestled snugly amidst Vermont's lush foliage, you are just a short drive away from cultural gems like the Vermont Historical Society Museum and the illustrious golden-domed Vermont State House. Oh, and for those scenic walks you've been dreaming about? Hubbard Park is just 10 minutes away, making those impromptu picnics amidst nature a total breeze!
Amenities: From the second you step in, the cozy allure of this one-bedroom haven wraps you in a warm embrace. This isn't just a stay, it's an escape into a world where modern comfort meets rustic charm. Whether it's the free WiFi keeping you connected or the air conditioning ensuring you're always the perfect temp, this cottage is equipped to pamper. And let's not forget the outdoor space - think morning coffee sessions on the deck, or crisp romantic dinners in the lanai. Sounds dreamy, right?
Activities: When it comes to keeping yourself engaged, the area around Montpelier is a treasure trove of wonders. Dive deep into Vermont's rich history with a visit to the nearby museums or simply grab a pair of comfortable shoes for a romantic stroll in Hubbard Park.
Rates: Looking to score the ultimate romantic getaway? Starting at $225 per night this is a steal! With an exceptional 5/5 rating, this slice of paradise offers you not just a stay, but memories that you'll both adore.
Location: Tucked away in the heart of Londonderry, this modern A-Frame chalet is your gateway to Vermont's vibrant foliage season. Ready to taste some of the best local cheeses and veggies? Taylor Farm is just a breezy 10-minute walk from your doorstep.
Amenities: Once you step inside, it's all about laid-back luxury. The chalet comes kitted out with everything you need for a home-away-from-home experience. Picture yourself waking up in one of the three sumptuous bedrooms, brewing a cup of coffee in the private kitchen, and enjoying breakfast with a view on the deck or patio.
Activities: Beyond the confines of this comfy retreat, Londonderry charms with its natural beauty and vibrant community vibes. Whether it's a tranquil walk along the West River, a bit of weekend shopping at the nearby Manchester Designer Outlets, or a delicious visit to Honey Pie, there's something for everyone.
Rates: Ready to snag this comfy corner for your next getaway? $500 per night seems more than doable for this three-bedroom beauty!
Planning Your Trip
Before you dash off to capture the golden hues of Vermont's picturesque foliage season, we've got a few tidbits to make your getaway nothing short of perfect. Here's the low-down on the best times to witness the state's vibrant fall canvas and some packing tips to keep your adventure comfy and fun. Trust us, a well-planned trip is the first step to an unforgettable Vermont vacation!
Best Time to Visit
Let's talk timing. To catch Vermont in its full fall glory, you'd want to mark your calendars for late September to early October. Now of course, this is not an exact science, as depending on weather and temperature each year's foliage progression may differ, but if you want to make the best bet, these are the times we aim for. You can always stay up to date with our Fall Foliage Report for more in-depth progress.
Packing Tips
Alright, onto the packing game. Vermont's autumn has that crisp, cool air that brings out the adventurer in everyone, but when the sun is shining things can get pretty toasty. Here's what you should toss in that suitcase:
1. Layers, Layers, Layers: Think cozy sweaters or flannels, light jackets, and scarves (we've been loving our new foliage-hued flannel from Howler Brothers!) The temperatures can be quite the chameleon, shifting from chilly mornings to warm afternoons. 
2. Footwear: Trust us, you'd want to bring your comfiest pair of hiking boots or sturdy sneakers, perfect for those foliage walks or a spontaneous mountain hike.
3. Outdoor Gear: Planning to immerse yourself in the outdoor offerings? Don't forget to pack binoculars for bird watching, or maybe a portable hammock to really soak in those scenic vistas.
Ready to roll? Your Vermont fall adventure awaits, packing in a world of vibrant colors, leisurely outdoor pursuits, and memories that'll last a lifetime. Let's make it one for the books!
Conclusion
So, gear up, adventure seekers! Vermont is laying out the red (and orange, and yellow) carpet, beckoning you to an autumnal extravaganza that's nothing short of legendary. This isn't just a vacation, it's a recharge, a revitalization, and a chance to nab the best fall selfies to spice up your feed. Let's make those weekend plans a riot of hues and fun. From rustic cabins to lakeside frolics, it's all waiting for you in good ol' Vermont. Go on, seize the season and book your quintessential fall retreat, Vermont style!
—
Got your own leaf-peeping adventures or snapped some vibrant vistas? We're all in to hear and see it! Shoot us your stories at [email protected] or share them on your socials with #WeAreVermont. Let's keep the Vermont vibe rolling and the adventure chronicles coming.
Till then, keep the wanderlust alive and the cameras ready. See you amongst the leaves!
Hey there, fellow procrastinators - our time to shine has finally arrived. Forget your buddies who've been bragging about their Labor Day plans since the snow melted. Trust us; the best trips are the ones you didn't overthink. So grab your weekender bag and hit the road because we've got your last-minute guide to make this Labor Day in Vermont an unforgettable one.
---
So there it is. Last-minute doesn't have to mean second-best, and with Vermont's lush landscapes and luxury digs, your Labor Day plans just went from zero to hero. Ready to make that last-minute booking? We thought so. 
Happy Labor Day, you savvy spontaneous traveler, you.
If you're in Southern Vermont this late summer, prepare to be enchanted by the raw power of nature and the timeless beauty of Shakespearean drama, all in one place. Shakespeare in the Woods (SitW), a cutting-edge outdoor theatre company, is thrilled to present its upcoming season of productions with "Hamlet" and "The Tempest" running from August 23rd to September 10th, hosted at the Northshire Civic Center - Riley Rink at Hunter Park in Manchester (and at the New England Youth Theatre campus in Brattleboro).
A Unique Theatre Experience
Founded in 2019, SitW is not your ordinary theatre company. This trailblazing group aims to deliver a professional caliber celebration of classical text through a modern, socially aware lens. SitW productions seamlessly blend the beauty of Vermont's natural landscape with thought-provoking performances, striving for harmony with nature rather than imposing upon it. This creates an ethereal stage that connects the audience, the actors, and the environment in a way that's intimate, immersive, and deeply meaningful.
Inclusive and Thought-Provoking
At the core of SitW's mission is inclusivity and social awareness. The productions aim to engage audiences from all walks of life—whether you're a local or a visitor, young or old, an aficionado of the arts or a first-timer. Their goal is to make theatre accessible to all, regardless of socioeconomic or geographical standing. Special attention is also given to educational outreach, engaging younger generations of Vermonters in the performing arts right in their backyard.
Show Details and Schedule
The productions will run for three weeks at the Northshire Civic Center - Hunter Park, located at 410 Hunter Park Road, Manchester Center, VT.
Hamlet: Directed by Elizabeth Dinkova, the play portrays the disillusionment of the young prince Hamlet amidst a world filled with political duplicity and corruption. Scheduled performances for Hamlet are on August 23, 25, 27, 31, and September 2, 6, 8, 10.
The Tempest: Directed by Roberto Di Donato, this rendition focuses on Prospero's mastery of magical arts to exact revenge and regain her lost position and dignity. The Tempest is set to perform on August 24, 26, 30, and September 1, 3, 7, 9.
All performances start at 7:30 PM unless otherwise noted, and seating is provided. The shows will go on, rain or shine!
Ticket Information
General Admission - Adult: $20
General Admission - Child (12 & under): $12
SitW offers a sliding scale ticket model to make theatre accessible for everyone. If you find the ticket pricing prohibitive, you're encouraged to contact SitW at [email protected] to discuss other options.
Why You Should Attend
Theatre has the power to provoke thought, stir emotions, and offer an escape from the everyday. SitW's approach to classical theatre through a modern and socially relevant lens ensures you leave not just entertained, but also enlightened. It's an experience that promises to be as unique as it is transformative.
So, seize this unique opportunity and lose yourself in the tales of betrayal, revenge, and redemption—all while being surrounded by the stunning natural beauty of Southern Vermont!
Labor Day Weekend is soon upon us, and what better place to spend it than Vermont's very own Stratton Mountain Resort? From Thursday, August 31 through Monday, September 4, we're not just talking about a mere escape; we're talking about an experience that threads the needle between relaxation and a heart-pumping adventure.
Let's break it down day by day.
Available all holiday long (Thursday - Monday):
Your extra-long weekend kicks off with a panoramic ride up the Gondola. Picture this: a fifteen-minute lift ride (where you'll enjoy stunning vistas of the late-summer/early foliage coverage below) brings you to the summit of southern Vermont's highest peak. Once at the top, you can enjoy a short hike to the Fire Tower, take a breather and a picnic at the Hubert House deck, or just take a minute to appreciate your dramatic surroundings. On your way back down, spot the iconic summit bear and perhaps snap a photo or two for the 'gram.
Feeling sporty? Dive into the Mountain Bike Park, tailored for all—from the cautious newbie to the daring downhill veteran. With more than 10 miles of downhill single-track trails, there's something for everyone.
And if two-wheelers aren't your thing, rev up your engines for the ATV Summit Tours. New this year, this 90-minute round-trip tour will take you up winding mountain trails from the Sun Bowl to the summit and is absolutely exhilarating.

Oh, and don't forget to take breaks—perhaps a stroll through the Sidewalk Sales at Stratton Village? With 30-70% off name brands such as Burton, The North Face, Rossignol, Smartwool, GoPro, and more - you'll find deals that might just make your jaw drop.

Now, if you fancy serenity wrapped in a scenic backdrop, the 27-hole Championship golf course awaits your swing.
Friday, September 1:
Start your weekend right with the Stratton Foundation Golf Tournament. Described as one of the top resort courses in New England, you'll find three distinct nine-hole layouts; Forest, Lake and Mountain. But, it's not just about the game or that picture-perfect setting, it's about the cause. Each stroke supports the Stratton Foundation, which has been impressively stepping up in response to the recent flooding.
Saturday, September 2:
Yoga enthusiasts, prepare to find your Shangrila. Start your day with a Mountain Top Yoga session. As you stretch and meditate, you're above the clouds and miles away from any stress or distraction at home. Serenity paired with a view—what more could one ask for?
As evening approaches, it's showtime! Get ready to sway and groove as the one and only The Wailers (yes, that Wailers!) take center stage. Get in the groove with OG reggae, and dance the night away with those iconic classics!
Sunday, September 3:
If you thought Saturday was packed, Sunday's got its own lineup. Fuel up your morning with another session of Mountain Top Yoga. Once you've found your zen, it's time to gear up for an all-day treat. Blues, Brews & BBQ 2023 promises tantalizing flavors, rocking music, and a selection of the finest local brews.
Monday, September 4:
Wind down your adventure-packed weekend with one final Mountain Top Yoga session, or an invigorating swim in the many local swimming holes. Reflect, relax, and be pumped you decided to make the most of your holiday weekend up on Stratton.
Don't let this Labor Day be just another long weekend. Turn it into a story. An adventure. And remember, tickets for specific events fly off the shelves, so best to grab yours early!
Ever dreamt of a grand, lakefront estate that's pure Vermont luxury, wrapped up in a $26.2 million bow? Welcome to Grosse Point Estate, folks - the palatial epitome of Vermont's jaw-dropping beauty and a true slice of heaven for all the billionaire leaf-peepers out there.
An old-school, elegant stone residence sits on a whopping 345 acres of pristine Vermont land. Built in 1906, this historic 10,000-square-foot stone house is your ticket to living the grand Vermont life.
Wake up every morning and take in over 30 miles of Lake Champlain views. With sweeping lake vistas both to the north and south, prepare for an all-you-can-see buffet of tranquil blue water. It's so stunning we wouldn't blame you if you feel the need to pinch yourself each day, just to be sure you aren't still dreaming.
But Grosse Point offers more than just a magnificent main house. It's a world unto itself, complete with five guesthouses, usable barns, and even a farm manager's house. Picture inviting your friends to your very own New England retreat, where each party can retire to their own charming cottage after a day, out on the water, or finding foliage, or of golf out on your private 9-hole course.
This majestic estate offers 1.5 miles of lake frontage with three large docks, promising endless days of lakeside relaxation and water-based fun. So, whether you want to dip your toes in, go for a morning swim, or launch your yacht, Grosse Point has you covered.
With the majority of the property covered by a Nature Conservancy Conservation easement, you can rest assured that the tranquil beauty of this place is here to stay. Meaning this slice of Vermont heaven is going to stay heavenly.
Grosse Point is on the market for only the second time in a century. So if you've got a spare $26.2 million lying around, here's your chance to own a chunk of Vermont's rich history. Even if you're not ready to cough up the cash, you can still drool over the photos and daydream about living the high life.

Listed by Wade Weathers of LandVest, you can check out the full listing and prepare to be wowed.
The power of community is undeniable, especially in the face of adversity. Vermonters have always exhibited resilience in difficult times, a trait that shines even brighter following the recent extreme weather events. This strength is once again evident as our local businesses rally together to support flood-stricken communities.
Enter Drinks for Dehumidifiers, a state-wide initiative slated for Friday, July 28. Local cafes, bars, tasting rooms, and restaurants across Vermont are pledging a percentage of their drink sales for the day towards buying dehumidifiers and other necessary supplies. These crucial devices will aid flooded communities, drying out homes and businesses, and contribute to recovery efforts.
Spearheaded by the good folks at Adventure Dinner, in collaboration with Senator Kesha Ram and the Queen City Saints, the goal is to raise $15,000 through this initiative. It's an ambitious goal in a short time, but as Vermonters, we know the power of pulling together when the need is immediate and the cause is worthy.
Want to participate? It's as easy as enjoying your favorite drink at a participating venue! Look at all these tasty spots!
Participating Restaurants in the Fundraiser
Donating Percentage of Sales
Donating Fixed Amounts
Donating 100% of Sales
Donation Collection Sites
Visit their pages, enjoy their delicious offerings, and support the fundraiser!
Not in Vermont or can't make it to a participating business? No worries, you can still contribute to this great cause! Simply use the Venmo below to donate to Queen City Saints, the community group leading this effort. Every dollar will go towards purchasing dehumidifiers and supplies for communities in need.
Even as we enjoy our drinks and camaraderie, let's remember the reasons behind this cause. While we're not focusing on the devastation, we're well aware of its impact. This is a way for us to lend our support, show our love, and help keep Vermont Strong.
So come out on July 28, enjoy great food and excellent craft cocktails, support local businesses, and make a difference in our communities.
For more information, resources, and additional donation opportunities, visit our Disaster Resource page on Vermont.com.
Step into the magic of nature, unplug from the rush of everyday life, and journey inward at Vermont's OM Festival this summer. From Wednesday, July 26th to Sunday, July 30th, 2023, the lush mountain oasis of the West Mountain Inn in Arlington will transform into a haven for yoga enthusiasts, nature lovers, and adventure seekers alike. Whether you're planning a soul-searching solo venture or looking for a unique group getaway, the OM Festival promises a transformative experience against the backdrop of Vermont's stunning Green Mountains.
Specially designed for those seeking more than just a typical festival, the OM Festival unfolds like an epic eco-adventure. Set on over 150 acres of mountainside terrain overlooking the serene Battenkill River, this annual retreat promises outdoor exploration coupled with holistic rejuvenation. The festival is more than just a chance to engage with a mindful community; it's an invitation to embrace the transformative power of nature, adventure, and self-discovery.
At OM Festival, each day starts with a variety of life-affirming activities, creating a blend of experiences that caters to all facets of wellness. Whether you start your morning with a stimulating Hatha, Aerial, Kundalini, or Ashtanga yoga session under the open sky, a brisk swim in the Battenkil, or a mindful hike on the trails - your body will feel free and your mind will follow. Let the afternoon light sway you into a dance class or flow art workshop, energizing and freeing your spirit amidst the refreshing mountain air. As night falls, surrender to the beats of live music, drum circles, and vibrant DJs, dancing under the Vermont stars.
With over 40 sessions in yoga, meditation, dance, and flow arts, your time at OM Festival will pave the path for a deeper exploration of your inner self. Plus, the festival encourages eco-conscious practices like carpooling, recycling, and farm-to-table dining, thus crafting a powerful narrative of unity, mindfulness, and respect for Mother Earth.
For those who love the charm of rustic living, the festival offers camping options along the river. For a more luxurious stay, there are also rooms available at the heart of the event, The West Mountain Inn. Book early to secure your preferred accommodations and ensure a seamless festival experience.
The OM Festival is more than just a retreat; it's an eco-adventure that fuses community, self-exploration, and reverence for nature. Set the date and prepare to immerse yourself in the green Vermont landscape while basking in the glow of personal transformation. From yoga and meditation sessions to outdoor hikes and musical performances, every element of the festival is designed to inspire deep connection and profound personal growth.
This July, it's time to answer the call of the mountains.
Ticket Information:
Eager to join this transformative journey? The OM Festival offers multiple ticket options:
- 5 Day All Access Festival Pass: $499.00
This pass offers a complete OM Festival experience with 5-day access to all classes, workshops, and nightly entertainment.
- 3 Day Festival Pass: $399.00
This pass offers full festival access for any three chosen days, including all classes, workshops, and nightly entertainment.
- 2 Day Festival Pass: $249.00
This pass provides access to two days of classes, workshops, and nightly entertainment.
- Regular One Day Pass: $149.00 - $169.00
This pass offers a one-day experience, allowing access to classes, workshops, and the day's musical performances.
The 4th of July is a time for barbecues, fireworks, and fun with friends and family. Vermont has some of the most unique and memorable 4th of July celebrations in the country. From parades to festivals, Burlington to Brattleboro, these Vermont 4th of July activities will make your holiday unforgettable.
Whether it's a traditional parade, mountaintop fireworks, or something more unique - Vermont has a plethora of activities for you to choose from. So, if you're looking for something to do in Vermont this 4th of July, look no further! Here are 15 unforgettable 4th of July celebrations in Vermont that you won't want to miss.
1. Party on the Waterfront: Burlington's Independence Day Bash
Get ready, Vermonters, for the Burlington Annual Independence Day Celebration! This year, the evening of July 3rd is about to get lit, and we don't just mean Vermont's largest fireworks display. Celebrating their 175th Anniversary, National Life Group is adding a sprinkle of tech magic to the festivities with an astonishing drone light show.
Kick off the evening at 5 pm at the stunning Waterfront Park in downtown Burlington. Immerse yourself in the rhythmic beats of Sambatucada! as they set the mood on the boardwalk, followed with a performance from The Motts on the Main Stage. Get ready to gaze skyward as the National Life Drone show starts at 9:30 pm, followed promptly by the much-anticipated Northstar Fireworks show. Did we mention there will be local food vendors galore to keep your hunger pangs at bay throughout the night? And, when the fireworks finally die down, don't rush off. The Motts will be back to play their final set, ensuring the night ends with a bang.
2. Stratton Mountain: Where 4th of July Meets Vermont Vibes
Grab your calendars and highlight all the way through July 4, because you're headed to Vermont for an Independence Day blowout at Stratton Mountain Resort. This isn't your average 4th of July weekend; Stratton Mountain's all-out extravaganza pulls together a remarkable mashup of live music, fireworks, outdoor fun, and family activities. Dive into the Stratton Bike Park, catch a scenic lift ride, or get your Zen on with a Mountain Top Yoga sesh.
Stay the long weekend, because why wouldn't you? With nightly rates at the Black Bear Lodge a steal at $99, you can really dig into the fun. As the sun dips, make sure you're front and center for Stratton's Mountain Friends and Freedom celebration. It's a feast of BBQ delights, live tunes from The Dave Matthews Tribute Band, and a sky alight with fireworks. The celebrations continue with The Machine Pink Floyd Show, and Rumours - A Fleetwood Mac Tribute, coupled with more dazzling firework displays. This is the 4th of July done Vermont style, so gear up and get ready to celebrate like never before.
3. Fireworks and Fanfares: VSO's 4th of July Vermont Summer Festival Tour Lights Up Grafton
Unleash your patriotic spirit with the Vermont Symphony Orchestra Concert & Fireworks at the idyllic Grafton Trails and Outdoor Center. Think balmy summer skies, a lush green landscape, and the harmonious melodies of America's favorites resonating through the air—this is one spectacle you don't want to miss. The night's show is made all the better when you're staying at the iconic nearby Grafton Inn. The gates swing open at 5:30 pm, just in time for you to stake out a perfect picnic spot before the concert kicks off at 7:30 pm.
Prepare for a night of foot-tapping joy as guest trumpeter and jazz luminary, Ray Vega, teams up with the Vermont Symphony Orchestra and maestro Michelle di Russo. Their repertoire will have you swinging to Duke Ellington, crooning with Louis Armstrong, getting jazzy with Thelonious Monk, marching with John Philip Sousa, and more. So, load up those picnic baskets, slather on some sunscreen, and don't forget your folding chairs for what's set to be an unforgettable night under the stars. And just when you thought the night couldn't get any more magical, the sky will erupt in a stunning firework display to cap off the performance.
4. Feel the Beat: Live Performances Elevate Montpelier's Independence Day Party
Independence Day has always had a special flair in Montpelier, and this year is no exception. The city is pulling out all the stops for its largest summer event, so prepare to have your star-spangled socks knocked off. The day-long extravaganza commences at 3 pm with a delightful mash-up of mouth-watering cuisines at the Food Truck Festival, coupled with FamilyFest on the State House Lawn.
The streets come alive with the sounds of laughter, music, and celebration during the Community Parade at 6:15 pm, followed by Chad Hollister taking the Main Stage from 7 pm to 9:20 pm. As the night sky blankets the city, the spotlight shifts to Julia Fortin, who will stir your patriotic spirit with the National Anthem. As her last note fades away, brace yourself for a firework spectacle that's sure to outshine any in your memory. In Montpelier, they don't just celebrate Independence Day - they make it a day to remember.
5. A Slice of Classic Americana at Stowe's 4th of July Vermont Parade
For those seeking an authentic, charmingly old-school celebration, look no further than the Stowe Old-Fashioned Fourth of July Celebration. In an irresistible collaboration between the Town of Stowe and Stowe Vibrancy, the event brings a parade worth talking about to the charming Stowe Village's Main Street. Plan your day around a tantalizing lineup of food vendors, live music performances, and entertainment for the whole family, right on the scenic Village green.
From the World's Shortest Marathon starting at 11 a.m. (dedicated to USMC Lt. Ryan Casey), to the captivating procession of floats led by the Grand Marshal, it's an all-day affair of fun and festivity. But the day isn't over yet! As night descends, make your way to nearby Mayo Fields. This is where you'll witness one of Vermont's most magnificent firework displays painting the night sky with patriotic hues.
6. Step Back in Time this Independence Day at Billings Farm
Get ready for an all-American day of celebration at the 4th on the Farm event at Billings Farm in Woodstock. Embrace your competitive side with historic lawn games or take a break from modern life with horse-drawn wagon rides. Don't miss the chance to test your mettle with youth and adult spelling bees - all with a delightful 19th-century twist! Baseball enthusiasts can channel their inner Babe Ruth and participate in a historic "base ball" game. But, hey, if sports aren't your jam, you can still get in on the fun, cheering for your favorites from the bleachers.
Musical duo Shady Rill will be there to delight you with live performances by Tom McKenzie and Patti Casey, an award-winning songwriter. Treat your taste buds with sweet maple cotton candy and Vermont-made ice cream or go on a culinary adventure with the Mediterranean offerings from the Fork in the Road Food Truck. Whichever way you lean, Billings Farm ensures a 4th of July that's bursting with fun and flavor.
7. A Picture-Perfect Fourth of July Awaits at Lake Morey Resort
Spend your Fourth of July at the Lake Morey Resort, a jewel nestled in the Vermont hills. Not just another barbecue, this event is packing a punch with a town parade, lawn games, and live music to keep you entertained throughout the day. When hunger strikes, treat yourself to lunch under the sunny lake-front Vermont sky. As the day mellows into night, you'll have front-row seats to a dazzling lakeside fireworks display, with the lake's still surface acting as a mirror, doubling the spectacle.
Arrive on Sunday or Monday to snag the 'Midweek Stay 3 & the 4th is Free' package, because who wouldn't want a free day in this haven? So whether you're a thrill-seeker or a chill-seeker, prepare for an unforgettable Fourth of July at Lake Morey Resort.
8. Stars, Stripes and Smugglers' Notch: Jeffersonville's July 4th Celebration
Brace yourself for the Jeffersonville July 4th Celebration at Smugglers' Notch, where the festivities are just as epic as the fireworks. This Independence Day, Jeffersonville transforms into a celebratory 4th of July hub with a parade, country fair, live entertainment, and what promises to be a fireworks display that could outshine the stars themselves.
Centered around the festivities at Smugglers' Notch Resort, begin your day in Jeffersonville at 10 am, participating in the Independence Day Parade. An Independence Day carnival of sorts, you'll find artists, live music, delicious food, wine, beer, and games from 11 am to 4 pm.
Back at Smugglers' Notch Resort, the party kicks up a notch with Jammin' Sam spinning tunes that cater to all ages from 6 pm. Then, from 7 pm, enjoy the harmonious melodies of the Freedom and Unity Choir. Iron Sights rocks the stage from 8-9:30 pm, and as dusk settles, prepare for the grand finale—a spectacular fireworks display that lights up the Green Mountain backdrop. Clear your day, because this Independence Day bash is a full-day affair.
9. Manchester's Bash: From Farm Concerts to Fireworks Display
Gear up for a two-day celebration in Manchester, starting on July 2nd at Earth Sky Time. You won't want to miss their Concerts on the Farm event, where you can groove to the beats of the Garifuna Collective while indulging in mouthwatering pizza, beer, wine, and desserts. Once you've gotten your music and food fix, save some of that celebratory spirit for the main event on July 4th at the Dana Thompson Memorial Park. As the day fades into dusk, the park will be illuminated with the town's Annual Fireworks Display. Pack your favorite picnic or support local vendors offering delectable goodies. It's a back-to-back bash that perfectly sets the stage for an unforgettable Fourth of July.
10. Experience Brandon's Star-Spangled Spectacle
Get ready to paint the town red, white, and blue at Brandon's Independence Day Celebration. Billed as "Brandon's Favorite Day of the Year," this bash isn't just a one-event wonder - it's an all-day fête that will have you feeling more patriotic than Uncle Sam himself. Starting from the crack of dawn till the last firework illuminates the summer sky, there's a whole range of activities planned, ensuring fun for every family member.
Kick off your day with a quaint train ride up Park Street courtesy of the Heritage train, but make sure to keep your eyes peeled for those auction sites. Who knows, you might just stumble upon a hidden gem! As the sun rides high, brace yourself for the adrenaline rush that is the world-renowned Little Debbie Swiss Cake Roll Eating Contest. Mic Drop. Enjoy some evening street dancing and finish up your day under the spectacular firework show that you can catch from almost anywhere in town. As if that weren't enough, the celebration sprawls across the town's new and improved streetscape, pocket parks, quaint shops, and eateries, making Brandon the place to be this July 1st.
11. A Groovy 4th of July in Vermont: Greensboro's Funky Fourth Celebration
Throw on your dancing shoes and let your patriotic spirit soar at Greensboro's Funky Fourth Celebration. The good times roll on July 1st, starting at 5:30 pm on the Patio & Lawn, with free admission for all (but hey, donations are more than welcome). Kick back to the country-rock rhythms of The Mallett Brothers Band. From alt-country and Americana to roots rock, their music is as diverse as America itself - just right for a Fourth of July shindig.
But don't let your dancing feet cool down, because once the sun goes down, it's time for the Glorious DJ to take the stage, spinning a mix of hits, hidden gems, and future classics guaranteed to keep you moving until late into the night.
And what's a party without a feast? The HCA Café has you covered with mouth-watering picnic dinners ready to grab and go. Their homemade mac & cheese will have you coming back for seconds, while the Highland Chicken Salad offers a fresh, flavorful twist. And don't forget to end the meal on a sweet note with their divine Strawberry Shortcake. Remember, seating is first-come, first-served, so bring your lawn blankets and chairs for a perfect picnic under the stars. This is one Funky Fourth Celebration you won't want to miss!
Conclusion
We're all guilty of getting wrapped up in the daily grind. But when the red, white, and blue banners flutter high and the scent of barbecues fill the air, it's time to break the monotony and soak in the sheer magic of the 4th of July. From groovy concerts and sky-painting fireworks to quirky food fests and iconic parades, Vermont brings you an Independence Day bash that is pretty spectacular.
Whether it's at a resort, on a mountain, or right in the heart of the city, Vermont's Independence Day events promise to be unforgettable. Now, just one question remains: where will you be when the fireworks light up the Vermont sky?
So, imagine this: You're nestled in the green heart of Vermont, a cool drink in hand, and the tranquil Lake Champlain as your view. You're at the Basin Harbor Resort, a chill-out paradise that's getting ready to host the best summer getaway of your life. Here's the inside scoop on some killer summer packages designed for every kind of vacationer out there.
First off, we've got a little something for those of us who can't stand the thought of leaving our fur babies behind. Yep, it's the PAWSH Pet Package. Think 3 nights in a super cute cottage, breakfast in bed (well, probably at a table, but no judgment here), and your furry bestie at your side. But wait, there's more - your pet gets the A-lister treatment with a Basin Harbor collar and leash, travel pet dish, and a special welcome gift on arrival. Trust me, your Instagram followers won't know what hit 'em.
Alright, now for the lovebirds out there. Get ready to turn up the heat with the Love in Vermont package. This romantic escape includes a two-night stay, mouth-watering breakfasts, and a gourmet Charcuterie Board (fancy, right?). Throw in a bottle of Shacksbury Champlain Sparkling Cider for those cozy evening toasts and a scenic cruise aboard the EScape. Who needs Paris when you've got Vermont, am I right?
But if you're the party-loving kind, the Red Mill 50th Anniversary package is just the ticket. The legendary Red Mill Restaurant at Basin Harbor is hitting the big 5-0, and they're throwing a bash for the books. The package comes with some cool Red Mill-themed gear and a $50 dining credit. Great vibes, awesome food, and memories that'll last a lifetime.
For all the water enthusiasts, the Float Your Boat package is your passport to aquatic adventure. Daily kayak rentals, a lake tour aboard the EScape, and your pick of paddleboard or motorboat rentals. Just picture yourself cruising on Lake Champlain, wind in your hair, worries forgotten. Summer just doesn't get better than this.
Calling all Vermont locals! Basin Harbor is ready to give you some home-team love with the Vermonters Only Package. Explore your backyard and enjoy exclusive discounts for local residents. Trust me, staycations have never looked this good.
Now, let's talk about the Vacation Ace package. Perfect for tennis pros and newbies alike, this package serves up daily breakfast, a private lesson with a Basin Harbor Tennis Pro, and some time on the resort's top-notch clay courts. It's game, set, and match for a fantastic vacation.
And if you're a foodie, brace yourself. The Live Like a Local package is a full-blown culinary tour of Vermont, all within the resort. You'll be savoring hard cider, local chocolates, maple syrup, Vermont cheese, and crackers. Who needs a passport when you've got this gastronomic journey?
Feeling sporty? Give pickleball a shot with their Pickle Package. You get a pickleball clinic, equipment rentals, and yeah, you guessed it - local pickles. It's the fastest-growing sport in America, and also the tastiest, apparently.
Lastly, for all the golfers out there, the Classic Golf package lets you swing amid the stunning natural beauty of Vermont. Beautiful greens, breathtaking views, and the chance to bag a birdie (or at least try) - it's a golfer's dream come true.
So there you have it, folks. Each of these special summer packages at Basin Harbor is your ticket to an unforgettable summer. Don't just daydream about it, make it a reality. Start your Basin Harbor tradition, book your summer package, and get ready to make some epic summer memories.
Ready to start your tradition with Basin Harbor? Click through to book your perfect summer package now. Basin Harbor awaits you, and trust me, summer there is like nowhere else!
All listings featured on Vermont.com are independently selected by our editors. If you book or purchase something through our links, we may earn an affiliate commission - which in turn helps support our work - so, thank you!
Up in the Northeast Kingdom, in gorgeous Jay, VT we've found the perfect Vermont summer getaway, where epic relaxation and adventure vibes collide. Picture yourself surrounded by the lush greenery of a forest mountain creek and kicking back and soaking in the serenity of your own private backyard waterfall. With spacious bedrooms, a fun, open layout, and breathtaking views, this is the ultimate Green Mountain retreat for an unforgettable vacation.
About The Property:
This cabin is the perfect fusion of comfort and style, designed to make you feel at home and ready to unwind. With three bedrooms (including a beautiful master suite) and two full bathrooms, there's plenty of space for everyone to kick back and enjoy their downtime.
The open-concept living area is a chill spot where you and your group can hang out and relax - natural light floods in through the large windows, creating a bright and inviting atmosphere.
The living area leads seamlessly to the game room with foosball and wet bar, so entertaining is a breeze. Whether you're binge-watching your favorite shows or engaging in lively conversations, this is the spot to unwind and create lasting memories.
Now, let's talk about the backyard—the true gem of this property. Brace yourself for the peaceful sounds of your own private waterfall cascading into a tranquil swimming hole. Take a seat in the comfortable Adirondack chairs, close your eyes, and let the soothing sounds of nature wash over you.
What's Nearby?
If you're looking for a more vigorous afternoon, it's time to put on your hiking boots and conquer the nearby Jay Peak summit. A part of the Long Trail, this moderate hike will lead you through lush forests, over babbling streams, and ultimately up to an awe-inspiring viewpoint. The hike takes close to three hours (it's an out-and-back), but the views from the top looking into Canada are absolutely worth it. 
When hunger strikes, head over to The Belfry—a hidden local gem in nearby Montgomery Center that's all about good vibes and mouthwatering flavors. A long-time staple, the staff at the Belfry have an unbelievable way of making you feel completely at home like you've been coming there for years. Our recs: any of the burgers are sensational, but the Jay Peak Burger with garlic and VT cheddar is *chef's kiss*.
So you've hiked the long trail, cooled off in the backyard and now you're ready to really make a splash? Less than 15 minutes away, look no further than the Jay Peak Pump House - Vermont's only indoor water park. Get your adrenaline pumping as you hit up their water slides, relax on the lazy river, or take on the water obstacle course. Between all of this and the attached snack bar, you're going to have a heck of a lot of fun.
Once back at the house, settle back for the evening in the living room (maybe a little wood-burning stove action if it's one of those perfect cool mountain nights), or serve up a match or two of foosball. Or if you're really feeling the outdoor vibes (who can blame you?) head out to the creeks-side firepit and dig into some 'smores. No matter how you wrap up your day at this summer hideaway, you'll have a solid night's sleep knowing what a perfect day it's been.
How to Book:
This Jay Cabin can sleep up to six guests and is currently listed at $324 per night.
All listings featured on Vermont.com are independently selected by our editors. If you book or purchase something through our links, we may earn an affiliate commission - which in turn helps support our work - so, thank you!
Are you looking to get out and explore Vermont this summer? Vermont's state parks are exactly what you're looking for. With more than 50 unique parks to explore, get ready to be mesmerized by breathtaking landscapes, serene lakes, and exhilarating trails. From the tranquil shores of Burton Island to the rugged beauty of Smugglers' Notch, Vermont's state parks are the perfect launching pad for a Green Mountain adventure.
Whether you're a first-time VT visitor or a seasoned Green Mountain explorer, these parks offer a slice of paradise. From kayaking on serene lakes to hiking through lush forests, each park has its own unique allure. And it's not just about the parks themselves - nearby attractions, charming lodging options, and farm-to-table dining experiences will add an extra touch of magic to your expedition. So pack your sense of adventure and get ready to uncover the beauty, excitement, and hidden treasures that await you in Vermont's stunning state parks.
Located in Lake Champlain, Burton Island State Park is a true gem for outdoor enthusiasts. A short ferry ride over will bring you to Burton Island's stunning shorelines and panoramic views - which are perfect for swimming, boating, and kayaking. The island also offers hiking trails that lead to hidden coves and picnic spots. For those who love camping, Burton Island State Park provides amazing island camping experiences in their lakefront lean-tos and tent sites.
Nearby attractions include the picturesque bike trails along Lake Champlain and the historic village of St. Albans. When it comes to lodging, we happen to love the charming Back Inn Time Bed & Breakfast, or if you don't mind a bit farther of a drive, Hotel Vermont in nearby Burlington is a chic boutique winner. For dining, don't miss the great eats at Twiggs Gastropub or the craft beers at 14th Star Brewing Company.
Nestled along the shores of Lake Bomoseen, this state park is a hidden paradise. Take a dip in the crystal-clear waters, try your hand at fishing, or rent a boat to explore the lake's serene beauty. Hiking enthusiasts will enjoy the trails that wind through dense forests and offer breathtaking views.
Within 10 miles, you can check out the Pond Hill Ranch Rodeo (one of the only rodeos in the state), or you can have a night at the track at Devil's Bowl Speedway. For a unique lodging experience, check out the cozy Lake Bomoseen Lodge and Taproom, or we like this great VRBO cottage. Satisfy your taste buds with farm-to-table delights at The Taproom or eat dockside at Lake House Pub and Grille.
Prepare to be mesmerized by the majestic Camel's Hump, Vermont's iconic mountain peak. Camel's Hump State Park offers a network of hiking trails that take you through lush forests, alpine meadows, and breathtaking vistas. As you ascend the mountain, you'll be rewarded with panoramic views of the surrounding valleys and lakes.
Within a short distance, explore attractions like the scenic Stowe Mountain Resort or the charming village of Waterbury, home to the renowned Ben & Jerry's ice cream factory. For a unique stay, consider the cozy Green Mountain Inn, perfectly located in the middle of downtown Stowe. Treat yourself to a farm-to-table dining experience at Hen of the Wood or sip craft beers at The Alchemist Brewery.
Nestled around the picturesque Elmore Lake, Elmore State Park is a tranquil haven for outdoor enthusiasts. Swim in the clear waters, relax on the sandy beach, or embark on a scenic hike up Elmore Mountain for breathtaking views of the surrounding countryside. Don't forget to bring your picnic basket to enjoy a leisurely lunch by the lake.
For a unique lodging experience, this rustic cottage farmhouse on Airbnb is as tranquil as it gets. Just down the road in Morrisville, be sure to visit Lost Nation Brewing, for great food and amazing local craft beers.
Emerald Lake State Park, with its sparkling lake and lush forests, offers a perfect retreat for nature lovers. Swim, fish, or paddle in the crystal-clear waters, surrounded by the scenic beauty of the Green Mountains. The park's hiking trails lead you through serene woodlands and provide glimpses of wildlife along the way.
Nearby in Manchester, explore attractions such as the legendary Northshire Bookstore or the breathtaking drive up the longest private-owned toll road in America at Equinox Mountain. Stay at the charming Banrstead Inn or indulge in a fabulous stay at the iconic Equinox Resort. For dining, savor farm-to-table delights at the Silver Fork or the Crooked Ram for truly excellent meals.
Tucked away in the heart of Vermont's wilderness, Green River Reservoir State Park offers a secluded retreat for outdoor enthusiasts. Paddle through the calm waters of the reservoir, surrounded by lush forests and untouched beauty. Hiking trails allow you to explore the park's diverse ecosystems, where birdwatching is a must for nature lovers.
Camping is the way to go at Green River, or make a day trip of it and enjoy a stay at the always-welcoming Smugglers' Notch Resort. Also, heading back to Lost Nation for pints and food is always advisable.
Jamaica State Park, nestled along the scenic West River, is a paradise for outdoor enthusiasts. Swim in the river's refreshing waters, explore the park's hiking trails, or simply relax and enjoy a picnic by the water. Don't miss the opportunity to visit the park's captivating Hamilton Falls, a spectacular waterfall hidden within the lush forest.
This amazing tiny house is the perfect home base for your Jamaica adventures, and there are also a ton of nearby camping areas, including the park itself. We always like to stop by Honey Pie for burgers and shakes, and you can never go wrong with a trip up to Stratton's Village shops and restaurants.
With its picturesque lake and surrounding mountains, Lake St. Catherine State Park offers a serene and scenic retreat. Swim in the pristine waters, rent a kayak or paddleboard, or just take it easy on the sandy beach. The park also features hiking trails that provide panoramic views of the lake and the surrounding landscape.
Stay at this quaint cottage for lakefront living or enjoy the luxury of The Wilburton just a short drive away in beautiful Manchester. Satisfy your taste buds with farm-to-table delights at the rustic local favorite, Barn Restaurant.
For breathtaking views and scenic beauty, Mount Philo State Park is a must-visit destination. A short hike to Philo's summit where you'll be rewarded with panoramic vistas of Lake Champlain and the Adirondack Mountains. The picnic tables and grills are ideal for a sunset outing.
Within the area, explore attractions like the Shelburne Museum or the charming town of Vergennes. Stay at the cozy Basin Harbor or head a bit farther north to the Hotel Vermont in Burlington. Starry Night Café has been serving up delicious dishes for years and is always the perfect treat. Similarly, you could head North on Rt. 7 to Fiddlehead Brewing Company where you can enjoy a wood-fired pizza from Folino's and a pint or two from the eponymous brewery on site.
Tucked away in the picturesque Northeast Kingdom, New Discovery State Park offers a serene and secluded retreat. Don't miss the chance to spot wildlife, including moose and deer, during your explorations. They call the Northeast Kingdom God's Country, and this gorgeous state park is certainly adding to the allure.
No summer trip to the NEK is complete without time spent on Kingdom Trails, so be sure to get in your mountain biking fix on the hundreds of single-track trails found here. For the best of it all, you'd be wise to stay at the Wildflower Inn, where many of the trails begin and riders and hikers alike gather for end-of-day drinks.
Vermont State Park Tips:
- Pack essentials such as sunscreen, insect repellent, hiking shoes, and plenty of water.
- Book accommodations in advance, especially during peak summer months.
- Respect the environment by practicing Leave No Trace principles and following park regulations.
For detailed information on all 55 of Vermont's state parks, be sure to visit the official State Parks website. It's your go-to resource for everything you need to know about these incredible natural destinations, including park amenities, activities, and directions.
Are you stoked for summer? Of course you are. It's been a long, snowy winter, which don't get us wrong - we love it, but by the time April rolls around, we're ready for a little fun in the sun! If, like us, you're looking for a place to kick off this beautiful season, Stratton Mountain Resort is where it's at. Trust us, you're in for a Memorial Day Weekend like no other, packed full of exciting activities, jaw-dropping events, and terrific deals all season long. Think of it as your perfect opportunity for a Vermont getaway. So, buckle up and let's dive into what awaits you at Stratton Mountain this Memorial Day Weekend - and beyond!
Music in the Mountains
Alright, let's start with something everyone loves - a live concert. Stratton Mountain is set to host its annual Memorial Day Weekend Concert. This year, they've got performances from FREEBIRD and Changes in Latitudes taking the stage on Saturday, May 27 starting at 5pm. We're talking about a night filled with good tunes, great company, and the stunning backdrop of Stratton Mountain. So go ahead and secure your tickets now because it's going to be an absolute blast!
Mountainside Farmer's Market: Embracing the Local Vibe
Looking to ease into your Memorial Day festivities? I get it! How about taking a relaxing stroll at the Stratton Mountainside Farmer's Market on Saturday? Set in the scenic Stratton Courtyard from 2-5PM (plenty of time to hit up the concert afterwards), it's the perfect place to enjoy the local Vermont community vibe. From Appalachian Gap Distillery, Taylor Farm Hemp Co, Gem Moon Jars to Ken Ahlering Painting, there's a plethora of vendors ready to showcase their crafts. And did we mention there will be live music from Heavy Nettles? Quite the ambiance, right?
Adventure Unleashed with Scenic Gondola Rides and the Bike Park
Okay, now let's get the adrenaline pumping. Are you ready to take in Vermont's breathtaking beauty from new heights? Stratton's Scenic Gondola Rides offer the perfect opportunity to marvel at Vermont's awe-inspiring beauty from a whole new perspective. Offered all summer long, taking the gondola to the top of the mountain is the perfect starting point for a leisurely hike out to the Firetower trails, or if you're feeling particularly adventurous, there are plenty of options for longer routes back to the base.
And if that's not enough, the newly opened for the season Stratton Bike Park is ready to add a dash of adrenaline to your holiday. With an ever-expanding trail network, the lift-serve mountain biking at Stratton is on a whole other level. The trail-building virtuosos at Sinuosity have meticulously crafted the perfect mix of flow and speed, with trail riding for all ability levels. Didn't bring up your bike? No problemo - swing by First Run in the village to gear up from top to bottom.
Finding Tranquility on the Stratton Golf Course
Are you more of a "chill out and unwind" kind of person? If so, we've got just the thing for you. The Stratton Golf Course offers the perfect balance between relaxation and luxury. Nestled amidst the vibrant greenery of Vermont, it's not just a golfer's paradise, but a true sanctuary for everyone seeking a bit of serenity. A championship 27-hole course in three parts, Mountain, Lake and Forest, a round on the links at Stratton is a golfer's shangri-la.
Mountaintop Yoga: Where Peace Meets Scenic Beauty
Speaking of tranquility, nothing beats Stratton's Mountaintop Yoga classes. Take a complimentary gondola ride to the summit where a relaxing morning flow class awaits. Imagine welcoming the day amidst the beautiful Vermont scenery, channeling your inner peace. It's an experience that you simply can't miss. And that view!
Making it a Long Weekend at Stratton
We totally get it if you're already wishing to extend your stay. Good news - Stratton is running a special 'Make it a Long Weekend' package all summer long that has got you covered. Book for Friday and Saturday night and score an extra night for free. This means more time for another round of golf, another day at the bike park, or just a peaceful rest day after a long hike.
The Magic of Summer at Stratton Mountain Resort
While this Memorial Day Weekend is going to be epic, it's just a glimpse of what summer at Stratton looks like. From the soothing weather, the friendly local community, to the endless fun activities, Stratton Mountain Resort has everything to make your summer unforgettable. So, what are you waiting for? It's time to pack your bags, and let the summer adventures at Stratton begin!
Edited on 7/24/23: This contest has concluded. Be sure to check out the Fall Foliage Giveaway at Basin Harbor going on now!
Adventure, luxury, tradition – find it all at Basin Harbor Resort. This weekend, in collaboration with Shacksbury Cider, you have a chance to win a week-long stay at this serene lakefront sanctuary. 
Are you an adventurer at heart who relishes luxurious living and cherishes tradition? If your answer is yes, then ready your suitcases and tag your loved ones. Your dream vacation might just be a click away.
Tucked back at the end of a winding Vermont country road, you can find Basin Harbor Resort, a 700-acre, fifth-generation Shangrila. And with this sweepstakes, you have the chance to create a summer's worth of cherished memories in just one week.
This weekend only, Basin Harbor Resort is holding a giveaway sweepstakes that offers a week-long free stay from July 29th to August 5th at their serene lakefront resort. But that's not all. They're sweetening the deal with an additional treasure trove of goodies from the good folks at Shacksbury Cider.
How to Win a Week Stay at Basin Harbor
Participating is as easy as sipping a chilled glass of Shacksbury cider on a warm summer afternoon. Simply go to Instagram and follow @basinharbor and @shacksbury. Next, tag up to three friends who you'd love to bring on this unforgettable trip. Lastly, 'like' the official contest image, and you're in the running for that dreamy week-long stay at Basin Harbor Resort.
For extra chances to win, fill out the contest form online or share the original contest post to your stories. Remember, the sweepstakes is only running this weekend, so don't let this opportunity drift away.
Explore the Wonder of Basin Harbor Resort
Located on the shores of Lake Champlain, Basin Harbor's 700-acre property is an oasis of adventure and relaxation. Each of their 74 unique cottages, revamped by renowned interior designer Joanne Palmisano, blends vintage charm with modern comfort.
At Basin Harbor, days can be filled with exciting activities like pickleball, tennis, wakesurfing, or disc golf. In the evenings, unwind in the comfort of your personal lakeside cottage.
This weekend, seize the opportunity to make Basin Harbor Resort your dream vacation destination. Don't miss the chance to start your own tradition at Basin Harbor, where it's more than a vacation – it's a lifestyle.
All listings featured on Vermont.com are independently selected by our editors. If you book or purchase something through our links, we may earn an affiliate commission - which in turn helps support our work - so, thank you!
Sure, Vermont is an absolute winter wonderland with world-class skiing and riding galore. But if you think that's all the Green Mountain state has to offer, buckle up, because we're about to take you on a summer tour of a Vermont property that will knock your woolen socks off. 
Tucked away in the rolling landscape of Sugarbush Ski Resort, is a stunning mid-century modern retreat that has been meticulously renovated to indulge your every whim and fancy. This isn't just any summer home; it's a professionally decorated, architect-designed masterpiece.
The Great Room and Chef's Kitchen
When you walk into the cathedral-ceilinged great room, prepare to be awestruck by panoramic mountain views framed by expansive windows. Grab a book, sink into a cozy window seat and let your city stress melt away faster than a maple creemee in July.
At the heart of the home, the fully outfitted chef's kitchen sings with professional-grade Italian appliances and a custom walnut island. You can whip up a farmer's market feast or sizzle some locally caught trout while your companions regale you with tales of their day.
Luxurious Bedrooms and Bathrooms
The bedrooms are nothing short of dreamy. Two king bedrooms, a queen bedroom, and a custom bunk room offer sumptuous linens and stunning views. The primary suite offers a work area for those who can't totally escape the grind, an oversized soaking tub, and a rain shower that will make you feel like you're bathing under a Vermont summer drizzle.
Downstairs, the second king room conveniently opens to an outdoor sitting area—hello, morning coffee—and the hot tub, perfect for soaking under the stars after a day of hiking.
Recreational Spaces
The large entry and mudroom are the perfect staging area for summer adventures with ample storage for hiking gear or bikes. And for those rainy days, the spacious TV and game room is the perfect setting for family movie marathons or board game championships. A bar and direct access to an outdoor courtyard and an 8-person saltwater hot tub are just the cherry on top of this vacation sundae.
Prime Location
Don't let the tranquil setting fool you; the property is just 3 minutes away from the vibrant life of Lincoln Peak and Mount Ellen. An 18-hole golf course, lift-serve mountain biking, disc golf, and summer camps galore await you and your family at this Summer hideaway.
Also nearby you'll find Lawson's Finest Liquids. A staple in the local community and well beyond, this brewery is renowned for their exceptional, high-quality craft beers. The beirhall itself is welcoming, with a beautiful taproom where you can enjoy the charm of Vermont while sipping on their latest creations. Don't miss their flagship beer, the Sip of Sunshine IPA, which truly lives up to its name. The beer menu is extensive, ensuring there's something for everyone, from the craft beer novice to the seasoned connoisseur.
Of course, great beer should be paired with great food and luckily, American Flatbread is just down the road. This local-favorite restaurant goes beyond the regular dining experience serving up artisanal pizzas baked in a primitive wood-fired oven. The restaurant's ethos revolves around farm-to-table dining, with ingredients sourced from local farmers and producers. Their menu celebrates Vermont's agricultural bounty, boasting fresh, seasonal toppings that make each bite unique and delicious. Pair one of their flatbreads with a cool Lawson's beer for a match made in heaven.
Surrounded by gorgeous natural beauty and activities galore this property truly sets a new standard for summer vacation rentals. It can comfortably sleep 10 guests and promises to make your Vermont summer vacation unforgettable. The house is currently listed at $1517 a night.
Imagine a place where the smell of fresh mountain air and the sounds of nature are your morning wake-up call. Where days are filled with splashing in the sun, hiking in the trees, and new experiences at every turn. This is what you'll find at the ideal Vermont family vacation destination, Smugglers' Notch Resort. Set amidst the breathtaking Green Mountains, Smugglers' Notch, affectionately known as Smuggs', is well renowned as "America's Family Resort" - and for good reason! From accommodations tailored to families to an array of engaging activities for all members of your crew, Smuggs is the perfect home-away-from-home. Here's your guide to an unforgettable long weekend at Smugglers' Notch Resort.
Welcome to Smuggs!
Arriving at the Resort
Kick off your shoes, relax, and let the adventure begin. Smuggs is just a day's drive from the Tri-State area, making it a convenient (and scenic) getaway all without the stresses of air travel. As you drive up, you'll be greeted by the stunning vista of lush, green landscapes and the stunning beauty of Vermont's tallest peaks. Remember to stop for a family photo with these majestic mountains as you drive through the Notch Road!
Checking Into Your Accommodation
From condos that feel like your second home to cozy lodges nestled in the woods, Smuggs' range of accommodations cater to every family's needs and sizes. The resort's welcoming staff will guide you through a seamless check-in process, ensuring you settle in comfortably and get your vacation started on the right note.
Dinner at Morse Mountain Grille
After dropping off the bags and taking a few minutes to take it easy, head out to the Morse Mountain Grille for your first family meal of the trip. This casual dining spot offers a wide variety of options to suit even the pickiest of eaters. Savor locally-sourced dishes as you enjoy the resort's laid-back atmosphere and Vermont's scenic charm. The Grille's kid-friendly menu and warm service are sure to make your family's dining experience a delightful one.
Evening Family Entertainment
End your first day with a round of smiles at the resort's evening entertainment. Smuggs' hosts daily family-friendly events, such as magic shows, musical performances, movies, bonfires complete with marshmallow roasting, and even dive-in-movie nights! This is your first night at Smuggs; kick back, unwind and relax.
Day 1: Fun in the Sun
Morning at the FunZone 2.0
Start your second day at Smuggs in the FunZone 2.0, the resort's 26,000-square-foot family fun complex. Here, you can challenge each other to a game of ping-pong or mini-golf, scale the climbing walls, or navigate the Leap of Faith. The FunZone 2.0 is perfect for family bonding and is sure to get your adrenaline pumping. It's not just a play area - it's a play haven!
Afternoon Outdoor Exploration
Post-lunch, it's time to venture into the natural beauty surrounding Smuggs. Choose from a seemingly never-ending list of family-friendly outdoor activities - perhaps a hike up Madonna Mountain, or a peaceful kayak ride on the resort's mountain reservoir, Bootleger's Basin. For the more adventurous, Smuggs offers a thrilling zip-line canopy tour that is downright exhilarating!
Dinner at Hearth & Candle
For dinner, you're going to love what's in store for you at Hearth & Candle, Smuggs' elegant (yet family-friendly) on-site restaurant. Offering a variety of exquisite dishes crafted from local Vermont produce, Hearth & Candle is not your typical resort eatery. And a tasty kids' menu ensures the little ones aren't left out of this culinary treat.
Day 2: Unwind and Relax
Morning at the Mountainside Water Playgrounds
On your third day at Smuggs, cool off at the Mountainside Water Playground. With eight heated pools, four waterslides, and a stunning mountain vista, this is a place where you can relax and have fun at the same time. You might find it hard to leave the comfort of your poolside lounge chair though!
Afternoon: Spa Treatments + Kid Camps
While the kids participate in Smuggs' award-winning children's programs, adults can enjoy a little R&R at the resort's spa. Offering a range of treatments designed to rejuvenate and refresh, it's the perfect opportunity to indulge in some well-deserved self-care.
Evening: Great Eats at the Red Fox
Dinner at Martell's At the Red Fox is just what the family is looking for. This Jeffersonville gem skillfully fuses a family-friendly atmosphere with an enticing menu. Whether it's the hearty flavors of their famous prime rib or the delectably fresh seafood options, to food is delicious and the warm, inviting Vermont-style decor is just right! The children's menu ensures even the youngest guests are catered to and satisfied.
Day 3: Smuggs' Veterans
Morning Relaxation:
After two days of excitement and exploration, your family will now be veterans of Smugglers' Notch Resort. Get your day started with a hearty breakfast at Morse Mountain Grille. Enjoy the relaxed atmosphere and savor favorites like fluffy pancakes or a loaded omelette while planning out the day.
Afternoon Adventures:
Remember, this is your vacation! If you're all about action, the mountain biking trails and the Smuggs' Skate Park are waiting for you. For something a little more laid back, take a peaceful kayak or SUP ride on one of the resort's reservoirs or organize a family mini-golf tournament at the resort's Woodland mini-golf course. Make the most of your last day - there's no wrong choice!
—
A summer adventure at Smugglers' Notch Resort isn't your ordinary family getaway. It's an exciting mix of invigorating activities, delectable cuisine, and awe-inspiring views – all in the heart of Vermont's idyllic, relaxing landscape. From mountaintop picnics to thrilling treetop obstacle courses, and ending the day with a spectacular sunset, each moment at the resort is packed with potential. So why wait? Start plotting your family's Smugglers' Notch escape now. With endless options for fun and exploration, it's the ultimate setting for an unforgettable summer story. Who knows? It might just become your family's favorite new tradition.
We're big advocates of using your hard-earned vacation as a time to fully relax, unwind, and unplug. It's one of the best parts of getting away; leaving all that work, hustle, and social scrolling behind. Conversely, when you're in a place as gorgeous and picturesque as Vermont, it can be difficult not to embrace that influencer state of mind, and just snap up some shots for the 'gram. You know, meadows of green grass and sunflower fields, moody foliage-covered back roads, sweeping snow-capped mountain vistas - trust us, we get it.
As far as photogenic accommodations, the properties below are among the most reel-worthy digs we've encountered. From rustic-chic mountain lodges to grand resort getaways, stunning bed and breakfasts to designer farm stays, if you want to make your followers green with envy, it's time for a trip into the Green Mountains.
We're no strangers to roughing it in nature. Whether we're slogging through a 4-day section on the Long Trail, getting some dawn patrol freshies on our AT setups, or just driving home from the office during mud season - we love to get down and dirty out in the Green Mountains. That being said, if we can mix in a little luxe with our great outdoors - all the better. That's why this high-end, yet rugged tiny house in Windham, VT has so resolutely piqued our interest.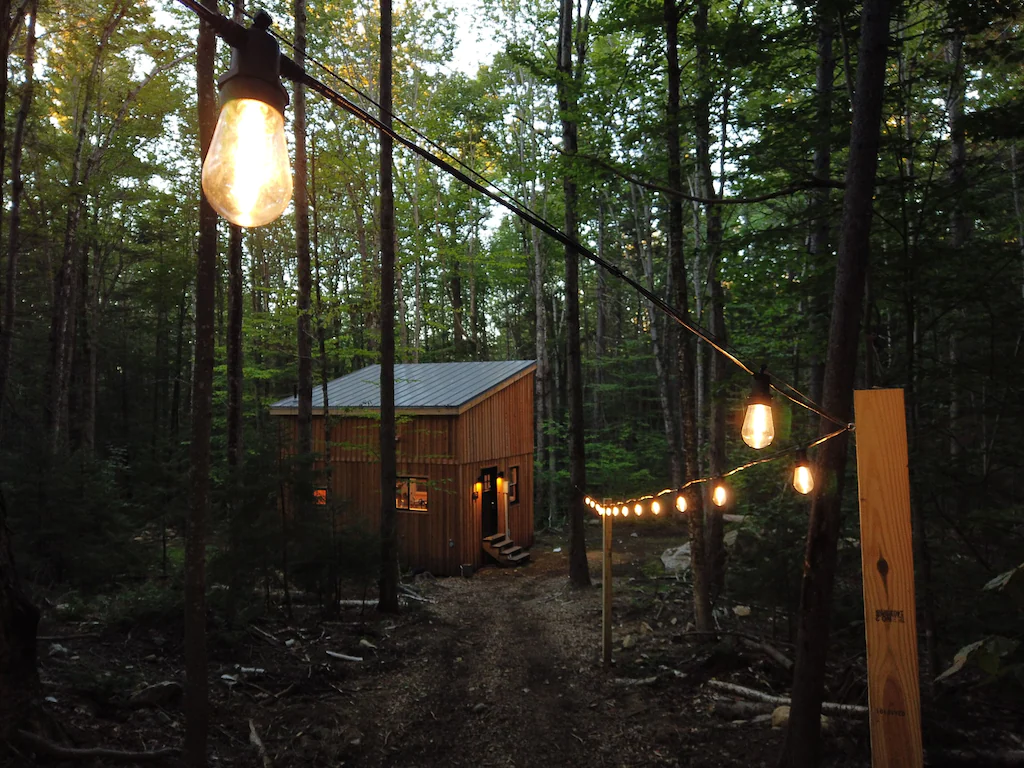 Set back deep in a pine grove a good 100 yards or so from the closest parking spot, the Edison bulb-lit walkway to the front door is magical and transformative. Leave all your stress and complications back in the car - you're about to set out on some serious forest bathing.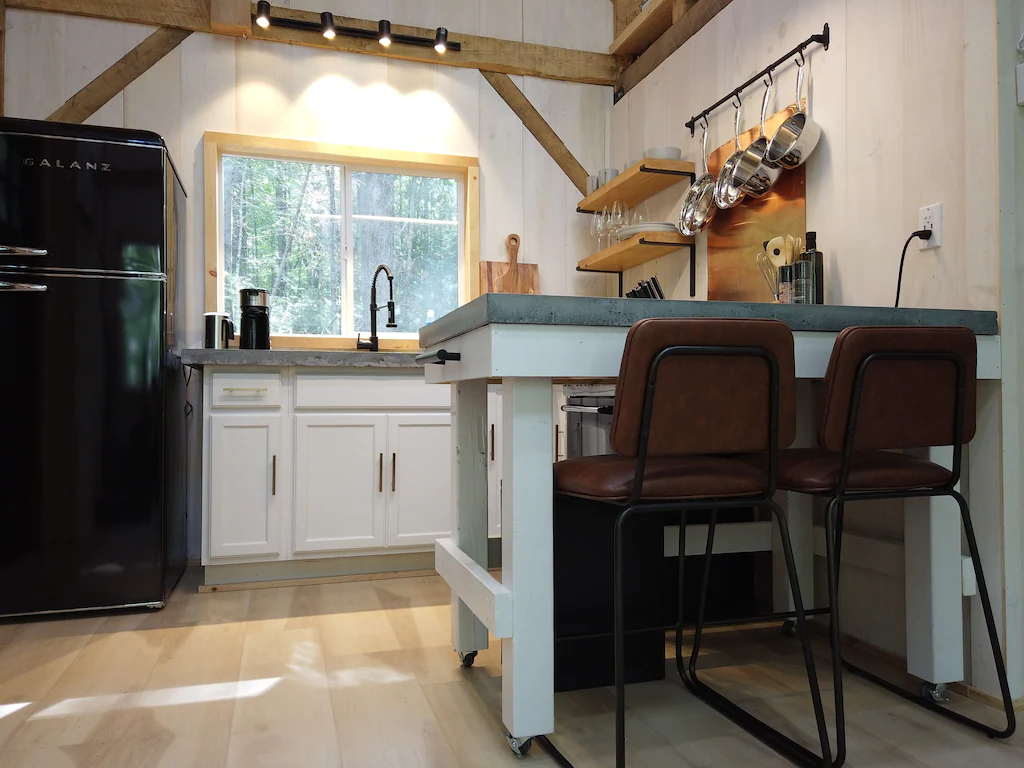 Inside, the tiny house you'll find yourself wowed by the 17-foot ceilings and the wall of windows looking out on the trees below. In fact, every window greets you with a sea of brilliant green pine boughs and moody forest scapes. The small, yet amply equipped concrete-countered kitchen has a four-burner stove with copper backsplash, deep stainless steel sink, microwave, coffee maker, and fridge with freezer. More than enough to cook either an extravagant gourmet dinner, or to casually whip up a quick breakfast sammie for the mountain.
The sleeping loft is full height with a wonderfully comfortable queen-sized bed, end tables with charging outlets, and individual lights perfect for catching up on some much-needed reading.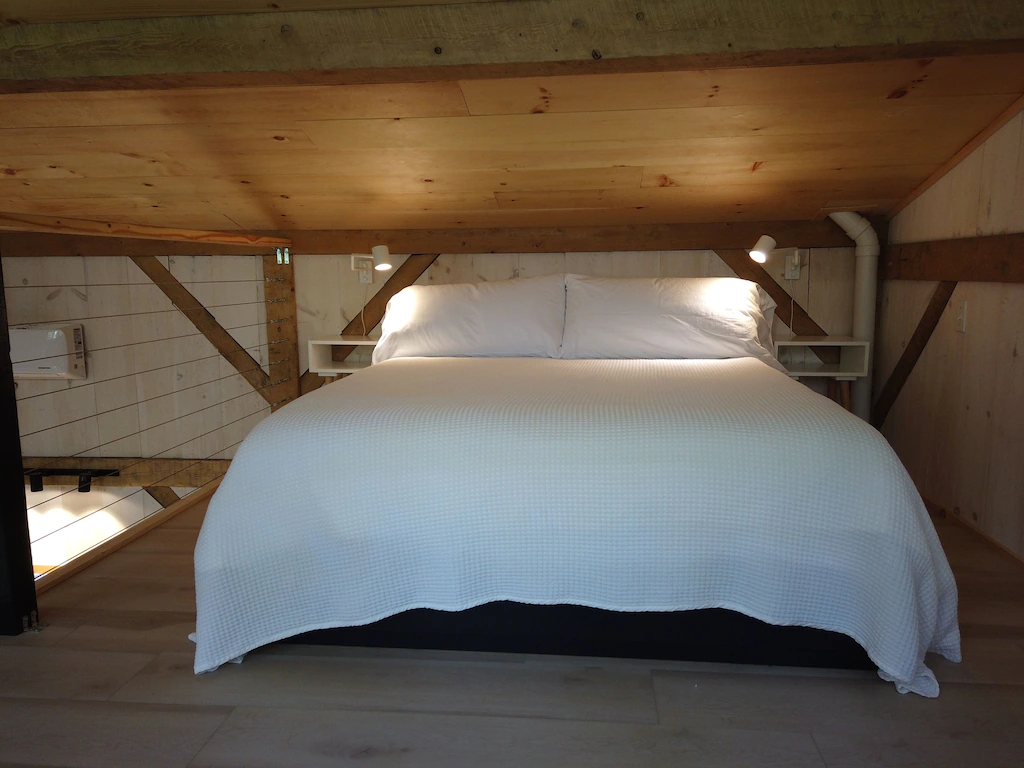 If you truly can't manage to tear yourself away from work while you're here, there is also a workspace with an inspirational view out into nature and a blazing-fast internet connection for any emergency Zoom meetings or Slack sessions that may arise.
Downstairs you'll find a cozy leather sofa to curl up on, as well as a chic wood and wrought iron coffee table. In the mood for a movie night? You're in luck - the drop-down home theater projector plugs easily into your smartphone or laptop and you'll feel like you're in your own personal treehouse drive-in in the woods.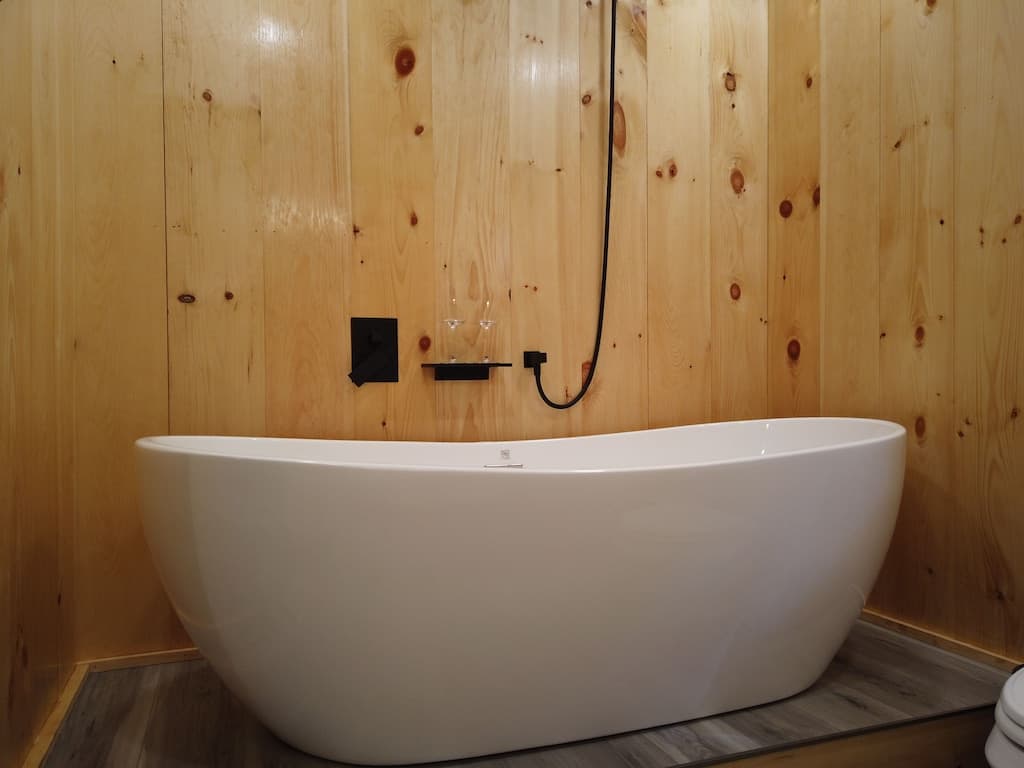 While everything about this tiny getaway may be breathtaking, the true pièce de résistance can be found with the 71" soaking tub in the bathroom. With more than enough room for two (and a convenient shelf for a bottle of wine and glasses), you'll be able to feel any tension or pressure melting away as soon as you dip in.
While you wouldn't be blamed for never leaving this peaceful abode, there is a ton to do in the surrounding area. Windham is smack dab in the middle of ski country and there are three ski resorts within a 20-minute drive, including Stratton Mountain. In the Summer, there are world-class golf courses with sweeping mountain views, as well as more hiking trails and swimming holes than you can imagine (Pikes Falls is a local favorite).
In nearby Manchester, you'll find fine dining (be sure to check out the Crooked Ram and Silver Fork) as well as outlet shopping and The Orvis Flagship store. Closer to the cabin just a few minutes away, you're definitely going to want to do lunch at Honey Pie, or if you're looking to get a little fancy, enjoy dinner at their sister-restaurant SoLo Farm & Table.
The tiny house can fit up to three guests, and it is currently listed at $288 per night.
What guests are saying: "The best getaway we could dream of. Surrounded by beautiful and evolving nature, we found this cabin very charming and beautifully decorated. That bathtub is the cherry on the cake."
All listings featured on Vermont.com are independently selected by our editors. If you book or purchase something through our links, we may earn an affiliate commission - which in turn helps support our work - so, thank you!
Is it really even a getaway if you can't bring your pooch? We are unabashedly dog people here at the Vermont.com HQ, so we're always on the lookout for great pet-friendly holiday choices.
Vermont as a whole is pretty dang dog friendly. It's not unusual to encounter dogs at local breweries or farmers markets, and many of the area's best restaurants have outdoor seating options so you can keep your pal close by. Then there are the hiking, biking, and swimming options that will keep tails wagging a mile a minute. So, while there are certainly no shortage of activities to keep your pup loving his Green Mountain adventure, what about where to stay?
Thankfully more and more lodging options keep popping up around the state that will allow you to bring a dog, but the establishments below go above and beyond to make sure your entire crew (four-legged or two) feels welcomed and special. Check out some of our favorite pet-friendly places to stay on your next Vermont getaway.
All listings featured on Vermont.com are independently selected by our editors. If you book or purchase something through our links, we may earn an affiliate commission - which in turn helps support our work - so, thank you!
Pure Maple Syrup. Nature's and Vermont's flawless addition to the culinary landscape. It's tough to improve on the sweet perfection of some Grade A VT's finest, and yet, each of these products below somehow have found a way to do just that.
Whether we're talking about infusions that will leave you lovestruck, candies that always hit the sweet spot, or maple/hot sauce hybrids that will leave your mouth on fire and asking for more - it's amazing how adaptable and complimentary Vermont maple syrup can be to a myriad of recipes.
So when the sap is flowing and the boilers are bubbling, we're of course eagerly awaiting the first batch of syrup, but we're also just as hyped about what Vermont Makers will create next. Here are 11 of our favorite Vermont maple products that we know you're also going to go crazy for.
All listings featured on Vermont.com are independently selected by our editors. If you book or purchase something through our links, we may earn an affiliate commission - which in turn helps support our work - so, thank you!
We're not ashamed to say it, we're snow obsessed. As soon as the first flakes begin to fly, you'll find us tuning the skis, double-checking the gear pack, and heading to the mountains. There is nothing quite like the excitement of a ski vacation. The anticipation, the preparation, and of course the time spent out on the hill with friends and family. The old adage is true; any day spent skiing or riding is a better day than one in the office.
With that in mind, we're always on the lookout for the best basecamps for a VT Winter getaway, so we put together a list of some of our favorite spots to dry out the boots and call home. Whether it's first tracks on a powder day, hot chocolate by the fire, aprés ski shenanigans with your crew - no matter how you envision the perfect ski vacation, when Winter hits, it's time to head to the mountains. So grab your board, load up your skis, and come check out 11 of the best ski chalets, townhouses, lodges, and cabins for your next Vermont adventure.
---
Don't forget to check out our in-depth Skiing and Riding Guide for all the latest deals, details, and information. Bring on the snow!
All listings featured on Vermont.com are independently selected by our editors. If you book or purchase something through our links, we may earn an affiliate commission - which in turn helps support our work - so, thank you!
Sugaring season is a special time of year in Vermont and as the country's largest and best producer of maple syrup, we look forward to showing off our production process every year at the annual Maple Open House. It's not meant to celebrate making some of that sweet syrup, but also a way to let loose at the end of a long Winter and get together as a community for some maple-based festivities.
Taking place across two weekends (this year is March 25 & 26 and April 1 & 2), you can get a tour of an active sugar shack to see the process involved in going from tap, to sap, to syrup, chow down on some Maple classics (looking at you sugar on snow with a pickle), and of course, taste the freshest and most mouthwatering maple syrup imaginable. Straight from the tree!
We've made a list of our favorite places to stay that are close to some of the best sugar shacks and maple festivals in the state, as well as some that offer their own Maple celebration packages. Bottom line, if you're looking for Vermont Maple, these are the places to stay. Sweet!
All listings featured on Vermont.com are independently selected by our editors. If you book or purchase something through our links, we may earn an affiliate commission - which in turn helps support our work - so, thank you!
If you're looking for a cozy Winter getaway, the stunning fireplaces in these Green Mountain rentals are positively lit. When the snow is falling and the wind is howling, there's nothing like cuddling up in front of a roaring fire to help keep yourself toasty warm and relaxed. But whether you're living it up solo with a book and a podcast, hosting a girl's weekend extravaganza, or throwing a decidedly epic family game night, there's no question that a crackling fire will turn the cozy dial up to eleven.
With mammoth three-story field-stone stunners, contemporary concrete stylish masterpieces, and rustic log cabin classics, we've hunted down some of the most impressive fireplaces in Vermont to spend the evening in front of.
Updated 5/2/23
Are you engaged (or planning on getting engaged soon) and planning a wedding in the next year?  Facebook data indicates that 30% of engagements happen in November and December.  Additionally, they note that the average engagement time is 14 months. That means a lot of wedding planning is going on right now!
One of the first questions the engaged couple needs to answer is "Where will the wedding take place?" Destination weddings have become very popular in recent years. One of the greatest benefits to a destination wedding is that the location is neutral – not his or her hometown, not where either set of parents now live, not even where school friends now reside. In addition, most destination weddings extend the celebration with family and friends from the usual one day or evening to multiple days. (Many couples agree that the wedding reception was over too quickly, and they wish they'd had more time to spend with their guests.)
If a destination wedding is your choice, Vermont and the Kimpton Taconic Hotel in Manchester Village are excellent choices. (Located a reasonable driving distance from anywhere in the Northeast, southern Vermont sees thousands of visitors every year.)
Let's imagine how the perfect Taconic wedding might look. Taconic was completed in 2015 and, while offering all the modern amenities of the 21st century, it harkens back to Vermont's grand inns of the late 19th century. With its inviting front porch and beautifully landscaped grounds, Taconic offers a backdrop for your wedding that has a fairy tale quality. The fairy tale continues in the magnificent Trillium ballroom which leads to an outdoor terrace and the expansive event lawn…and all of this in a setting that shows off the natural beauty of Vermont, from majestic mountains to crystal clear skies.
Taconic's event planning professionals make your wedding decisions easy, starting with the room reservations. Choose your accommodation in a private cottage away from the Main House for a truly enchanted setting. As a relatively small hotel of 86 rooms, your wedding party could take over the entire hotel for a very exclusive event. Additional rooms are also available within steps of Kimpton Taconic, at The Reluctant Panther and Inn at Manchester, if needed.
Trust your reception to the hotel's catering staff. Not only do they bring all the experience you could demand, you will discover true Vermont farm-to-table cuisine , unique and apart from typical "banquet" food. Plan your rehearsal dinner at The Copper Grouse, the hotel's restaurant, and meet by the outdoor fire-pit for drinks after dinner. Join your guests for coffee or tea on the expansive front porch prior to a next day brunch. The hotel also has an arrangement with The Reluctant Panther, a nearby restaurant, for optional dining events.
Destination weddings are not only the kickoff for your honeymoon, but are generally a mini-vacation for your guests. Manchester, Vermont offers something special at every season. Choose your backdrop from the magnificent Autumn foliage to the snow-covered mountains to verdant Spring fields and Summer flowers. The beauty of Vermont is world renowned. Each season brings a wonderful list of activities for you and your guests. Choose winter skiing or a sleigh ride. Summer offers mountaintop picnics and fly fishing on the nearby Battenkill River. In the Fall, take a scenic drive to view world-famous foliage or spend an afternoon shopping local boutiques and designer outlets in Manchester.
Planning for your big day can be exciting and sometimes stressful. If a destination wedding in Vermont is an option you're considering, you owe it to yourself to contact the event planning staff at the Taconic. Right now (and until April 1, 2017), the Taconic is offering a special promotion to help make your wedding even more personal. Based upon food and beverage minimums, the hotel will give you additional "perks" to make your day perfect. These special touches include options such as an upgrade to a suite for your wedding night, a 15% discount on a brunch or rehearsal dinner, or hand-passed custom cocktails or champagne. In all, there are 14 options to choose from. Reserve your date now and the hotel also invites you to visit with one free night to meet with wedding planners and discuss all the details for your magical wedding.
All listings featured on Vermont.com are independently selected by our editors. If you purchase something through our links, we may earn an affiliate commission - which in turn helps support our work - so, thank you!
It's not a secret that the beer scene in Vermont is positively booming. With more breweries per capita than any other state, folks come to the Green Mountains from far and wide to sample the latest IPAs, find the hottest new releases, and bring home a few pints of the next best thing in brewing. It's no wonder that a Vermont beer-cation is seen by many aficionados and casual enthusiasts alike as a veritable mecca. 
Now of course, popping open a crisp lager on a hot day is hard to beat, but don't feel that you need to wait for the dog days of Summer or Vermont Foliage to embark on your brewery odyssey. If you haven't done aprés ski at a brewery or bierhall, it begs the question - have you really done aprés ski at all? 
Whether you're grabbing a pint after a deep day of pow, sitting by the lodge fire with a hearty porter, or tipping back a cool DIPA after a bluebird day on the hill, there's no question that a great beer just makes it that much sweeter. Without further ado, here are a few of our favorite Vermont breweries after a day of skiing and riding.
-----
With ski season in full swing, there's no better time to book your Green Mountain getaway and imbibe with a growler or two. Be sure to check out of full Skiing and Riding Guide for a deeper dive into the season. And as always, stay up to date on the latest Deals and Packages for your next Vermont adventure.
All listings featured on Vermont.com are independently selected by our editors. If you book or purchase something through our links, we may earn an affiliate commission - which in turn helps support our work - so, thank you!
Hitting the slopes in the Winter months in Vermont isn't everybody's cup of tea. If you're someone who doesn't plan on doing any skiing or riding any time soon, don't let that stop you from still planning an epic Vermont Winter getaway. There are always a ton of options to get outside and enjoy the great outdoors this Winter - with the added bonus of never having to worry about lugging skis to the mountain or finding parking. Whether you're dog sledding in Warren, tubing on Stratton, Ice skating in Manchester, or hot-tubbing in the Kingdom, just because skis and boards aren't on your feet doesn't mean you can't have a blast. Check out some of our favorite "ski-free" outdoor Winter activities and get out there and have some fun!
All listings featured on Vermont.com are independently selected by our editors. If you book or purchase something through our links, we may earn an affiliate commission - which in turn helps support our work - so, thank you!
Updated 9/14/2023
There's no question, a visit to Vermont during Fall Foliage is downright magical. The crisp, fresh mountain air, resplendent bursts of color on every tree, delicious cider donuts, plus that glorious crunch of fallen leaves underfoot. No matter if the weather is moody and dramatic, or shining bright and radiant - everything is just…a vibe. 
If you're looking to escape to the trailside mountains of the Northeast Kingdom or take in a sunset overlooking Lake Champlain, there are options aplenty. You can luxuriate with world-class spas or immerse yourself in rugged nature, and everything in between. Wherever you choose to stay, when you come to Vermont during foliage, you're in for a treat.
That being said, there are a few places that go above and beyond in terms of amenities, or service, or location that will help make your trip even more memorable. Each of the properties below have something entirely special in store for you. Without further ado, here are thirteen of the best places to stay in Vermont during Fall Foliage.
Sponsored Content - All views and opinions expressed are that of Vermont.com and its writers.
Stratton in the Summer is a complete stunner. The tallest peak in Southern Vermont is mutiple captivating shades of brilliant green, and any heat or humidity you may have been feeling at home is quickly forgotten about amongst the cool mountain breezes. Outdoor adventures and rugged mountain experiences by day - refined dining and lush accommodations by night. This is what a Vermont-weekend getaway is supposed to be.
If you're looking to make the most of your time in the hills of Southern Vermont, our guide below is absolutely packed with heart-pumping adventures and tucked-away gems. Ready to elevate your getaway game? Stratton will absolutely show you how epic a weekend in Vermont can be. Let's dive in!
Friday Night:
After a long work week, the scenic drive up into the Green Mountains is relaxing and almost meditative, but that doesn't necessarily mean you're ready to party hearty upon arrival. We prefer taking things nice and easy and having a low-key first night. First up, checking in.
With nearly a dozen varieties available (from inns to hotels, townhouses to villas), there's a lodging option for every size group or family. One of our faves is found in the rugged luxuriousness of the Hearthstone Lodge. Centrally located for all Stratton-based activities, the Hearthstone is a towering stone and timber beauty reminiscent of grand Western lodges. With two and three-bedroom units (all fully outfitted with cozy fireplaces, kitchens, and picturesque balconies) there is plenty of room to spread out over the weekend and deeply relax. More on this later.
After dropping off your bags, you're going to want to make your way across the street to the Fire Tower Restaurant and Tavern. A Stratton Village staple for years, the Fire Tower is one of our favorite spots for a great cocktail and meal. There are several gas firepits on the front patio, and starting off with a pre-dinner drink is always recommended. Fire Tower does cocktails right with fun and creative offerings that change with the season, but we've always been partial to their Bacon Old Fashioned (House Infused Bacon Bourbon, Maple Syrup, Muddled Cherry & Orange, Bitters). You'll want to move inside for dinner - both the tavern and main dining room are warm, welcoming, and comfortable - where you again can't go wrong with any of the selections. Offering a continually evolving menu, punctuated with eclectic specials and equally delicious favorites, this is the exact welcome meal you needed.
Making your way back to the lodge, you'll continue to relax and unwind as you find yourself out on Hearthstone's heated patio enjoying their year-round heated outdoor pool, hot tub, and sauna. The summer stars and warm waters sure go a long way in melting away any remaining city stress. Life is good.
Saturday Morning:
Following a great night's sleep filled with that fresh mountain air, our suggestion is to again head out into the Stratton Village and grab breakfast at the Stratton Mountain Deli. Located about halfway down the pedestrian-only shopping and dining thoroughfare on your right-hand side, the Mountain Deli serves up the perfect breakfast to fuel your upcoming adventures. We're fans of the Sloppy Jose breakfast bowl (chorizo, avocado smash, pepper, onion, and cheddar), but there are a host of veggie, vegan, and sandwich options to choose from as well.
Following a leisurely breakfast and coffee out on the deli's patio, you can stroll through the village and over to the Gondola. Running all Summer long, the Gondola affords unbelievably stunning views of the entire surrounding mountains and valleys below, but for now, we're suggesting a ride as a means to attend a high-altitude yoga class!
That's right, your next Stratton activity is Mountain Top Yoga, a 90-minute relaxing yoga class where you can recharge with a sun salutation atop Southern Vermont's highest peak. This mid-morning yoga class is held every Saturday and Sunday on a massive wooden deck where cool mountain breezes and sweeping Green Mountain vistas help bring you to a place of Zen. Namaste indeed.
Saturday Afternoon:
For the afternoon, we suggest one of three different paths to choose from, starting with a round of golf on the 27-hole championship course. Featuring three distinctive 9-hole settings, Mountain, Lake, and Forest, the Stratton Golf Course has played host to six LPGA tournaments, and takes you on a tour of undoubtedly one of the most picturesque courses imaginable. Golf almost always has dramatic views and scenery, but Stratton takes it to the next level.
And speaking of taking it to the next level, you could also find yourself ripping berms and boosting kickers at Stratton's Bike Park. First opened in 2019 and expanded each year, Stratton now offers up over 10 miles of lift-service downhill mountain biking excellence. Crafted by the premier trail makers at Sinuosity, there are trails and options for every level rider and age group. We're talking big hits, flowy singletrack, and technical rock gardens. There's nothing quite like the excitement of tearing down the mountain, through the trees and meadows, and just having a blast!
Alternatively, if you're feeling like a little retail therapy might better suit your needs, Stratton has you covered there as well. The Village Shops are an excellent way to spend a few hours, perusing shops like Burton and The North Face, and one of our favorites; First Run. You'll have no problem finding a mountain memento or two to bring home.
No matter which option you choose to pursue, you should 100% plan on wrapping up the afternoon with a massage at the Sports Center. With a traditional Swedish massage option, as well as Deep Tissue or Sports massage varieties, any knots or bumps from the day's activities will be skillfully eased away. Be sure to call in advance to reserve your session.
Saturday Night:
There's no better way to finish a great day than with a high-end culinary experience and for this, we recommend a reservation at Verde. Whether you're inside at a table or booth, or out under the stars on the fire-lit patio, Verde impresses. An extensive wine selection pairs perfectly with their seasonal offerings, and the ambiance is spot-on. Go on, have another glass of wine with dessert, you're on vacation.
Sunday Morning:
Sunday mornings are meant for Brunch and subsequently, we advise finding a table at Benedict's. A menu filled with breakfast and brunch classics and twists on classics, we like to dive into one of their Skillet plates, the Three Piggies (kielbasa, North Country Smokehouse bacon, ham, and VT cheddar, served with a three-egg scramble with house potatoes). Alternatively, the Cali Benedict (sautéed spinach, tomato, avocado, hollandaise sauce, and local microgreens) or Brioche French Toast are similarly delicious. No matter what you decide, you're going to leave satisfied - and full!
Which leads us to our next calorie-burning adventure, the Fire Tower hike. Now depending on how vigorous you're feeling (or how many benedicts you ate), you can either hike up from the base lodge (see trail maps for route options), or you can take the gondola up to the summit and begin your hike from there. From the summit, follow the trail signs for the Fire Tower where a 1.5mi. out-and-back trail through the woods awaits. A beginner and family-friendly pathway, you'll encounter a tight tree-lined forest path, with log platforms, impressive rock formations, and excellent views. However, the true payoff of this hike is the Fire Tower at the end. Climb the tower on a clear day and you'll be able to see a stunning 360-degree view.
Sunday Afternoon:
You'll most likely be looking to cool down after your summit hike and we've got just the right spot. Get changed into your swim trunks again and just a short drive past the Sun Bowl you'll find a cascading 20-foot waterfall and a local's swimming hole called Pike's Falls. The walk down is through a path in the woods with large boulders and tree roots making for a striking natural staircase. Once down to the river below, enjoy swimming in the brisk mountain water, gliding down the natural rock water slide, or jumping off the varying heights of the falls itself - no matter which way you get in, you're going to emerge feeling cooled down and completely refreshed.
It's about time to check out and head back home, but we have one more bonus recommendation for your trip back. Located in Rawsonville in the foothills of the mountain, you'll come across a remodeled gas station-turned-eatery called Honeypie. Hang a right, grab a spot, and fuel up your body for the trip home. Honeypie is something special. The Vermont As Funk Burger (double burger with sautéed mushrooms, caramelized onions, fried egg with melted Woodcock Farm Timberdoodle) is mind-blowing (as is most of the menu), and the Salted Caramel milkshake is a lesson in decadent perfection. Also, no matter how full you might feel, grab a slice of the eponymous honeypie…unreal.
—
Now that's one heck of a way to spend a weekend, but one of the things we love most about our time at Stratton is that there's always something new happening and somewhere exciting to explore, and that leaves us always pumped for our next adventure.
—
Sponsored Content - All views and opinions expressed are that of Vermont.com and its writers.
One of the best ways to appreciate autumn in Vermont is to fully immerse yourself in nature-- or, in other words, take a hike! As the fall foliage season approaches, we've decided to compile a list of ten of the best hikes in southern Vermont so that you and your family can make the most of your trip together.
1. Equinox Mountain, Manchester, VT -- All levels of difficulty
Equinox Mountain (or Mount Equinox) is the second highest mountain in southern Vermont, and is the highest peak of the Taconic Range at 3,840+ ft. in elevation. Manchester sits in the valley on the east side, and there are plentiful hikes to do both around the base of the mountain as well as up it. Trips to and around Equinox Pond at the base of the mountain are excellent for beginners and hikers of all levels, and offer stunning views of the mountain from its base. Further up are Robin's Lookout, an intermediate hike that goes part way up the mountain, as well as a more difficult hike up to the mountain's summit-- about 5.4 miles round trip. Both offer gorgeous views of Manchester and the valley below.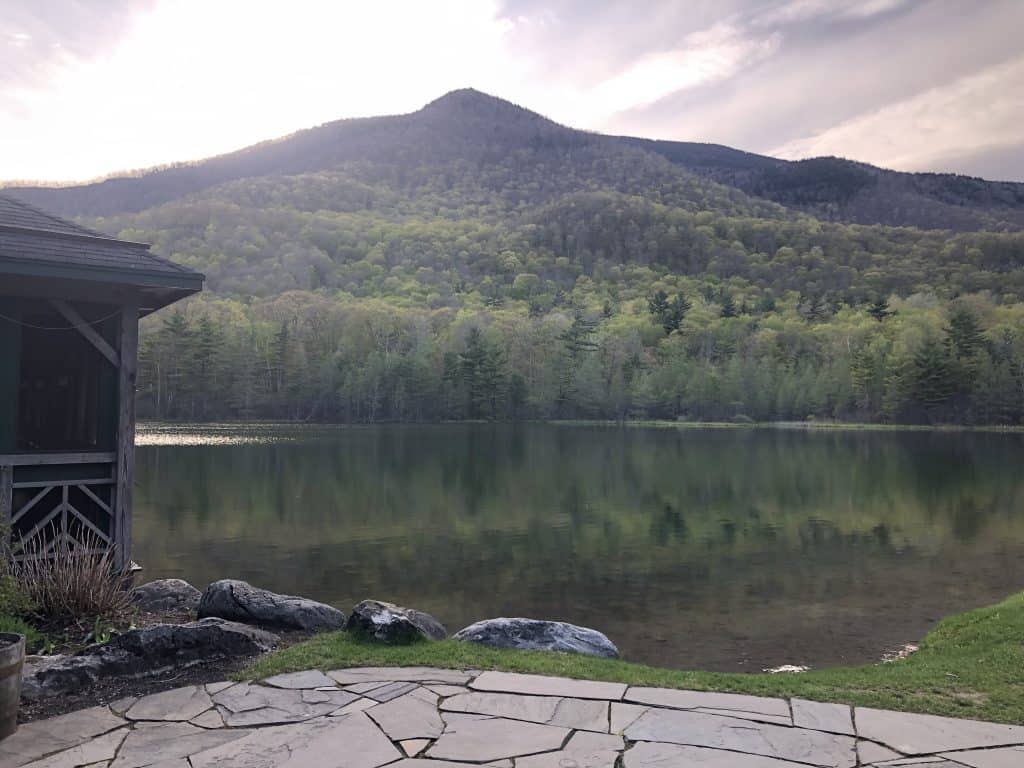 2. Lye Brook Falls, Manchester, VT -- Beginner
This easy hike of about 4.6 miles round trip ends at a cascading 125 ft. waterfall-- one of the highest in Vermont. The trail is built upon old logging roads and railroad grades, and follows a steady incline. One may have to cross the occasional stream on the way up, so the appropriate footwear is highly recommended.
3. Prospect Rock, Manchester, VT -- Intermediate
Although steep at points, this 3.6 mile round trip hike is definitely worth the view. At the top, where the "Prospect Rock" is located, one can look out onto the town of Manchester in the valley as well as Equinox Mountain to the west, making this a beautiful spot for a sunset hike. One can also drive up to the top (4 wheel drive recommended!) In the winter, this hike is a popular spot for snowmobiling as well.
4. Bromley Mountain, Peru, VT-- Intermediate
In the summer and fall, when it is not an active ski resort, this 5.2 mile round trip hike offers gorgeous views of the surrounding mountains in all directions. To the north, one can see Killington and Okemo; to the south, Stratton; to the east, Magic and on a clear day, even New Hampshire; and to the west, Equinox and Mount Aeolus.
5. Stratton Mountain, Bondville, VT -- Intermediate
Like Bromley Mountain to the north, Stratton Mountain doubles as a ski resort in the winter. Parts of the hike are steep, although worth it to see the views from the summit and the firetower. The hike itself is 7.6 miles round trip, although one can also stop by Stratton Pond on the way back down for a bit of added mileage.
6. Baker Peak, Mt. Tabor, VT -- Beginner/Intermediate
This 5.6 mile round trip hike follows a gentle incline to its peak. At the summit, one can see Dorset Peak in close proximity to the southwest. A word of caution: if raining, be careful at the peak, for the rock becomes rather slippery. For a bit of extra scenery and mileage, Griffith Lake is also accessible from the trail.
7. Little Rock Pond, Mt. Tabor, VT -- Beginner
An easy hike, being only about 4.0 miles round trip, this trail leads to a small pond with beautiful views. One of the most hiked trails in southern Vermont, this trail is perfect for a walk with the family
8. Haystack Mountain, Pawlet, VT -- Intermediate
Although steep towards the top, the view at the summit of Haystack Mountain is completely worth the extra bit of effort. Most of the trail follows a steady incline upwards through the forest to stunning views of picturesque Pawlet and the Taconic Range. Only about 3.0 miles roundtrip, this hike is perfect for families who want a bit more of a challenge.
9. Merck Forest and Antone Mountain, Rupert, VT -- Beginner and Intermediate
Merck Forest is the perfect place to take a walk with little kids! This lovely spot is home to a little farm in the hills of Rupert as well as plentiful trails for walking, snowshoeing, and cross country skiing. For a more scenic look at the Adirondacks, as well as a longer hike of about 5.0 miles round trip, head up to Mount Antone. Access to this hike from the farm is easy, as it follows old roads out across the preserve. Maps and more trail information are available at the nature center at the front gate.
10. Bald Mountain "White Rocks", Bennington and Woodford, VT -- Intermediate
This hike is accessible from two sides-- one from Bennington and the other from Woodford. From the Bennington side, this hike is about 8.0 miles round trip, which is longer than the Woodford counterpart of about 4.0 miles round trip. Just before the top are the "white rocks" the mountain earns its nickname from, at at the top are sweeping views of the town of Bennington, Mount Anthony, and New York.
Whatever path you choose for your next Vermont adventure, we wish you luck and hope you enjoy the fall foliage while it lasts!
Take a hike recently? We'd love to see! Send your photos to [email protected], tag us on Instagram @wearevermont, or message us on Facebook. Be sure to include your name and the photographer's, the date, and the location!
Ok, we may be a bit biased, but we think the best place to be during the winter months, is Vermont! Soon we'll be covered in a blanket of white stuff and visitors from all over the world will come to enjoy our winter wonderland. One of the best things about a winter vacation in the Green Mountain State, is the variety of places to stay – from slopeside condominiums and lodges, to luxurious hotels, economic motels, intimate bed and breakfasts, and delightful old Vermont inns. In an effort to help you experience one of the most popular seasons in Vermont, here is a list of some of our favorite places to stay during winter. Enjoy this year's ski season in Vermont!
---
Stratton Mountain Resort – Bondville, VT – 800.STRATTON – Website – Facebook
Located in beautiful southern Vermont, Stratton Mountain Resort is a four-season destination known for its first-class skiing and snowboarding. It's a great winter vacation destination for all ages and offers a wide selection of lodging choices throughout the resort. Enjoy home-away-from-home style accommodations with their many Stratton hotels and condo rentals, hide away in a private and secluded location, or live it up right in the heart of the village. Choose from a variety of floor plans and Stratton lodging options suitable for a romantic weekend, family vacation, or a getaway to Stratton Mountain with friends. With so many options available, we're sure your winter vacation in Vermont will be one to remember!
---
Smugglers' Notch Resort – Jeffersonville, VT – 866.628.1770 – Website – Facebook
Smugglers' Notch Resort, also known as America's Family Resort, has been redefining the family vacation for over 50 years! Located in northern Vermont, you can choose from condominium options within an easy walk or on-demand Resort Shuttle ride to all Village amenities. Stay in one of their convenient, cozy, family-style, condominium homes, each with fully equipped kitchen facilities and more. From their award-winning children's programs for ages 6 weeks to 17 years, to entertainment designed for families and just for adults, Smugglers' Notch Resort is a destination your entire family will enjoy!
---
Northeast Kingdom – East Burke, VT – 800.884.8001 – Website – Facebook
Located in the northeastern region of Vermont, the Northeast Kingdom offers breath-taking scenery, outstanding lodging and dining, ecotourism and agritourism, Vermont-made products, and recreational opportunities that have gained the area national and international recognition. Whether you're dreaming of a cabin in the woods, a cottage on the lake, a cozy room at the inn, a resort stay, or a room on the farm, you can find it in Vermont's Northeast Kingdom. With so much to do in the area, the key to a great stay is often choosing the perfect host, and in the Northeast Kingdom, you're not just a "tourist," you're a guest.
---
Lake Morey Resort – Fairlee, VT – 800.423.1211 – Website – Facebook

Located off exit 15 on I-95, Lake Morey Resort is a great Vermont family fun destination, providing the perfect family getaway any time of the year. Lake Morey Resort offers 130 guest rooms and suites, with over half featuring stunning views of the lake. Their large rooms and multi-room suites are ideal for families, or you can stay next to the Resort in their fully-furnished Lakehouse and Cottage. Offering packages for family vacations, groups, conferences, weddings and family reunions, and with activities to keep everyone entertained, Lake Morey Resort is a destination your entire group will enjoy.
---
Stoweflake Mountain Resort & Spa – Stowe, VT – 800.253.2232 – Website – Facebook
Stoweflake resort is a full-service, year-round luxury property featuring a 50,000 square foot world-class Ayurvedic spa, an award-winning restaurant, and a state-of-the-art Conference Center. As a bonus, Stoweflake is dog-friendly! Your dog will have a great time on the extensive dog trails, located on their 60 acres of wide-open space. The resort offers 120 luxury guest rooms and suites, and their townhouses offer an exceptional alternative to traditional hotel accommodations – ideal for families, a group of friends, or guests who just want a little extra privacy and/or space. Whether you are looking for outdoor adventure or a romantic, relaxing escape, Stoweflake promises to exceed your expectations.
---
Not a skier? No problem! There are plenty of winter fun activities in Vermont for the non-skier. Find out the latest snow conditions with our Ski & Snow Report. Where are your favorite places to stay in Vermont during the winter?
Featured Photo Credit // Eric Fitzgerald Photography
Visitors agree. Vermont in the fall is a "must see." The mountains have turned from summer green to fall's magnificent red, orange, and gold. The air is fresh and cool and fall festivals entice from all over the state. For true Vermont hospitality and warm, country charm, the Barnstead Inn is the perfect lodging choice to experience Vermont in the fall. Located just two blocks from Manchester Center, the Barnstead Inn offers a quiet retreat from the bustle of the village. Feel a part of Vermont history in the 1830s carriage house which comprises the inn. The remaining rugged beams are a clear reminder of the past. However, nothing else about the inn is old-fashioned. Rooms each have private bath, air conditioning, cable, thermostat, courtesy coffee, wireless Internet access and cozy beds to welcome you back at the end of each busy day.
And days in Manchester can be as busy as you like. Take a hike along well-marked, local trails and enjoy the spender of fall foliage. Shop in Manchester's Designer Outlets or the many other uniquely Vermont shops. The area also offers exceptional dining options to suit all tastes and pocketbooks. Not quite sure where to start? Inn staff is ready to help you with your plans.
During the fall, you have even more activities to choose from with local festivals such as the Bennington Quiltfest, Peru Fair, Manchester Fall Art & Craft Festival, Mt. Snow Oktoberfest, and so much more. For a full list of fall festivals, check Vermont.com's Fall Festivals page or go to the Calendar of Events.
Need your own vacation now that the kids are back in school?
The Tyler Place Family Resortlocated in Highgate Springs, VT is hosting their very first Late Summer "Food, Wine & Brews Retreat for adults. The Tyler Place is inviting visitors to enjoy food, farms and fun in their "Tyler Place Taste of Vermont Celebration"
What a perfect getaway for just the two of you. The retreat runs from September 5-12th and you can choose from their all-inclusive packages of 3 days, 4 days or weekly specials. You can enjoy local farm and vineyards tours, excursions to Quebec wineries and cafe and art studios during your stay. Enjoy some Vermont cider or beer and snack on some Vermont Cheese and artisian flatbread cooked in a wood fired, outdoor oven.
In addition to all of the special features the package also includes cottage or inn accommodations with housekeeping, three daily meals, fitness classes, waterfront and pool activities, sports, artistic and culinary sessions, nightly entertainment and your very own one speed bike to ride around the resort.
This event is goes above and beyond the resort's usual summer programming to showcase the local bounty of food and drink, featuring some of Vermont's finest cheese, beer, wine and cider.
The Tyler Place has been ranked among the Top 10 Best All-Inclusive Family Resorts in the US by Family Vacation Critic. Call 802-868-4000 or visit The Tyler Place Family Resort for more information.
So what are you waiting for? Book your romantic get away now.
Maple Syrup. Farm to table dining. Apple orchards. Craft Beer. All world-class products easily associated and warmly linked to Vermont. But wine and vineyards? You better believe it. With over 15 vineyards currently calling the Green Mountains home – and more joining them each year – Vermont is quickly becoming a destination for oenophiles from around the globe. We spoke with Shelburne Vineyard's Director of Marketing and Events, Gail Albert about the coming harvest, the challenges of marketing a Vermont wine, and the camaraderie between the Vermont vintners.
Vermont.com // Vermont is known for many wonderful things, but a long growing season isn't particularly one of them. What kind of grape can survive a Vermont winter?
Gail Albert // The first grapes we had planted were New York State hybrids, and they were grapes that did well in this region, but if it got to be 15 degrees below zero, they would lose their buds and we wouldn't be able to have a crop. Then, in 2008, some new varieties were developed in the mid-West that were hearty down to 30 degrees below zero. When those grapes began to be available we knew that we could make some amazing wines in this region. With these types of grapes we're even able to make a mid-winter ice harvest and produce a whole new variety of wine.
VTC // How is the relationship between the vineyards? Are techniques and processes treated as closely guarded secrets?
GA // It's very interesting because Ken [Gail's husband and founder of Shelburne Vineyard] had worked all his life in Corporate America, where it was very secretive and the sort of world where if you leave, you lose the keys that same day. But the wonderful change for us has been that we're all learning together. Years ago, when we first started growing grapes in Vermont, even before there were a great number of vineyards, those of us who were doing this were like pioneers, always getting together and tasting each others wines or talking about different varieties of grapes.
Because everyone's land is different; the terroir of the grapes affects the way the grapes taste, the winemaker affects the way the grape tastes, the weather and micro-climates of each vineyard – everything changes so we don't really need to be secretive because we're each making a different product even if we're making the same type of wine. It's been an extremely nice camaraderie and very helpful and instrumental in each vineyards growth.
VTC // What are people's reactions to Vermont made wines?
GA // Well, I think that we would like to put ourselves in the position to be as successful in the world picture as Vermont brewers have been. Vermont beers are really on the map and Vermont wines haven't fully gotten there yet. We're working towards that by having better and better wines each year, but I think that there is something about beer that people are more willing to try the craft varieties. People just don't think of Vermont as a place for wine yet. There are pockets that people think of as wine regions; Europe, Australia, California, and maybe parts of Virginia and Ontario – and we're trying to expand upon that mindset.
The challenge for us here in Vermont is that we can't grow the grapes that people are familiar with for the most part. We grow a little bit of Riesling, which is a pure European variety of grape, that people are very familiar with. But that's probably the only pure European variety that can thrive here. We make some amazing varieties that people would compare to their current favorites, but we hesitate to say "This is like a Pinot Noir" or "This is like a Chardonnay" because we want people to appreciate it for what it is. On the other hand, people come here and they're looking for what they're familiar with. One of the reasons that we decided that we really needed to open a tasting room is because if people have the chance to taste them, they can really fall in love with new wonderful varieties and broaden their horizons.
The Fall harvest has just recently begun at Shelburne Vineyards – definitely get in touch to learn more about the process and even to join in. From what we understand the Winter Ice Harvest is a beautiful event as well, not to be missed – just slightly colder. Make sure to stay tuned to blog.vermont.com as we have several articles coming up that will follow the winemaking process throughout the year at Shelburne Vineyard.
—
Shelburne Vineyard is located at 6308 Shelburne Rd. (Rt. 7) in Shelburne, Vermont. They are open seven days a week from 11AM-6PM and offer tours every hour from 1PM-4PM. It's always great to see folks who are this passionate and knowledgeable about their craft. Stop in and say hi, you'll be glad you did.
It's a dangerous thing to wake up feeling ambitious. Starting off innocently enough, with memories of the night before (a Friday) reminding me that we had made vague plans to go hiking, I chose to actually get out of bed when I woke up, instead of pretending to sleep till noon. The dog had a pretty rough week after all (travel schedules and foul weather had played an active role in keeping him indoors) and he certainly deserved some time to let loose and romp through the canine frustrations surrounding his sedentary week. A hike would surely do wonders on my end as well, aiding in those newly minted plans to start getting in a shape other than rotund for ski season. With my girlfriend starting her first ever teaching position at UVM on Monday, I knew the bright sun and quickly vanishing opportunities for hiking freedom would make her an easy sell. All of this plus, the house was a mess and despite the hypothetical schedules proposed in homes across the nation, nobody actually wants to clean on the weekend.
We decided to recruit an additional member to our hiking party, a good friend of ours, a programmer. I mention his occupation for two reasons; 1. He is responsible for much of the new look and feel to Vermont.com, which warrants significant recognition, and 2. As a programmer, there is almost no chance that he went to bed before 4 in the morning, and an early wake up call to go hiking would be much appreciated, I'm sure. With surprisingly little (dare I say, frustratingly little) resistance, he was on board. We picked him up 10 minutes later.
Our destination for the afternoon was the hiking trails of Smugglers' Notch. We had frequently enjoyed the hike to Sterling Pond (in fact it was one of the first places we had taken our dog as a puppy) and really can't recommend it highly enough. Offering great views of the Notch Road, Mt. Mansfield, and the surrounding valleys, it is a relatively mellow, yet adventurous hike. Sterling Pond acts as a great motivator to get to the top and is an ideal spot to picnic before you begin your descent. Clocking in at approximately two hours roundtrip, it's a great hike for the whole family. We had however, just recently done the Sterling Pond route with visiting family members and wanted to try something new.
With our history in the area being solely at Sterling Pond, we hadn't really packed much besides a camera and a bottle of water filled to the halfway point and had no reason to think we would want anything more. This is called foreshadowing.
Hell Brook Trail is absolutely beautiful, let me state that first, foremost, and most emphatically. Whether you are lucky enough to be able to enjoy the Vermont landscape frequently, or if you are a newcomer to our state – Hell Brook Trail is stunning. It is 1.3 miles affectionately labeled "Straight Up" or "Straight Down" depending on the leg of your journey. The sign at the beginning suggests that it will take roughly 3-hours round trip. Perfect.
Once on the trail you are immediately immersed in quintessential Vermont forest. A log bridge over a babbling brook, huge, beautiful maples, birches, and pines, boulders and caves – essentially the backyard that each of us dreamt of as a child. A short distance into the hike is a 20-foot waterfall. At this point, we were all still fresh-legged and enthusiastic and spent a good 15-20 minutes climbing around, exploring, and seeing if our bushwhacked route would meet back up with the path (it did not). Happily making the detour back to the trail, we began to hike.
On first assessment, at only 1.3 miles, it barely seemed appropriate to call it a hike – more of a jaunt really – however, once past the waterfall and only several hundred yards in, we could see that calling this a climb might be a bit more apropos. It was straight up. More common to be on all fours than upright, this was one tough 'mudder. In those rare sections when you could walk, the loose rock, moss, mud, water and roots all made valiant and persistent efforts to bring you back down. The areas where you saw a clear and solid foothold were juuuuuust a little too far apart, turning them into a vertical lunge rather than a set of stairs. Pouring sweat and feeling as though my quads might spontaneously combust, we pushed on. And on.
Through the agony however, was an amazing experience. It was a perfect day, not a cloud in the sky and mid-70's, with a nice breeze to keep you cool. There were huge rock outcroppings to stand beneath and the brook from Hell Hell Brook bouncing effortlessly nearby. Many times there were openings in the canopy and the views were unbelievable; sheer cliff faces and towering peaks of Spruce and Maddona across the notch. With hawks circling lazily overhead and the sun shining warmly down, it was truly ideal.
We continued. With the three-hour roundtrip time estimate in mind, we had decided to start a timer at the trailhead to better gauge where we were. We figured on an hour and half to the summit, so as the time crept past 90 minutes, we expected to be emerging victoriously from the woods at any time. However, each hiker we met on their way back down suggested that we were "Almost halfway there", or "Just another 45minutes". With each passing conqueror our morale decidedly plummeted, until finally the cruelest reply of all: "Are we almost to the top?" we asked with the naïve hopefulness of a child asking for a second helping of dessert – "Not even close." she cruelly snickered.
Broken.
However, we rallied. Finally coming to a clearing at the trail, we could see The Chin looming in front of us. We were going to crush it. At this point fueled by ego more than energy, we made (relatively) quick work of The Chin. Although not a technically challenging ascent, with the high exposure you definitely want to make sure of your footing and hand-holds. Not for the faint of heart, or balance-ly challenged, the route up The Chin knows how to get your heart pumping. Luckily our dog is part mountain goat and there were only one or two spots where we had to convince him that this really was the path. We managed to convince ourselves as well.
The entire hike up, I had a nagging thought in the back of my mind that this trip better be worth the views at the top. I imagined a fog front rolling in just as we made the summit blocking off any inspirational views that we had heard so much about. Or perhaps we would encounter a particularly over-zealous forest ranger who would inform us that the spot of the highest elevation in the state was unfortunately 'closed'.
I need not have worried, as the view that awaited us was far more than had been anticipated. With still not a cloud in the sky, the view down of Stowe Lodge seemingly in miniature, Sterling Pond across the notch, Lake Champlain, the far shores of New York, and mountains upon mountains upon mountains, dominated the landscape and was reason enough to endure any physical test of will.
After a seemingly endless hike, we split what little water we had and gazed jealously at the far more knowledgeable hikers unpacking picnics and chugging sports drinks. With thoughts of grabbing the surrounding food and drink and making a break for it tempting the dark recesses of my mind, I can only encourage you to hike this trail far more prepared than we did. We lounged and enjoyed for a solid half an hour before coming to the conclusion that we needed to get back to the real world of 1.3 miles straight down.
I wish I could tell you that down was easier or somehow faster than up. I really wish I could tell you that. However, each vertical lunge had magically transformed into a vertebrae crushing, cartilage compounding jolt. When we had finally managed to make it back down to the start of the trail, I rushed (well, hobbled) over to the information map, with my ego hoping that I had somehow misread the three-hour roundtrip approximation. I had not.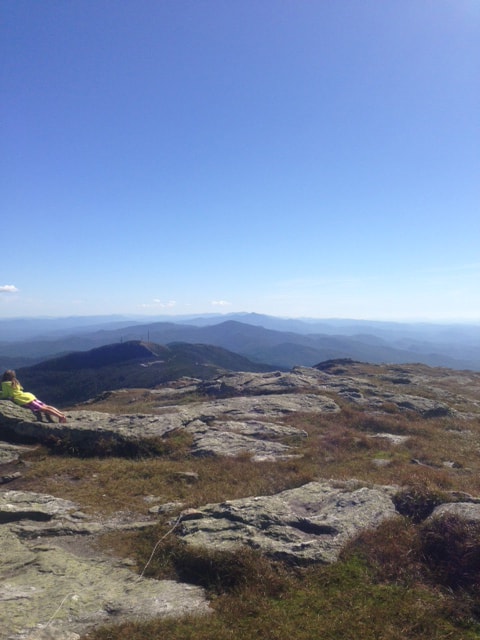 By final tally, it had taken us a shade over six and a half hours to complete our journey. Six and a half hours of bone crunching, thirst inducing, hubris demolishing hiking to get to the top of our beautiful state's tallest peak.
Hell Brook Trail might have taken us down a peg or two, made us question our weekend resolve, and left us muddied, bruised and battered – however, it also gave us a reason to get to the top, to keep going and enjoy the view.
—
To tackle Hell Brook Trail for yourself, check out the Vermont State Parks for more info. Located on Rt. 108 (The Notch Road) in between Smugglers' Notch and Stowe Resorts – Hell Brook Trail is an amazing way to see a different view of Vermont. Just make sure you bring snacks and water – or stop at Arvad's Grill and Pub like we did. Nothing better than a cold drink and some of Maryanne's amazing in house desserts to finish off the hike. Cheers!
We know that your time is precious. Between work, kids, and all around life, it can be hard to fit everything into a tight schedule. But Fall Foliage in Vermont is something that needs to be experienced now and not pushed back to 'next time'. Keeping in mind that you have less time than an average Vermont grow season [it's very short] – we're always on the lookout for activities, events, and places that pack as much into your experience as possible. Enter Green Mountain Orchards.
As perhaps the most all-encompassing Fall Foliage experience that we've encountered, Green Mountain Orchards has it all. Outdoor, family experience? Check. Amazing views and vistas? Check? Pumpkins, Apples and Cider? Check, check and check. With horse rides, a country store, pick-your-own, and more delicious pies, crumbles and buckles than you can imagine, Green Mountain Orchards has got all the bases covered and then some.
After our recent visit, we put together our top 6 reasons why Green Mountain Orchards is your one stop Vermont fall foliage experience.
1. Central, Idyllic Location
Conveniently located just a short drive from I-91, Green Mountain Orchards is easy to get to. Once you're here however, you may never want to leave. With over 800 acres of rolling hills, wide open meadows, and spectacular mountain and valley views, this place is as close to perfection as we may ever find. Breathtaking no matter what time of year, it is particularly stunning during the foliage season. The view of the surrounding valley explodes in vibrant colors and provides the perfect setting to pause and take it all in.
2. All About The Family
Going on its 100th year of continuous operation, the Darrow family has been stewards of this amazing land for four generations – and we can't imagine a more perfect family to be at the helm. Incredibly welcoming and generous, the Darrow's make you feel as though you were picking apples in your own back yard. Even though their primary role at the orchard is to grow apples and blueberries for the wholesale market (you undoubtedly have them to thank for enjoying such amazing fruits in the middle of the winter), they go far and beyond to make sure that your experience is unforgettably warm and special, and can not wait to welcome you back.
3. Horse-Drawn Wagon Rides
While you certainly wont be breaking any track records – although these guys do get moving pretty fast – you will be blown away by the sheer size and power of these gorgeous creatures. Getting a proper tour of the orchard while riding in a horse-drawn hay wagon, is not only a great way to learn more about the history and behind the scenes workings of the business, but also to get a glimpse of just how far the property reaches.
4. Blueberry Buckle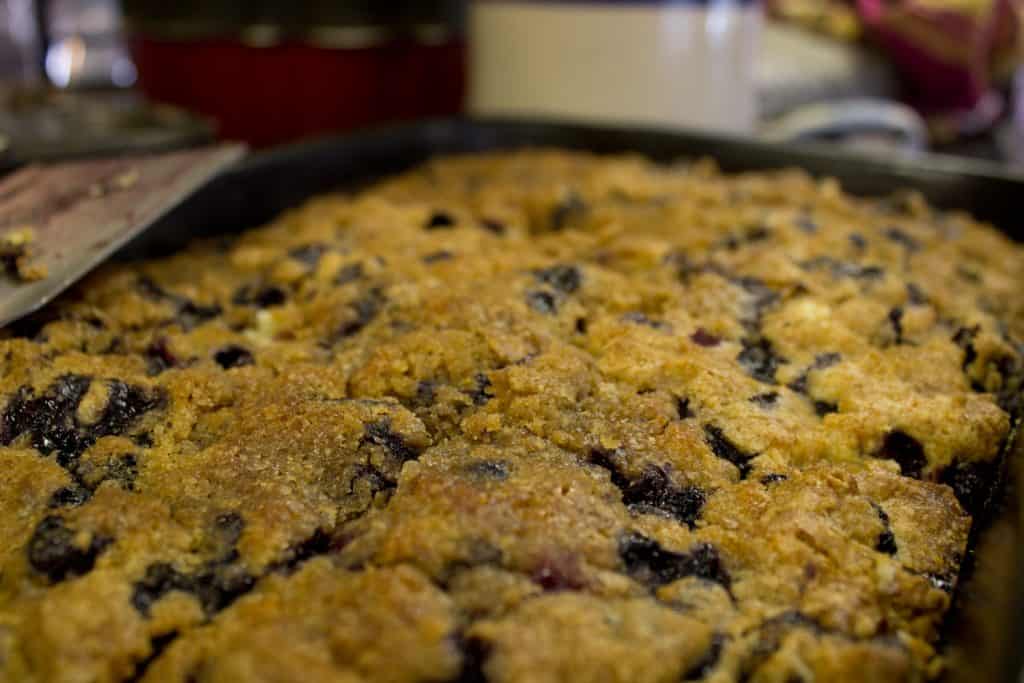 Alright, we realize that Blueberry Buckle may not be as synonymous with fall and an orchard as say, Apple Pie (which is beyond delicious here), but this dessert/breakfast/snack/food-of-the-gods is out of this world amazing. Buttery, sweet, tart, crunchy, flakey, gooey, and all the other words that describe this dish could never do it justice – so just please take our word – it's worth the trip alone!
5. Cider ( and Donuts!)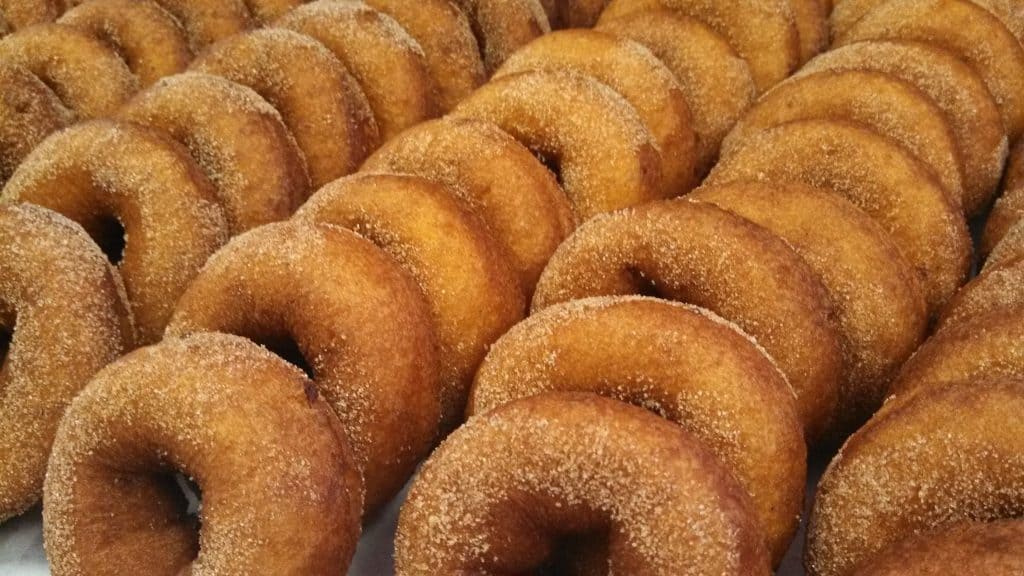 With a do-it-yourself press on premise, you just can't get a fresher fall taste than that of Green Mountain Orchards Cider. Not in the mood for manual labor, but still after the flavor? Freshly made jugs are available in the store and just begging to be taken home and heated up [/added rum to]. And good god, do not forget the donuts. Ridiculous.
6. Toby
And finally Toby! What a great life this happy pup has. Spending all day outdoors and in the fields going from family to family, assisting in apple picking, and receiving his fair share of 'dropped' treats for his efforts. Makes us seriously question our choices in life and how we can be more like Toby.
—
Green Mountain Orchards is located at 130 West Hill Road in Putney. Open daily from 8AM – 6PM, you can pick your own apples, grab a pumpkin, find a Christmas tree, make some cider, taste a pie, harvest the blueberries, go for a wagon ride…you get the idea, Green Mountain Orchards is pretty darn cool.
Besides a few unfounded grumblings coming from a couple folks in Arizona (Arizona?!), Vermont is well known and unanimously agreed upon as the king of all that is foliage. Our yellows are more vibrant, our reds are deeper, and our oranges are…orangier. Made up words aside, it just a fact of life that fall in Vermont is one of the most beautiful places in the entire world. In an effort to help more people experience this amazing time of year, we've put together a list of four of our favorite places to stay during the foliage season. They run the gamut from small-town inns to grand resorts and collectively they are some of the best places to witness incomparable fall foliage. So enjoy and happy peeping!
We can almost guarantee that the Landgrove Inn is what you picture in your mind's eye when you hear 'Vermont Getaway'. Rolling hills, babbling streams, endless fields, and country roads all create the idyllic setting for this beautiful 18-Bedroom inn. With amazing mountain and valley views from every inch of the property, your leaf peeping can begin the moment you wake up. With an amazing on-site restaurant keeping you completely satisfied, miles of trails and hiking for your foliage-driven adventures, and one of our favorite fireplace/bar rooms to enjoy a stiff drink or to curl up with that book you keep meaning to read – go ahead and get away.
Click here for more lodging information and rates or call up and say hi to the amazing owners, Tom and Maureen at 800.669.8466.
You haven't truly experienced fall foliage in Vermont until you've seen the reflection of the leaves from your waterfront cottage on Lake Champlain. Luckily, Basin Harbor has the solution to that very specific (and beautiful) situation. With 77 cottages (waterfront and other amazing locations) and over 40 guestrooms – families have been coming to Basin Harbor for generations. And with 700 gorgeous acres and dozens of activities it's very easy to see why. Daily fall foliage cruises, hayrides, ropes courses, gourmet fireside s'more bar, and daily cider and Maple Shortbread cookies, just to name a few. Our personal favorite however – the October, 19th event, Rocktoberfest. An annual end of the season celebration of Bacon, Beer and Bands. Booths with Dakin Farm Bacon, WhistlePig, Otter Creek, Woodchuck, Magic Hat – combined with multiple bands and bacon inspired treats (bacon-wrapped, gouda-filled, tater tots/ French toast and bacon cupcakes). So, knock off some checkmarks on your fall foliage checklist and swing by Basin Harbor. C'mon, we know the bacon alone had you sold.
Click here for two great fall packages at the Basin Harbor Club – and don't forget about Rocktoberfest on October 19th.
Stowe is one of those picturesque, quintessential Vermont towns all year round, however in the fall it is particularly stunning. A bustling downtown filled with country stores, art galleries, boutique clothing shops, and exceptional dining options, it is hard to imagine a more ideal autumn setting. Right in the middle of it all is the historic Green Mountain Inn. Built in 1833, and hosting several US Presidents, the Green Mountain Inn has maintained their rich and storied history while keeping pace with the modern amenities and features of the present. A beautiful combination of guestrooms, luxury suites, apartments, and townhouses, the Green Mountain Inn offers everything and then some. The Whip Bar and Grill offers some of the best eats in town, massage and spa services, an amazing year-round outdoor pool, fitness center, diverse shopping selections, horse-drawn foliage carriage rides, and loads more. The hardest part of staying at The Green Mountain Inn – besides leaving – is what to do first.
Click here for a Fall Getaway Internet special and click here for Autumn Brilliance and Ghoulish Getaway Packages – also be sure to mention this article when you book to receive a complimentary Vermont Gift Basket.