A recently posted blog looked at the fall festivals being celebrated in Vermont's southern region.  In this blog, we will focus on the central regions of Vermont including Woodstock, Rutland, and Killington.  Just as in the southern part of the state, fall is a very busy time of year and hotels book up quickly.  The weather is wonderful, cool and clear, and the foliage is truly magnificent.  It's a perfect time of year for a bike ride along country lanes or a hike into the mountains.  And then there are all those harvest festivals….
Here's a sampling of what you can find in central Vermont this fall:
The Modern Harvest Festival
As the modern descendant of the traditional harvest festival, Vermont's fall festivals retain many of the same attributes – food, entertainment, and a celebration of nature's bounty.  Where better to experience the harvest than on a farm, specifically Billings Farm in Woodstock?  Join the staff at the Pumpkin & Apple Celebration (9/30-10/1) for a day of hands-on activities including pressing cider and making ice cream.  Or visit October 7-8 for Harvest Weekend and see how the farm prepares for winter.  Learn how to harvest root vegetables, how to preserve and store food, and join in a barn dance with live music.  Halloween on the farm (10/29) means pumpkin carving, wagon rides, Halloween parade, and lots of treats and games.
For a fall festival that offers something for everyone, visit the Marsh-Billings-Rockefeller National Historic Park in Woodstock (9/23-24).  In partnership with Billings Farm, you will experience a unique taste of Vermont at the Vermont Forest Festival.  Take a horse-drawn wagon ride, enjoy hands-on crafts, woodworking demonstrations, and hikes through the color-drenched forests with knowledgeable forest guides.
Other harvest festivals in the central part of the state include the Apple & Cheese Harvest Festival (9/24) at the Justin Morrill State Historic Site in Strafford and the Fall into Winter (10/7) at Okemo with music, hayrides, and lots of fun.
For something totally different, check out the Vermont Sheep & Wool Festival (9/30-10/1) in Tunbridge.  This festival includes everything related to wool.  Meet the animals, purchase hand-spun yarns, attend workshops, watch sheep herding demonstrations, and more.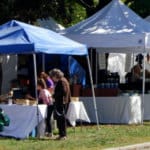 Arts & Crafts Festivals
Plus there are a number of traditional craft shows scheduled.  The Fall Craft Festival on Chester Green (9/16-17) annually celebrates fall with a show of arts and crafts, artisan demonstrations, and lots of delicious food. At Art in the Park (10/7-8) presented by the Chaffee Art Center in Rutland, delight in over 100 artisans, artists and crafters as they display their works of painting, photography, wood craft, metal work, quilts and more.  Stroll through the park, enjoy the art, get a bite to eat, and make a day of it.
Oktoberfest in Vermont
Vermonters love their craft brews and love showing off their unique creations at exhibitions and brewfests.  To sample from some of Vermont's best, mark your calendar for the Killington Brewfest (9/30). Or head to Basin Harbor Resort in Vergennes for their famous Roktoberfest: Beer, Bacon & Bands (10/14).  What's not to like about that?
For a complete list of Vermont's fall festivals, go to Vermont.com's Fall Festivals page.
Where to Stay and More to Do
Central Vermont offers a varied selection of lodging opportunities from resort properties like Basin Harbor (Vergennes) and Lake Morey Resort (Fairlee) to elegant inns like the Red Clover Inn (Mendon) or Chalet Killington (Killington) to family-friendly hotels like the Quality Inn (Quechee) or Best Western (Rutland). There is always plenty of activities to keep the whole family busy in addition to the festivals.  Enjoy the fall foliage with a hike on mountain ski trails or a bike excursion from village to village along country roads. (A stay in Quechee should definitely include a hike in the gorge to view the foliage.) Or find excitement at Killington and Okemo's adventure parks.  Looking for something a little tamer?  How about a round of golf at one of the many courses in central Vermont? Lake Morey and Basin Harbor both have excellent courses. However you fill your days, central Vermont in the fall is a perfect choice for week-long vacation or a weekend getaway.