As you may know, we are big fans of Hotel Vermont (Four Great Places To Stay In Vermont During Fall Foliage). Their rustic, yet modern rooms give the boutique feel of a big city, yet still manages to stay true to it's Vermont roots. A convenient, central location in downtown Burlington make it not only a step away from any number of activities, but also incredibly easy to get to no matter where you might be coming from. Numerous, well-organized, exciting events such as their yearly Ice Bar, or WhistlePig's Boss Hog's Speakeasy seem to be happening every weekend (and practically every week day too it seems). Yet for all of these valid points, perhaps the biggest reason we love Hotel Vermont is Juniper Bar and Restaurant.
Orchestrated by Chef Doug Paine, Juniper is always creative and delicious, consistently utilizing local ingredients in a unique and surprising manner. Because of this confidence in execution they are amongst the finest of the restaurants in the state that are spearheading the local-food movement. With constantly evolving dining options, you can always have something new and special. The most recent iteration of their Winter Menu is in full swing, and here are five of our favorites dishes.
1. Juniper Roasted Quail
We're just going to jump straight to the knockout punch here. Yes, that is fire coming from atop this dish, and yes, it is spectacular. Caramelized apples, turnips, kale, wheat berries, and a hazelnut gastrique are some of the elements that make this dish as unique as it is – but it is truly the Juniper sprig that is lit on fire at the table that is the triumphant coup de grâce. Imparting an calming essence and aroma that stays with you throughout your meal, you have to try it yourself to appreciate it fully.
2. Vermont Cheese Fondue
Everybody knows that one of the greatest parts about eating a meal is the social factor. Going out with a group of friends, a great date – it's all about the interaction and the experience. Juniper plays perfectly into this mindset with a 'Sharing' section of their menu. Not just your average appetizer that you scarf down all by yourself (although, with how delicious these are, you may very well be tempted), but a full on smorgasbord of tantalizing options. The Vermont Cheese Fondue (made with a plethora of local cheeses – West River Creamery amongst them) is paired with house-made sausages, Red Hen bread slices, pickled radishes and pickles, and is the perfect ice-breaker or bonding experience for your gastro/social evening.
3. Venison Chili
As you might have heard once or twice on the news or your friend's Facebook posts, it has been slightly chilly of late (understatement of 2014 perhaps?). This hearty chili made with venison from Hollandeer Farm in Southern Vermont is the perfect answer to those winter chills. Served with warm, buttery corn bread, queso fresco, and micro cilantro, we think that this dish just might have what it takes to start your full body thaw.
4. Mount Desert Island mussels
Mussels are a staple on many restaurant's menus – however, there is something special about the way they do it at Juniper. First off, the size of the mussels themselves are particularly impressive, especially considering the landlocked nature of the state of Vermont. Pair their exceptional size with the perfect combination of onion, saffron, and grilled crostini, and you're starting to understand where we're coming from. Oh yeah, and did we mention that there is absinthe added to the mix? Like we said, these guys are special and we guarantee you'll love 'em!
5. Goat Cheese Gnocchi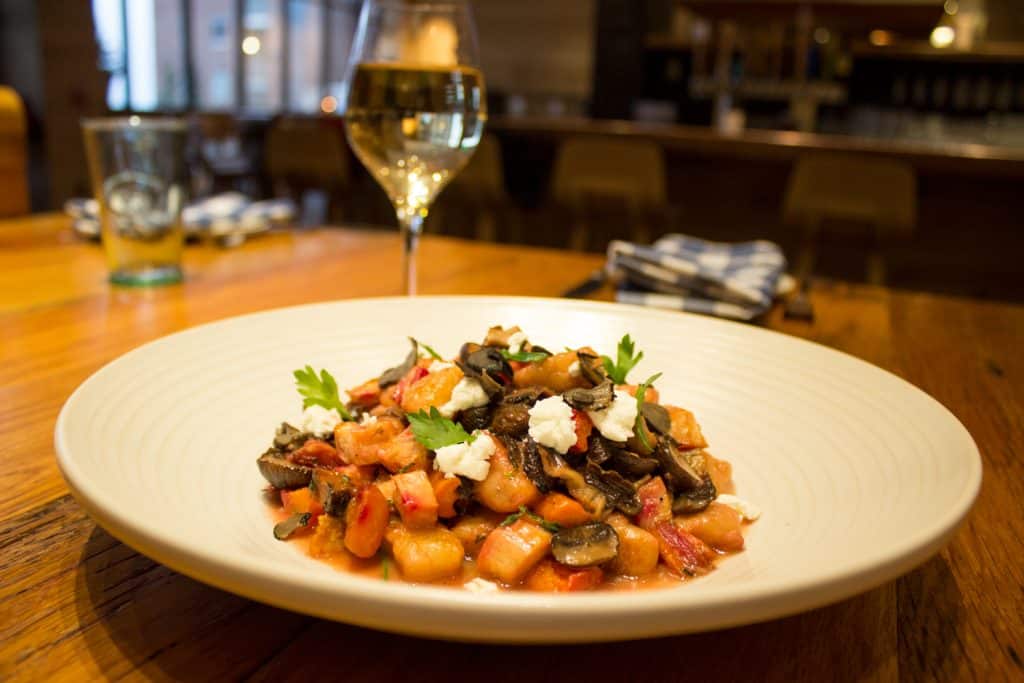 Gnocchi. While there may be some rumblings surrounding the pronunciation (gn-OH-cchi vs. gn-AH-cchi) there is one thing that most can agree upon – they are delicious. Light (when done correctly) but sizable, fluffy and delicate yet supremely substantial, gnocchi seem to be a contradiction at odds with itself in description, but that all disappears the moment they melt in your mouth. With many variations on core ingredients, we are partial to Juniper's version of goat cheese gnocchi. Mixed with roasted roots, mushroom ragout, black truffle, and mead buerre blanc, these are some of the best that we have ever had.—
Juniper Bar and Restaurant is located inside Hotel Vermont at 41 Cherry Street in Burlington Vermont. Serving dinner seven days a week from 5PM-10PM and breakfast from 6am-10am Monday-Friday and 7am-11am on weekends – Juniper is a premier restaurant in Burlington, the state as a whole, and a must visit attraction for any serious food lover. In addition to their great Dinner and Breakfast menus, the also offer a full bar with an amazingly creative drink list and live music from local and touring musicians. Juniper is truly something special, be sure to check it out for yourself.