Sponsored Content - All views and opinions expressed are that of Vermont.com and its writers.
Make it a long weekend: Book a Friday and Saturday night stay at Stratton Mountain and get a Thursday or Sunday night complimentary for a true Vermont getaway. Book Your Long Weekend at Stratton
Stratton in the Summer is almost unfairly amazing. The tallest peak in Southern Vermont is stunning shades of bright green and any heat or humidity you may have been feeling at home, is quickly forgotten about amongst the cool mountain breezes. Outdoor adventures and rugged mountain experiences by day, refined dining and lush accommodations by night. This is how a Vermont weekend getaway is supposed to be.
Friday Night:
After a long work week, the scenic drive up into the Green Mountains is relaxing and almost meditative, but that doesn't necessarily mean you're ready to party hearty upon arrival. We prefer taking things nice and easy and having a low-key first night. First up, checking in.
With nearly a dozen varieties available (from inns to hotels, townhouses to villas), there's a lodging option for every size group or family. One of our faves is found in the rugged luxuriousness of the Hearthstone Lodge. Centrally located for all Stratton-based activities, the Hearthstone is a towering stone and timber beauty reminiscent of grand Western lodges. With two and three-bedroom units (all fully outfitted with cozy fireplaces, kitchens, and picturesque balconies) there is plenty of room to spread out over the weekend and deeply relax. More on this later.
After dropping off your bags, you're going to want to make your way across the street to the Fire Tower Restaurant and Tavern. A Stratton Village staple for years, the Fire Tower is one of our favorite spots for a great cocktail and meal. There are several gas firepits on the front patio, and starting off with a pre-dinner drink is always recommended. Fire Tower does cocktails right with fun and creative offerings that change with the season, but we've always been partial to their Bacon Old Fashioned (House Infused Bacon Bourbon, Maple Syrup, Muddled Cherry & Orange, Bitters). You'll want to move inside for dinner - both the tavern and main dining room are warm, welcoming, and comfortable - where you again can't go wrong with any of the selections. Offering a continually evolving menu, punctuated with eclectic specials and equally delicious favorites, this is the exact welcome meal you needed.
Making your way back to the lodge, you'll continue to relax and unwind as you find yourself out on Hearthstone's heated patio enjoying their year-round heated outdoor pool, hot tub, and sauna. The summer stars and warm waters sure go a long way in melting away any remaining city stress. Life is good.
Saturday Morning:
Following a great night's sleep filled with that fresh mountain air, our suggestion is to again head out into the Stratton Village and grab breakfast at the Stratton Mountain Deli. Located about halfway down the pedestrian-only shopping and dining thoroughfare on your right-hand side, the Mountain Deli serves up the perfect breakfast to fuel your upcoming adventures. We're fans of the Sloppy Jose breakfast bowl (chorizo, avocado smash, pepper, onion, and cheddar), but there are a host of veggie, vegan, and sandwich options to choose from as well.
Following a leisurely breakfast and coffee out on the deli's patio, you can stroll through the village and over to the Gondola. Running all Summer long, the Gondola affords unbelievably stunning views of the entire surrounding mountains and valleys below, but for now, we're suggesting a ride as a means to attend a high-altitude yoga class!
That's right, your next Stratton activity is Mountain Top Yoga, a 90-minute relaxing yoga class where you can recharge with a sun salutation atop Southern Vermont's highest peak. This mid-morning yoga class is held every Saturday and Sunday on a massive wooden deck where cool mountain breezes and sweeping Green Mountain vistas help bring you to a place of Zen. Namaste indeed.
Saturday Afternoon:
For the afternoon, we suggest one of three different paths to choose from, starting with a round of golf on the 27-hole championship course. Featuring three distinctive 9-hole settings, Mountain, Lake, and Forest, the Stratton Golf Course has played host to six LPGA tournaments, and takes you on a tour of undoubtedly one of the most picturesque courses imaginable. Golf almost always has dramatic views and scenery, but Stratton takes it to the next level.
And speaking of taking it to the next level, you could also find yourself ripping berms and boosting kickers at Stratton's Bike Park. First opened in 2019 and expanded each year, Stratton now offers up over 10 miles of lift-service downhill mountain biking excellence. Crafted by the premier trail makers at Sinuosity, there are trails and options for every level rider and age group. We're talking big hits, flowy singletrack, and technical rock gardens. There's nothing quite like the excitement of tearing down the mountain, through the trees and meadows, and just having a blast!
Alternatively, if you're feeling like a little retail therapy might better suit your needs, Stratton has you covered there as well. The Village Shops are an excellent way to spend a few hours, perusing shops like Burton and The North Face, and one of our favorites; First Run. You'll have no problem finding a mountain memento or two to bring home.
No matter which option you choose to pursue, you should 100% plan on wrapping up the afternoon with a massage at the Sports Center. With a traditional Swedish massage option, as well as Deep Tissue or Sports massage varieties, any knots or bumps from the day's activities will be skillfully eased away. Be sure to call in advance to reserve your session.
Saturday Night:
There's no better way to finish a great day than with a high-end culinary experience and for this, we recommend a reservation at Verde. Whether you're inside at a table or booth, or out under the stars on the fire-lit patio, Verde impresses. An extensive wine selection pairs perfectly with their seasonal offerings, and the ambiance is spot-on. Go on, have another glass of wine with dessert, you're on vacation.
Sunday Morning:
Sunday mornings are meant for Brunch and subsequently, we advise finding a table at Benedict's. A menu filled with breakfast and brunch classics and twists on classics, we like to dive into one of their Skillet plates, the Three Piggies (kielbasa, North Country Smokehouse bacon, ham, and VT cheddar, served with a three-egg scramble with house potatoes). Alternatively, the Cali Benedict (sautéed spinach, tomato, avocado, hollandaise sauce, and local microgreens) or Brioche French Toast are similarly delicious. No matter what you decide, you're going to leave satisfied - and full!
Which leads us to our next calorie-burning adventure, the Fire Tower hike. Now depending on how vigorous you're feeling (or how many benedicts you ate), you can either hike up from the base lodge (see trail maps for route options), or you can take the gondola up to the summit and begin your hike from there. From the summit, follow the trail signs for the Fire Tower where a 1.5mi. out-and-back trail through the woods awaits. A beginner and family-friendly pathway, you'll encounter a tight tree-lined forest path, with log platforms, impressive rock formations, and excellent views. However, the true payoff of this hike is the Fire Tower at the end. Climb the tower on a clear day and you'll be able to see a stunning 360-degree view.
Sunday Afternoon:
You'll most likely be looking to cool down after your summit hike and we've got just the right spot. Get changed into your swim trunks again and just a short drive past the Sun Bowl you'll find a cascading 20-foot waterfall and a local's swimming hole called Pike's Falls. The walk down is through a path in the woods with large boulders and tree roots making for a striking natural staircase. Once down to the river below, enjoy swimming in the brisk mountain water, gliding down the natural rock water slide, or jumping off the varying heights of the falls itself - no matter which way you get in, you're going to emerge feeling cooled down and completely refreshed.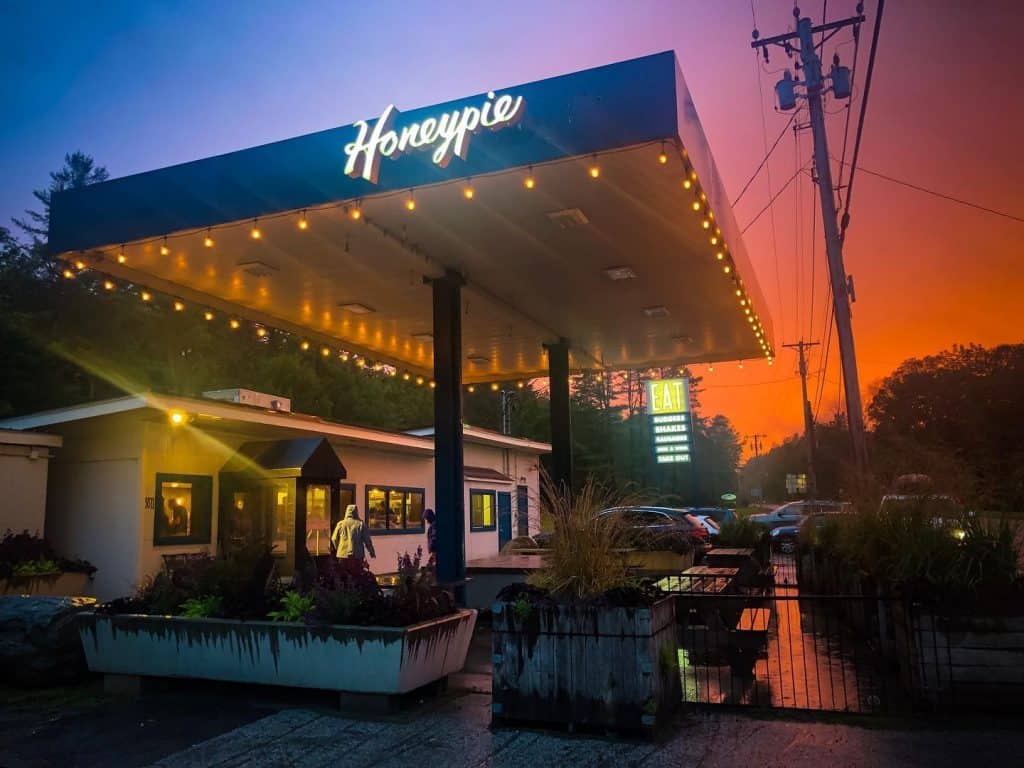 It's about time to check out and head back home, but we have one more bonus recommendation for your trip back. Located in Rawsonville in the foothills of the mountain, you'll come across a remodeled gas station-turned-eatery called Honeypie. Hang a right, grab a spot, and fuel up your body for the trip home. Honeypie is something special. The Vermont As Funk Burger (double burger with sautéed mushrooms, caramelized onions, fried egg with melted Woodcock Farm Timberdoodle) is mind-blowing (as is most of the menu), and the Salted Caramel milkshake is a lesson in decadent perfection. Also, no matter how full you might feel, grab a slice of the eponymous honeypie…unreal.
—
Now that's one heck of a way to spend a weekend, but one of the things we love most about our time at Stratton is that there's always something new happening and somewhere exciting to explore, and that leaves us always pumped for our next adventure.
—
Sponsored Content - All views and opinions expressed are that of Vermont.com and its writers.
Make it a long weekend: Book a Friday and Saturday night stay at Stratton Mountain and get a Thursday or Sunday night complimentary for a true Vermont getaway. Book Your Long Weekend at Stratton