September 14, 2020
The beautiful fall foliage colors that are so well known in Vermont are starting to creep their way along the treetops throughout the state. Keep checking back here as we start to gather information from our "Leaf Squad" to report foliage conditions throughout the state!
In the meantime, you can find some gorgeous Vermont Fall scenery in our Autumn Photo Gallery, thanks to local photographers and visitors to Vermont. But truly, you've got to be here to fully enjoy the leaves. And remember, it's never too early to plan a fall vacation in Vermont!
-- Vermont.com
---
Foliage color generally starts to change in the higher, cooler areas, spreading down into the valleys, and moving from north to south across the state.
'Peak' colors can be found at many different times & places as the season progresses, and the timing varies from year to year, based on the weather.
Beyond leaf peeping, there are plenty of ways to enjoy Vermont's mountains, meadows and villages during the fall. Discover Vermont Fall Festivals and other fun things to do in Vermont with our Vermont.com Calendar of Events. Don't see your event? Feel free to suggest an event so we can add it to our Calendar.
---
COVID-19 REMINDER
Masks are mandatory in public places effective 8/1/20. #MasksOnVT
If you're planning to attend an event in Vermont, please check directly
with the event to see if it has been rescheduled.
---
FOLIAGE REPORTS FROM AROUND THE STATE


The Vermont.com Foliage Reports are provided thanks to the Vermont Department of Tourism, and by volunteer members of our "Leaf Squad" from around the state. To submit a report for your area, please send it to

[email protected]

, along with a photo of the location you are reporting from, and the date when the photo was taken.

To view past Foliage Reports, visit the Vermont.com Blog.

For more info on current conditions, call Vermont's Seasonal Hotline at (802)828-3239 ... and tell them Vermont.com sent you!

September 07, 2020 in Montgomery Center, VT

"Currently there are a smattering of red leaves on a few trees at the top of Vermont in the Jay Peak area. In Montgomery, we have our 'early warning maple' that historically has given us a good tipoff on when fall colors in the area will begin to blossom, and when they'll peak. Our early warning maple broke out in red leaves this week, indicating we'll see strong colors in about two weeks, with peak color anticipated for four weeks from now - the first week of October.
With Covid, many of the normal town events - festivals, farmers markets and the like - have been put on hold. But visitors to the areas are still flocking to Montgomery's six covered bridges, the area's hiking and biking trails and swimming holes.
Temperatures have begun cooling in northern Vermont, with highs in the high 60s and lows in the low 50s"
-- Darren Drevik, Innkeeper,
Phineas Swann Inn & Spa
---
September 08, 2020 in Jeffersonville, VT

"Early September around Smugglers' Notch typically means cooler nights and appropriately-warm days. This year so far is providing just that. While many of the current changes are only visible in the higher elevations, there is evidence of change in the valleys, too! Select "show-stoppers" are already turning color, adding a quick burst of red or orange to an otherwise green backdrop. In another week, we should really begin to see some change.
Join us in the Heart of Vermont as a home base to your relaxing foliage holiday! While driving or wandering in the hills, stop by one of the many waterfalls in the area, and treat yourselves to some local treats or crafts in the process! Visit our website for more info."
-- Mike Chait, PR Director,
Smugglers' Notch Resort
September 09, 2020 in Mendon, VT

"The first pop of color lights up the Marble Bridge in Proctor. It's a wonderful time of year for a drive... enjoy your day and join us for dinner and drinks this Thursday or Friday! We offer indoor dining, plentiful outdoor seating (weather permitting), and a bonfire to warm early autumn evenings on the back lawn. We will have live Jazz with Glendon Ingalls and the Red Clover Trio on Thursday. Please call for reservations."
-- Carol Ryan, Innkeeper,
Red Clover Inn & Restaurant
September 09, 2020 in Manchester, VT

"It's that time of year, leaf-peeping season! The evenings are getting cooler and comfortable, after sunny days, some still with lingering summer warmth. Varieties of crisp apples are there for the picking off local orchard trees. Harvest your own pumpkins for Halloween Jack 'O' Lanterns and Thanksgiving pies. Trees are starting to display their new fall colors. At the Manchester View, the impressive landscape includes many seasonal flowering plants including the huge and colorful Dinner Plate Dahlia and several hues of Mums. We'll decorate for fall with hardy plants and pumpkins.
After a relaxing evening watching the sunset on the deck outside your room, sleep restfully. The Manchester View offers 36 rooms and suites, many with gas or wood-burning fireplaces. These accommodations are especially coveted during leaf-peeping and ski seasons.
Wake up refreshed, join us for our Breakfast-to-Go and then head out for local and outlet shopping in town, a hike on the trails to the Pond Loop on the Equinox Preserve, or take a winding drive on Route 7A through Manchester Village, stopping in Arlington to see and drive over the historic Green Covered Bridge off Route 313. Go back to 7A and head south stopping on the way at the Sugar Shack for local products and mementos. Continue on through Shaftsbury to Bennington. Visit the Bennington Museum and the Bennington Monument.
We, at the Manchester View, hope you visit this fall and make 'The View' your home-away-from-home in Vermont!"
-- Robin Green,
The Manchester View
September 11, 2020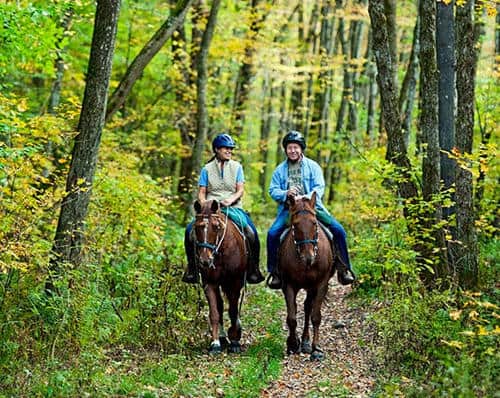 "Although many factors contribute to the vibrancy and length of Vermont's foliage season and some are yet to unfold, conditions so far point to an exciting display of color again this year. Vigorous forest growth last year gave trees a boost, while dry weather this spring protected trees from some diseases that impact leaf color, and reports from foresters on the ground with the department of Forests, Parks, and Recreation are that leaf damage from forest pests is low this year. In short, Vermont is forest strong and ready for peak performance this fall.
While color this week is limited to the occasional crimson or gold leaf already resting on the ground, or the individual branch or whole tree blushing early here and there, the rich mosaic of green that blankets our summer landscape is already beginning to fade—the first reminder that fall, and its dazzling pageant of color, is almost here."
-- Mike Snyder, Commissioner of Forests, Parks & Recreation,
Vermont Department of Tourism
---
To view current Foliage Reports, visit the Vermont.com Foliage Reports page.
To view past Foliage Reports, visit the Vermont.com Blog.