So, you have decided to forestall a large wedding in favor of elopement.  Maybe it is the cost of a traditional wedding that fueled your decision.  Or, perhaps you and your mate come from different religions or backgrounds which made planning a problem-free event difficult.  Some couples choose elopement because they want to focus on their marriage instead of all the details related to a large celebration.  Whatever the reason, you may want to consider a "destination elopement" – a hybrid of a traditional wedding and the old-fashioned elopement.
Like a destination wedding, the location of the marriage is away from home, usually somewhere that is meaningful for the couple.  But, unlike an old-fashioned elopement, the couple often invites a few close friends and family to join them for the ceremony.  Often destinations can provide an event planner so all details like venue, flowers, even an after-ceremony meal are coordinated without stress.  Many destinations also offer special "elopement packages" which provide all arrangements at a fixed price including overnight accommodations for the wedding couple.
Vermont is a popular choice for destination elopements, and many of the quaint inns and larger resorts offer special elopement packages.  Vermont is also easy to get to, offers magnificent scenery as a backdrop for the wedding photos, and provides a multitude of activities to engage guests and couple alike.
Southern Vermont is easily accessible by car from New England, New York, and parts of Canada.  With the Green Mountains anchoring the area, the many valleys are home to small villages, picturesque rivers and streams, and romantic hotels and inns ideal for a destination elopement.
Located in the southeast corner of Vermont, the Grafton Inn is located in the quaint village of Grafton, Vermont.  This historic Vermont inn offers a traditional Vermont welcome with hand-hewn beams and antique furnishings. Book the Inn's special Elopement Package for a very special wedding day.  The package includes two night's lodging in a suite, an arrival gift of a bottle of champagne, chocolate-covered strawberries and Grafton Village Cheese, a full country breakfast each morning, a three-course candlelit dinner for two with wine on your wedding night, a local Justice of the Peace to perform your ceremony, and bouquet and boutonniere for the bride and groom.  All this at a fixed price of $1800.  (Holidays and peak season, add $200.) Discuss any other special requests with Inn staff for a wedding day you will remember forever.
Also in southern Vermont, the Cooper Hill Inn in East Dover welcomes couples for elopements or small weddings.  Each event is uniquely planned to provide a memorable experience for the lucky couple. Imagine getting married at the "top of the world" with views of over 100 miles into New Hampshire and Massachusetts. The Inn can arrange to cater your event themselves from an eclectic menu, and help you with any other arrangements you want to make.  Choose an outdoor ceremony in a summer meadow or, in winter, take your vows indoors next to a roaring fireplace.  Each wedding is planned and priced depending upon your wishes.  The Inn's owners state, "We work very closely with the wedding couple and do everything we can to give them the wedding they want rather than any packaged idea of what a wedding should be like."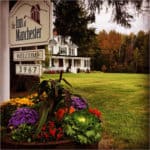 A little further north, the Inn at Manchester, in Manchester, Vermont, needs only four business day's notice to make your elopement truly special.  You choose the room or suite you'd like and the Inn staff handle everything else including Justice of the Peace, marriage license, bridal bouquet of six white roses, white rose boutonniere for the groom, wedding cake, champagne, photography of your special day presented on  CD, and dinner for two at the nearby Ye Old Tavern*.  Just add $750 to the cost of your room, and all this is yours with no stress, no fuss. What could be simpler?
* Dinner does not include alcoholic beverages, tax, or gratuity.  Package price does not include Vermont state taxes.
For an elopement that will make you feel like a Hollywood star, consider the Kimpton Taconic Hotel in Manchester Village.  This boutique hotel harkens back to the grand inns of yesteryear, yet offers all the modern amenities of a luxury resort.  On-staff event planners can help you make the necessary arrangements for your wedding day, whether it is just for the two of you or includes a few select guests.  Choose from accommodations in magnificently decorated rooms to lodging in a private cottage on the grounds.  Enjoy a wedding dinner at the hotel's restaurant, The Copper Grouse, or choose from an extensive selection of restaurants in the town of Manchester. The hotel does not offer cookie-cutter wedding packages, but instead helps you plan a wedding that is perfect just for you.
For a traditional Vermont inn located in a traditional Vermont village, you can't go wrong with the Inn at Weston, in Weston, Vermont.  For your elopement, the Inn at Weston is even more perfect. (The Inn is even pet-friendly in the event you want your furry friend to be a part of your wedding experience.) Select the Inn's Elopement Package and receive all this: two nights in a Carriage House room, religious or secular ceremony, your selection of music, bridal bouquet and groom's boutonniere, wedding cake, breakfast each morning (even breakfast in bed if you want!), photography of your wedding, a bottle of champagne to celebrate, and dinner for both of you both nights.  All this for $1,500.  Are you sharing your special day with a few important friends or family members?  The Inn is happy to work with you on planning your small wedding also.
For destinations in other parts of Vermont, check out the following:
Destination Elopements (Part 2)
Destination Elopements (Part 3)
Destination Weddings in Vermont
For more information:
Grafton Inn
Cooper Hill Inn
Inn at Manchester
Kimpton Taconic Hotel
Inn at Weston