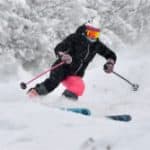 Even if you are seeing spring flowers sending shoots up through the earth at home, it's still winter in the mountains of Vermont. Smugglers' Notch Resort has a full month of special, on- and off-slope activities planned to make your experience one to thrill the whole family.
Here's what's in store for March at Smuggs:
On March 14-29, take advantage of special lodging packages and visit Smuggs during MapleFest, a celebration of the uniquely-Vermont treat, maple sugar. Take some time off the slopes to visit local sugarhouses and learn about maple sugaring from the experts. Enjoy complimentary specialty food & beverage samplings, a children's gift, and sugar on snow.
A selection of popular programs will be maple-themed just for you, and there will be special dining options at resort restaurants.
On March 21 & 22, the entire state of Vermont celebrates Maple Open House Weekend, and nearby Boyden Valley Winery will have special treats including sugar on snow, maple milkshakes & cupcakes, and even a maple cocktail.
March 17th is St. Patrick's Day, and Smugglers' Notch Resort has a full day of special events planned, including the Lucky Leprechaun Challenge, scavenger hunt, family karaoke, Marko's Magical Mystery Show, and much more.
With the ski season winding down, Smuggs has a number of special events planned to close out the year.
March 14th is the Molly Fund Benefit Rail Jam. The Molly Fund was created to support non-profit organizations that provide financial assistance to families whose children are battling cancer. At the Rail Jam, you'll enjoy fun, food, and a chance to raise funds for a worthy cause. Registration is 1-2pm in Parking Lot 1, and the Jam starts in the Zone Terrain Park at 11am.
On March 14th & 15th, the Smugglers' Notch Ski and Snowboard Club will be hosting the annual George Tormey Challenge for 11-14 year olds. Named for George Tormey, beloved skier and coach, the George Tormey Challenge is the last competition of the year for these athletes. It is an opportunity for many of the skiers who did not medal during the year to bring home a medal in this fun team event. In addition to medals, there will also be bib draws for prizes, so every athlete gets a chance to win.
On March 28th, Skiers and Snowboarders will compete against each other during the Smuggs Friendly Freeski Challenge. Competitors are grouped by age, and there will be a lot of awesome prizes to compete for!
Also on March 28th, the Smugglers' Notch Ski & Snowboard Club invites skiers 21 & older to relive their glory days at the Smuggs' Blast from the Past event. A qualifying GS course begins at 9:30 am (two runs; best run of two) followed by a pro-style dual SL course for the top 16 men and the top 8 women. The equipment doesn't have to be "old," just the racers. Hamburger/hot dog barbecue and beverages included in the entry fee of $35.
---
Additional March events at Smugglers' Notch include: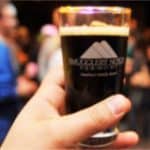 March 28th: 25th Annual Spring BrewFest; Sample the finest in craft beers and regional favorites, plus ciders! A DJ spins the tunes and the Resort's Mountain Grille puts on a tasty appetizer buffet, plus munchies and prizes. 5-10pm in the Meeting House. $22 entry includes 8 samples and a souvenir sampling glass. 21 & older, please.
---
So, don't hang your skis up quite yet. There's still a lot happening here in the mountains. Plan a trip to Smugglers' Notch today!