Third in the series of blogs on destination elopement in Vermont is a look at mid Vermont, the Burlington area, and all the way to the Canadian border.
A discussion of elopement venues would be incomplete without including The Essex Resort & Spa in Essex, Vermont. Situated near Burlington, the Resort lies in a tranquil setting with spectacular views and magnificent landscaped grounds.  The Essex is billed as a culinary resort with world-class chefs and a menu inspired by the best local ingredients.  Additionally, there is a full-service spa on the property.  The perfect place to pamper yourselves on your special day.  Although the resort does not offer a special elopement package, the wedding planners on staff are happy to discuss your plans and will strive to make your day memorable.  (Photo credit - Hannah Weddings.)
If you are looking for something much more intimate in Burlington, check out Lang House conveniently located only 3 miles from the airport and easily accessed by road.  This Queen Anne Victorian offers only 11 guest rooms, so you and any guests you invite to join you will be treated as VIPs by staff.  Take advantage of the special Elopement Package and receive a two-night stay in the guestroom of your choice, bottle of wine, artisanal cheese plate and Lake Champlain Truffles on arrival, ceremony flowers for two and in-room flower arrangement, Justice of the Peace for your ceremony, sparkling beverage and wedding cake for two, two Lang House robes, breakfast in bed one morning, and late checkout (12:30 pm) the day after your ceremony.  All this for $1750. You may choose to exchange your vows inside the romantic Victorian home or, weather permitting, take advantage of the lovely private gardens. Talk with the staff beforehand and they will work to make all your dreams come true.
Another option for an intimate wedding is to head to the West Hill House B&B in Warren, Vermont.  Tucked into the Mad River Valley and close to skiing, the inn offers comfort and tranquility for your special day.  With only 9 guest rooms, you are assured that your wedding will be the only event taking place that day.  The B&B offers two packages from which to choose.  The first – Just Us – A Wedding for Two – is based upon a midweek date and no guests.  This option provides a Justice of the Peace to perform the ceremony, a wedding cake and bottle of Champagne or sparkling cider, two keepsake champagne flutes, photography of the ceremony, seasonal flowers for the two of you (or a table arrangement), and two weekday night's lodging in either the Garden Room or Highland Room.  This option is priced at $1,049 plus tax.   If you want a weekend date or want to include up to 16 guests, you can upgrade to the Diamond Elopement package.  With this package you receive everything in the Just Us package plus upgraded lodging to two weekday or weekend nights in the Paris suite, Wildflower Room or Mountain Room, and up to 16 guests for an extra $20 each (does not include room charge).  This option is priced at $1249.  Of course, the staff is happy to discuss any other wishes you have to make this day everything you've dreamed of.
The Inn at the Round Barn Farm in Waitsfield and near Mad River Valley skiing, has a great deal of experience in hosting weddings, large and small.  They even have a wedding officiant on staff!  Whether you choose a summer wedding surrounded by colorful gardens or want the winter snow as the backdrop to your special day, the Inn is lovely place to take your vows.  Although the Inn does not offer a specific package for elopement, the Romance Package offers a room with a king size bed, a bottle of sparkling rose and local artisanal chocolates, plus a three-course dinner at The Pitcher Inn and chef-prepared organic breakfast for $475. For anything else you want to make your wedding complete, the staff is happy to help.
Basin Harbor in Vergennes right on Lake Champlain is a magnificent location for a summer wedding.  (The resort is not open in the winter.)  For a private romantic getaway, stay in one of the 74 private cottages on the property.  The resort is also pet-friendly so feel free to include your best friend in your wedding plans. Choose from lakeside settings to magnificent gardens to charming indoor spaces to take your vows.  Celebrate afterwards at one of the on-site dining venues.  Whether you limit your elopement to just the two of you or invite a few selected guests, Basin Harbor wedding planners will help you coordinate all the details.
Located near Stowe, The Governor's House in Hyde Park combines old-world charm with modern luxury.  With gracious elegance, the inn is a perfect choice for a stress-free elopement.  In fact, the inn's elopement package "will make eloping so very simple, so simple we call it Elope to Vermont – it's a piece of cake!"  The package includes two-night stay in the English Room, the Blue Room or the Pink Room.  (Each has a queen-size bed and working gas fireplace.)  Also included is full breakfast each morning, a private candlelit dinner for two, a bottle of champagne, a small bouquet, a justice of the peace to perform the ceremony, and a wedding cake.  In addition, for couples from outside Vermont, the inn staff will assist with obtaining the marriage license.  The Elope to Vermont package is only $735 with a surcharge applied for some holiday weekends, Christmas, or fall foliage season.  Your plans for your wedding day probably include more than this basic list of services.  That's OK.  The Inn is happy to help you complete your plans by adding special experiences such as a sleigh ride or a hot air balloon ride or even a mountain top picnic.  In addition, the inn has arranged a special package with a local photographer shoot before, during, and after your ceremony.  (You can even opt for video photography of your wedding.) If you decide to share your elopement with a few friends and family, the inn will even offer them a 10% discount on regular room rates. You can even include them in your private dinner.  For a totally different wedding ceremony, how about taking your vows in a hot-air balloon as you float over the Vermont hillsides?  You get all the services of the elopement package plus the balloon ride for $1275.
Located right in Stowe Village, The Green Mountain Inn offers all the warmth and friendly hospitality for which Vermont inns are famous.  Summer or winter, the Inn is an excellent choice for your elopement. Choose from the elegant outdoor garden or cozy interior rooms for your ceremony.  The Country Inn Elopement Package provides the following: two night's discounted lodging, one hour ceremony with a Justice of the Peace, a bottle of champagne and small wedding cake, breakfast in the Main Street Dining Room, a departure gift as well as souvenir champagne glasses from the Inn.  Invite up to four guests and still take advantage of the package pricing.  Room rates are dependent on season.  To personalize your wedding with special touches, talk with the Inn staff for assistance.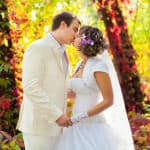 Just outside the village of Stowe you will find the Stone Hill Inn.  Set on nine acres of natural beauty, the inn offers all the luxury you could want – king beds, luxury baths with Jacuzzi, and fireplaces in every room.  The Inn's setting is perfect for your wedding.  Exchange your vows in summer by a garden path or next to a sparkling waterfall.  In winter, have your ceremony in the Great Room in front of the fireplace or with a backdrop of falling snow viewed through a forty-windowed room.  If this sounds like the perfect setting for your special day, consider the cost-saving elopement packages the Inn offers.  The basic package – Simple Elegance – includes two-night's stay in the room of your choice, ceremony with Justice of the Peace, bouquet and boutonniere, candlelit, silk rose petal turn-down for the wedding night, and two Stone Hill Inn wine glasses priced at $1275. The Roses and Memories Elopement Package includes all of that plus an additional night's accommodation (3 nights), one dozen red roses and chocolate truffles on your arrival, a personalized wedding cake and decorated table for "cutting the cake", and a celebration dinner at Michael's on the Hill.  All this for $1965.  Then there is the Unforgettable Vermont Elopement Package with all the above plus a total of five night's accommodation (for your honeymoon), one dozen roses and a welcome basket on arrival, Boyden winery and tasting (arriving by canoe or kayak), two-hour guided tour into the mountains for a very special experience, two hour zipline tour, and a tandem relaxation massage.  This amazing package is yours for $4185.
Located farther north in the Northeast Kingdom, the Phineas Swann Bed & Breakfast in Montgomery Center, Vermont, is still easily accessible from all points in New England as well as from Montreal.  Named one of New England's Top 5 Romantic Inns, the Phineas Swann staff will help you plan an intimate wedding to fulfill your dreams.  Start with the inn's Vermont Elopement Package which includes a beautiful ceremony on the inn's grounds, officiant, bouquet/boutonniere, filing fees for the marriage certificate, champagne and a wedding cake for two.  All this is just $495 not including the room charge.  Want something more?  Consult with the inn staff and they will work hard to make any of your wishes come true.
Lying right on the Canadian border in Richford, Vermont, Grey Gables Mansion is a Queen Anne Victorian with period details such as gleaming hardwood floors, stained glass, ornate wood work and romantic old-world feel.  As such, the inn is the perfect setting for a fairytale wedding.  Exchange your vows outdoors in the gazebo or indoors in the charming library.  Take advantage of the Wedding Union Elopement Package for 2 and receive 2 night's accommodations, full breakfast each morning, wedding ceremony, wedding cake, champagne and chocolates, photos of your special day (24 exposures), and dinner at a romantic restaurant.  All this for $575.  Even if your intimate wedding grows to include up to 40 guests, the Grey Gables Mansion can accommodate you.
It's clear.  Vermont has many, many hotels, inns, and B&Bs just perfect for elopements and small weddings.  Combine with Vermont's warm hospitality and magnificent scenery and you will have to agree – Vermont is an excellent choice for your very special destination elopement.
For destinations in other parts of Vermont, check out the following:
Destination Elopements (Part 1)
Destination Elopements (Part 2)
Destination Weddings in Vermont
For more information:
The Essex Resort & Spa
Lang House
West Hill House B&B
Inn at the Round Barn Farm
Basin Harbor
The Governor's House in Hyde Park
The Green Mountain Inn
Stone Hill Inn
Phineas Swann Bed & Breakfast
Grey Gables Mansion