September 27, 2018
Color is beginning to take off from north to south. Our Leaf Squad reports some significant changes from last week. See what they have to say below.
If you can't wait to see nature's magnificent display, head to our Autumn Photo Gallery for a glimpse into years past. And, remember – it's never too early to plan a fall vacation. Fall is also Festival season in Vermont so there's lots to do while soaking in the beauty around you.
-- Vermont.com
FOLIAGE REPORTS FROM AROUND THE STATE
The Vermont.com Foliage Reports are provided thanks to the Vermont Department of Tourism, and by volunteer members of our Leaf Squad from around the state.
For more info on current conditions, call Vermont's Seasonal Hotline at (802)828-3239 ... and tell them Vermont.com sent you!
NORTHERN VERMONT:
"Saturday (9/29) is the Burke Fall Festival in East Burke Village. It's a full day of fun for all ages with a parade kick-off at 10am. Over 70 craft vendors will be on the green and there will be horse drawn wagon rides. The big BBQ lunch on the green starts at 11am. For the kids, there are pony rides, bounce houses, face painting and an interactive show from Reptiles on the Move."
-- Laura Malieswski, Burke Area Chamber of Commerce, Burke, VT
"This week's welcomed rainstorms and cooler temps are helping persuade Vermont's Green Mountains to show their true colors. What seemed like dramatic overnight changes illuminate patches of maples, with plenty of green yet to turn. The views around Smugglers' Notch Resort are on track for a beautiful peak period still to come!"
-- Mike Chait, Smugglers' Notch Resort, Jeffersonville, VT
"Starting to see some dramatic color appear. Come welcome fall at Sterling Ridge Resort. Enjoy a lcal concert Saturday (9/29) at Martell's at the Red Fox or take part in Saturday and Sunday's Old-Fashioned Harvest Market in Underhill with a parade on Saturday at 9am. Event also includes children's games, music, Vermont artisans, and delicious food. The Underhill Clutter Barn and town-wide yard sales may yield some treasures."
-- Jessica Bonath, Sterling Ridge Resort, Jeffersonville, VT
"We are seeing a lot more color at the UVM campus in Burlington. That and the cooler temperatures finally make it seem like fall."
-- Emet Koffman, UVM, Burlington, VT
CENTRAL VERMONT:
"Temperatures are dropping in Southern Vermont. Mornings and nights are noticeably colder, and skies are increasingly darker. The smell of wood stoves is gracing the air while bits of leaves are just beginning to turn a golden yellow. We have had several rainy and windy days with more anticipated, causing some leaves to drop, creating a subtle crunch underfoot."
-- Julie Wood, Golden Stage Inn Bed & Breakfast,  Proctorsville, VT
"Photos from Common Ground Center this week show a handful of trees that have made a dramatic change in color, while the rest are still green with a more distinct orange or brown hue to them."
-- Christa Finnern, Common Ground Center,
Starksboro, VT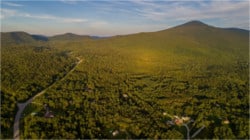 "It's still early for color in the Killington Valley, although the pace of autumn has picked up considerably with chilly nights, made for cuddling. Right in the inn's backyard yellow leaves cluster on the surface of the pond, while the birches' papery white bark is becoming more pronounced against the blue sky. The forest path, often visited by brides, grooms, and couples in love, is also carpeted in yellow. Our favorite Pippin apple tree is beginning to take on accents of gold. It's a great time for relaxation and romance - Red Clover Inn packages and specials are available during leaf-peeping season! See our website for details. "
-- Vicky Tebbetts, Red Clover Inn,  Mendon, VT
"Fall colors are slowly expressing themselves in the Killington basin. Color change has barely begun. In comparison with prior years, the color change is tracking towards a later peak color date. Comparing prior years, the normal peak color in the Killington Basin is around October 3rd as in 2014. This year, the color change is tracking similar to the last 2 years where peak color in Killington occurred between October 12th and 13th."
-- Bill Vines, Innkeeper, Birch Ridge Inn, Killington, VT
"The foliage in central Vermont is starting to pop right now with the onset of cool nights. The weather looks great for this weekend. Visit our website for great lodging specials."
-- Patty McGrath, Inn at Long Trail, Killington, VT
While you're enjoying the fall foliage, plan to take in one of Vermont's many Fall Festivals.  For comprehensive listing, refer to our Fall Festivals page.
CURRENT CONDITIONS:
The "Current Conditions" map provides an approximate view of the current foliage color in Vermont, based on the reports we receive.
Foliage color generally starts to change in the higher, cooler areas of the Green Mountains, spreading down into the Lake Champlain Valley and Connecticut River Valley, and moving from north to south across the state. The exact timing of the color change varies from year to year, based on the weather.