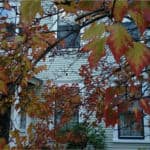 The final in our series of blogs about fall in Vermont concentrates on northern Vermont including Burlington, Stowe/Smugglers' Notch, and the Northeast Kingdom. Fall comes to northern Vermont first and foliage reaches peak as early as mid-to-late September.  That's not to say there won't be plenty of color into October since elevation plays a role as well.  Hotels and other lodging book up early, so if you plan on a visit to northern Vermont during foliage season, book early. You can visit Vermont.com's Foliage page to check status throughout the state.
Fall Festivals & Foliage
Of course, the magnificent foliage is not the only reason to visit Vermont in the fall.  Against that backdrop you will find a host of outdoor activities to make your visit special.  At the top of that list are the Vermont fall festivals, a modern interpretation of the harvest festival.

Nowhere in Vermont is the beauty of the fall foliage embraced with quite the enthusiasm as in the Northeast Kingdom.  What better way to view the magnificent colors than with a train ride through the countryside.  This is what you can do at the Colors of the Kingdom (9/16) festival in St. Johnsbury.  But that's not all.  There are also exhibits, performances, craft sales, farmers' market, live music, food and more.  Another unique version of the harvest festival is Northeast Kingdom Fall Foliage Festival (10/2-8) during which each day is hosted by a different village or town.  Enjoy tours, demonstrations and local meals.
Country Fairs
For a real country fair, plan on a visit to the Champlain Valley Fair in Essex Junction (8/25-9/3).  In operation since 1921, the Fair is everything you can imagine and more – exhibitions of livestock and award-winning vegetables, world-class entertainers, and amusements. And food!  Is there anything quite like carnival food?
The Burke Fall Foliage Festival (9/30) also pays homage to the rural character of Vermont with horse-drawn wagon rides, pony rides, farm animal petting zoo, and an interactive wildlife show.  Add a parade, craft show, live music, kids' activities, and food and drink, and you have the perfect fall afternoon.
Arts & Crafts Shows
One modern evolution of the harvest festival is the arts and crafts show.  Rather than exhibiting prize winning vegetables, the artisans display their hand-made art objects.  One big difference – all those wonderful crafts are available for you to buy.  You'll find everything from jewelry to clothing to wooden toys to pottery.  Do your holiday shopping early.  Some of the art and craft shows in the Northeast Kingdom include Mad River Craft Fair (9/2-3) in Waitsfield, Burke Fall Foliage Festival (9/30) in East Burke, Stowe Foliage Art Festival (10/6-8) in Stowe, and Essex Fall Craft & Fine Art Show (10/27-29) in Essex Junction.  For a complete list of fall festivals, consult the Vermont.com Fall Festivals page.
Oktoberfest in Vermont
Borrowing from the Germans, Stowe transforms into a Bavarian village for the celebration of Oktoberfest (9/29-10/1) each fall. Enjoy traditional Bavarian foods, Oompah bands, dancing and singing, and Vermont beers.  This event is fun for young and old alike.  Jay Peak also celebrates Octoberfest with their Annual Bean & Brew (10/7).

Selecting a Place to Stay
When considering northern Vermont this fall, come for the foliage, stay for the festivals. Selecting a place to stay is easy because there are so many choices.  Maybe you want to stay in Burlington because of its shopping and dining options.  Choose lodging in the Burlington area from traditional inns or family-friendly hotels like the Comfort Inn & Suites.  For a really special experience, choose a resort setting like the Essex Resort & Spa in Essex or Smugglers' Notch Resort in Smugglers' Notch.  For an authentic Vermont country experience, consider one of the log cabins at the Sterling Ridge Resort in Jeffersonville. For hotel and inn suggestions in the Northeast Kingdom, consult Vermont.com's lodging page for the area.
And, don't forget, fall in Vermont is even more than foliage and festivals.  The weather is perfect, crisp and cool, for a hike in the mountains or a bike ride along country lanes.  In addition, Smugglers' Notch Resort offers an a host of outdoor adventures like a zip line, a skate park, Segway tours, and more -- fun for the whole family.  For more ideas on fall activities, check Vermont.com.