With the highest concentration of maple trees in the US, it's no wonder Vermont is so well known as a top destination during fall foliage season. Although we may be a little biased, we think Vermont one of the most beautiful places in the entire world! So, in an effort to help more people experience this amazing time of year, here is a list of some of our favorite places to stay during the foliage season, from small-town inns to grand resorts. Enjoy this year's foliage season in Vermont!
---

We can almost guarantee that the Landgrove Inn is what you picture in your mind's eye when you hear 'Vermont Getaway'. Rolling hills, babbling streams, endless fields, and country roads all create the idyllic setting for this beautiful 18-Bedroom inn. With amazing mountain and valley views from every inch of the property, your leaf peeping can begin the moment you wake up.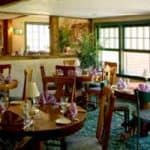 With an amazing on-site restaurant keeping you completely satisfied, miles of trails and hiking for your foliage-driven adventures, and one of our favorite fireplace/bar rooms to enjoy a stiff drink or to curl up with that book you keep meaning to read – go ahead and get away.
Click here for more lodging information and rates or call up and say hi to the amazing owners, Tom and Maureen at 800.669.8466.
---

You haven't truly experienced fall foliage in Vermont until you've seen the reflection of the leaves from your waterfront cottage on Lake Champlain. Luckily, Basin Harbor has the solution to that very specific (and beautiful) situation. With 77 cottages (waterfront and other amazing locations) and over 40 guestrooms - families have been coming to Basin Harbor for generations. And with 700 gorgeous acres and dozens of activities it's very easy to see why. Daily fall foliage cruises, hayrides, ropes courses, gourmet fireside s'more bar, and daily cider and Maple Shortbread cookies, just to name a few. Our personal favorite however,
is Rocktoberfest on October 18, 2014 - an annual end of the season celebration of Bacon, Beer and Bands. Booths with Otter Creek, Magic Hat, and more - combined with multiple bands and bacon inspired treats (bacon-wrapped, gouda-filled, tater tots/ French toast and bacon cupcakes). So, knock off some checkmarks on your fall foliage checklist and swing by Basin Harbor. C'mon, we know the bacon alone had you sold.
Click here for two great fall packages at the Basin Harbor Club – and don't forget about Rocktoberfest this October!.
---

Stowe is one of those picturesque, quintessential Vermont towns all year round, however in the fall it is particularly stunning. A bustling downtown filled with country stores, art galleries, boutique clothing shops, and exceptional dining options, it is hard to imagine a more ideal autumn setting. Right in the middle of it all is the historic Green Mountain Inn. Built in 1833, and hosting several US Presidents, the Green Mountain Inn has maintained their rich and storied history while keeping pace with the modern amenities and features of the present.
A beautiful combination of guestrooms, luxury suites, apartments, and townhouses, the Green Mountain Inn offers everything and then some. The Whip Bar and Grill offers some of the best eats in town, massage and spa services, an amazing year-round outdoor pool, fitness center, diverse shopping selections, horse-drawn foliage carriage rides, and loads more. The hardest part of staying at The Green Mountain Inn – besides leaving – is what to do first.
Click here for special packages at the Green Mountain Inn.
---

Located off exit 15 of Interstate 95, Lake Morey Resort is a great Vermont family fun destination, providing the perfect family getaway any time of the year. Lake Morey Resort offers 130 guest rooms and suites, with over half featuring stunning views of the lake.
Their large rooms and multi-room suites are ideal for families, or you can stay next to the Resort is their fully-furnished Lakehouse and Cottage complete with a private beach, and dock. Offering packages for family vacations, golf groups, conferences, weddings and family reunions, and with activities to keep everyone entertained, Lake Morey Resort is a destination your entire group will enjoy.
Click here for Lake Morey Resort Specials and Packages.
---

The Inn at Weston is a great choice for the romantic rendezvous, even if you're just passing thru for dinner on your leaf-peeping adventures along Route 100. There are photos of Vermont, and other subjects, taken by Bob Aldrich, who, with his wife Linda, own the Inn. There are prints, and paintings, and sculptures from galleries in Weston. You can take a stroll in the gardens or wander out to the Gazebo. If you get a chance, ask Bob for a tour of the greenhouse
full of orchids. Play the baby grand piano if you are so inclined (though someone may already be playing for you on weekends and "concert" nights). There's a cozy library with a fireplace. Of course, then there's the food - the Inn at Weston puts an emphasis on "dining", not just eating. If you'll be in the area before September 10th, don't forget to make dinner reservations for your meal before going to the Weston Playhouse!
Click Here for Lodging and Dining Specials at the Inn at Weston!
---
Stay up to date with current foliage conditions with our Vermont.com Fall Foliage Reports, and don't forget to submit your leaf-peeping photos on ourVermont Fall Foliage Facebook Page. Where are your favorite Vermont fall foliage destinations?
Featured Photo Credit // Barb Wood