On a recent Saturday night we wanted a spot for a congratulatory dinner for my daughter who had just landed a wonderful job.  A golfing buddy of my husband's recommended Peter Havens in Brattleboro, so we thought we'd give it a try.
As many times as we had driven down Elliott Street, we had paid little notice to the restaurant possibly due to the large number of restaurants in town.  Perhaps if we'd been locals we would have known all along what a wonderful find was hidden behind the door.  (After all, Peter Havens has been a fixture on Elliott Street for over 20 years.)
The restaurant itself is small and intimate with only ten tables plus bar seating. (Luckily we'd called for reservations! Had we not, we probably would not have been able to get a table as the place remained busy the entire time we were there.) Décor is simple, lighting subdued and restful. Service was typically Vermont – knowledgeable and very friendly.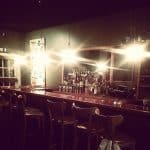 We began with cocktails from the rather exceptional cocktail menu. Each unique drink was described by listing ingredients.  Selection was difficult as they all sounded so interesting.  I opted for the French 77 which included gin, fresh lemon, St. Germain and Prosecco. It was served extremely cold in a tall flute with a curl of lemon rind.  My daughter chose the El Borracho made from tequila, mango, pomegranate, agave and lime.  It arrived all pink and icy in a cocktail glass.  My husband selected from the interesting choice of beers.
Just as we had trouble choosing which cocktail to order, the menu created even greater problems. Everything sounding wonderful.  We ended up ordering two appetizers to share: the softshell crab and smoked trout.  We were impressed to find that the restaurant smokes their own trout. Both dishes were so good we somewhat regretted not ordering a third appetizer.
For my entrée there was no doubt.  I ordered the pan roasted duck breast.  I always order duck if it is an option.  This duck was served with "French green lentils, haricots vert and sauce bigarade." It was delicious and right at the top of the list of best duck I've ever eaten.
My daughter will always order gnocchi if it is on the menu.  And it was ("house made potato gnocchi, cherry tomatoes, local ramps and shaved parmesan"), so she ordered it. And enjoyed every bite.  My husband was enticed by the "brie stuffed roasted chicken, fingerling potatoes, fresh arugula, enoki mushrooms, and honey butter."  Also a big hit.
What do you do when you've had a wonderful meal and eaten every bite? Why, order dessert, of course. Even though it was pushing the limits, we ordered the warm apple tart, the vanilla bean crème brulee, and the coconut-maple panna cotta and shared among ourselves.
While walking back to our car, we agreed that Peter Havens would be added to our list of favorite dining establishments.  In fact, we are looking for an excuse to visit again soon.  After all, there are still plenty of menu items remaining to be tried.
For more information:
Peter Havens