The Coronavirus and COVID-19 are the hot topic of discussion around the country these days, and Vermont.com has been monitoring the situation. While most individuals affected by COVID-19 will experience mild flu-like symptoms, some individuals, especially those who are elderly or already have severe underlying chronic health conditions will have more serious symptoms and require hospitalization.
Vermont Governor Scott issued a Stay Home, Stay Safe order, effective March 25, 2020, to preserve public health & safety, to ensure the healthcare delivery system is capable of serving all, and to help protect those at the highest risk & vulnerability. All Vermonters are encouraged to stay home whenever possible, leaving only for essential reasons, practice good hygiene with frequent hand washing, social distancing (staying about 6 feet apart), and wear a face mask in public (covering the nose & mouth). For more information about how Vermonters can help slow the spread of COVID-19, visit the Vermont Department of Health.
Restarting Vermont's Economy

Vermont is implementing a phased approach to reopening the economy, balancing the need to restore and strengthen our overall social and economic well-being with the prevention of a resurgence of COVID-19 that would undermine or lose the important public health outcomes achieved to date. As of May 27, 2020, many states around us still have a significant number of new and active COVID-19 cases, so we must keep up our cautious approach to reopening.
While Vermont businesses are starting to reopen with strict safety measures, (including distance between customers, cashless or touchless transactions, and curbside pickup for retail sales), keep in mind that, just because the state government allows a business to open, does not mean the business will reopen immediately, if at all. It is each individual business's choice to further delay opening later than what the state government allows and therefore we recommend contacting businesses directly to check their hours, for reservation information, or for event details.
Lodging and Accommodations
Effective May 22, lodging operators, including short-term rentals, may resume limited lodging operations with specific health and safety requirements, and occupancy/capacity limits, for the purpose of serving Vermont residents and non-residents who can verify they have met the quarantine requirements as outlined by the Vermont Department of Health.
All reservations from out of state guests who cannot first meet the mandatory quarantine requirements must be cancelled through June 15, 2020. The State may require similar reservations to be cancelled beyond June 15th.
Guests must complete their self-quarantine BEFORE arriving at the lodging property, accommodation or short-term rental. The lodging property, accommodation or short-term rental shall not be used by visitors from out-of-state as a location to complete their initial quarantine.
So ... When Can I Travel in Vermont Again?
As of right now, unless you are planning to self-quarantine in Vermont for 14 days (with a few exceptions), you can not travel in Vermont until June 15th (which is subject to change).
In Addition, Summer is Upon us
"Health Commissioner Mark Levine, MD asked Vermonters to be careful in the heat, as our bodies are still adjusting to warmer temperatures. Anyone who is active outside should start slowly, drink more fluids than usual, take extra breaks in the shade or cool places indoors. Check in on loved ones or neighbors who live alone virtually or by phone. If you need to stop by their home, remember to keep your distance and wear a facial covering.
Dr. Levine reiterated the need to monitor changing behaviors as Vermont reopens and the weather warms. If Vermonters continue to follow good hygiene practices, wear facial coverings and keep up physical distancing - and the state continues its strong testing and contact tracing capabilities - the outlook is good to control the spread of the virus."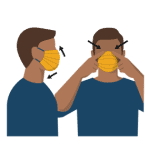 Make Wearing a Mask a Habit
As Vermont gradually opens, wearing face coverings is more important than ever. Recent evidence indicates masks do seem to reduce respiratory droplet transmission, but compliance must be high for this strategy to work. Taking our mask with us when we go out is as important as is taking our car keys and wallets. Even with a mask, we still need to keep 6 feet between ourselves and other people. Learn more about why and how we need to wear masks. (More info from the CDC about cloth face coverings.)
Thank you for your patience as the state begins to reopen!