You've probably heard the old joke with the punchline that states, "You can't get there from here." Well, Vermont is rural, sparsely populated, and situated at the far northeast of the United States, but you CAN get here from wherever you happen to be. And, quite easily.
If coming from a long distance, most people these days prefer to fly. This option gets you where you're going as quickly as possible preserving your time for fun. Direct service to Vermont is available from Boston, Chicago, Cleveland, Detroit, New York, Philadelphia, Orlando, Washington DC and Montreal. Arrive at Burlington International Airport, less than an hour from 4 major Vermont ski resorts – Bolton Valley, Stowe, Smugglers' Notch, and Mad River Glen.  You can also opt for commuter airline flight from Boston into Rutland via Cape Air. From Rutland you are 30 minutes from Killington and Pico and within a reasonable distance of Bromley and Stratton. Keep in mind that these ski resorts also offer a variety of activities at other times of the year for 4-season entertainment.
Perhaps your focus is not skiing, but to see a bit of the countryside before arriving at your final destination. Travel by train can be both relaxing and scenic.  Choose Amtrak's Vermonter for daily service between Washington, DC and St. Albans , Vermont with many stops in between. Travel through Philadelphia, New York City, Connecticut, Massachusetts, New Hampshire and Vermont. What better way to see the fall foliage throughout New England and especially in Vermont. In winter, you enjoy snow-covered vistas without concern for road conditions.
Another rail option is to travel via train from New York City to the Albany-Rensselaer station and catch the twice-daily Vermont Shires Connector to Manchester and Bennington. (Manchester is a perfect base for your Vermont adventure offering lodging of all types, fabulous dining and shopping, arts, recreation and most everything you come to Vermont for.) For direct access to Killington, travel north on the Ethan Allen Express from New York, through Albany to Rutland, and catch the Killington-Gramps Shuttle in Rutland direct to Killington.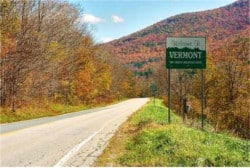 Of course, arriving by car is the most common mode of travel whether driving straight from home or with a rental car from an airport hub. Although there are many backroads in Vermont, the highway system makes travel easy with interstates I-89 and I-91 providing north-south access. Well-maintained state roads provide routes to all major resorts. If coming from New York state, try one of the ferries across Lake Champlain for a unique experience.
And, for those who want to go old-school, Greyhound Bus and Megabus also connect the northeast and Canada with Vermont.
However you decide to arrive, Vermont is waiting to greet you at any time of the year. For suggestions on where to stay and what to do, don't forget to check Vermont.com.
For more information:
Cape Air
Amtrak
Amtrak - Ethan Allen Express
Vermont Shires Connector
Greyhound
Megabus