The Fire Tower Restaurant and Tavern located in the Village of Stratton Mountain Resort is named after the fire tower that sits at the summit of Stratton Mountain.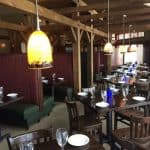 Looking to venture out for dinner?  The Fire Tower Restaurant and Tavern is one of the best restaurants in the Manchester  area and is just a short drive up the mountain. Once there you will enjoy eclectic comfort fare in your choice of the dining room or the Porcupine Lounge.  The rustic bar is designed for guests to relax with a Vermont local beer.  Zero Gravity Conehead IPA, Harpoon UFO White, Citizen's Cider, Long Trail Ale, Lost Nation, and  Queen City Porter were recent choices.  Or, try a hand crafted cocktail served  by great bartenders.  Bacon Old Fashioned?  Yes, please!
The creative cuisine has something for everyone.  Start off with the "Famous" Ahi Nachos
with tuna tartare, crispy wantons, pickled onions and a wasabi aioli or try the Duck Soup made with pekin tenderloin, black rice, button mushroom, lemongrass broth, crispy cracklins.  For dinner you can choose from an extensive menu, everything from flatbread pizza to Max's Seared Venison served medium rare, spice rubbed, along with a wild mushroom-shallot risotto, and a chasseur demi-glace. The younger set will be happy to find their favorites:   burger & fries, chicken tenders, pig in blanket, mac n cheese, and pizza. Culinary graduate Chef Max Turner, who also owns The New American Grill in Londonderry, carefully prepares every meal on the menu.  You're likely to find the owner, Peter Micioni there as well, to make sure you leave having the best dining experience possible.
Had a rough day at work and don't feel like cooking? They have a special take out menu. Just pick it up and reheat it in the comfort of your own home.  Call in your order before 3:00 pm and it will be ready when you get there.  Whether you are skiing, riding, hiking or finishing a day on the golf course, The Fire Tower is the perfect place to wind down in a warm and welcoming atmosphere.  Also available for special  events.
For more information or to make reservations on line:
The Fire Tower Restaurant and Tavern
802-297-2000
Winter hours: Monday - Thursday  4pm;  Friday Apres  3pm;  Saturday - Sunday -  11:30 am
Summer hours :   Thursday - Sunday - 4:00 pm - call to confirm hours in between seasons