Ah, autumn in Vermont. A symphony of colors where every leaf plays its part, warm apple cider teases your taste buds, and the crisp mountain air whisks away your everyday worries. Now, imagine experiencing all of this not just anywhere, but at the epicenter of fall festivities: Stratton Mountain Resort. Whether you're an adventurer keen to ride the biking trails, a nature lover seeking the perfect foliage-viewing spot, or simply someone needing a break from the hustle, Stratton's HarvestFest is where you ought to be this season.
Ready to deep dive into this autumnal wonderland? Keep scrolling and let us entice you further. Because Stratton's fall isn't just a season; it's an experience you'll cherish forever.
Stratton's HarvestFest Weekend 2023
Date & Time:
Oct. 5, 2023 — Oct. 9, 2022
Mark those dates, folks. That's five days, or 120 hours, or 7,200 minutes – however you wanna slice it, that's a hefty dose of fall fun. Clear your schedule, set your OOO (out of office, for those less acronym-savvy), and let's get festive!
Highlights of HarvestFest Weekend
Brewfest & Chili Cook-off | Sat. Oct. 7
Brewfest 2023 is where you can sample Vermont's finest craft brews including ales, lagers, porters, sours, ciders, and more. As you savor every sip, let the live music at the outdoor stage from Dave Dominick, The Commonheart, and the Amish Outlaws serenade your ears, all while being surrounded by the mesmerizing peak fall foliage. Saturday's Brewfest promises a full day of enjoyment, starting from 11:30 AM and winding down by 6:00 PM. Be sure to leave room to dive into a bowl of chili at the annual Chili Cookoff and vote for the champion of your taste buds.
Start Making Sense | Sun. Oct. 8
Dive deep into the nostalgia of the 80s with Start Making Sense, a masterful tribute to the iconic Talking Heads! Set against the scenic backdrop of Stratton's HarvestFest, groove to the rhythms of your favorite classics and as the evening sun bathes the mountain, let frontman Jon Braun transport you to the golden era of new-wave with his uncanny David Byrne performance.
Whether you're indulging in the melodies from Grizzly's exclusive Michelob Ultra Lounge (be sure to select this VIP Add-On at checkout) or soaking in the vibes at the main stage, this is the evening to "burn down the house" with fellow Talking Heads fans.
📍 Stratton Mountain Resort - Main Base Area
📅 October 8, 2023, 5:30 PM - 9:30 PM
🎟️ Grab your tickets and set the tempo right!
The Lodging Scoop - Stay and Play
HarvestFest Lodging Deals: Stay Longer, Pay Less
Here's the thing: a weekend like Stratton's HarvestFest is just too jam-packed with awesomeness to rush. You've got the Brewfest, soul-stirring live music, and let's not forget those Instagram-worthy Vermont fall foliage shots you've been dreaming of capturing. So take a break and make a weekend getaway of it with this lodging special.
Just for the HarvestFest Long Weekend, Stay two nights and get the third night 50% off! That right, snap up Sunday night for a song. Three total nights to revel in the fall festivities, right at the heart of the action. You're looking at a weekend filled with buddies and brews, melodies and memories, framed by a backdrop of the most stunning foliage you've ever seen. So, why wait?
Make Every Day Count: Your Daily Activities Guide (Oct. 5-9)
Scenic Lift Rides: Elevate Your Fall Experience
Look, if you've never seen Vermont's fall foliage from the summit of its highest peak, you're missing out. Board the Gondola and be prepared to get your breath taken away, quite literally. The panoramic views stretch across four states – the White Mountains, Adirondacks, Berkshires, and Green Mountain ranges are all at your fingertips.
And if you're feeling particularly adventurous? Lace up those hiking boots and take to the trails, or maybe just lounge with a picnic lunch. Just remember, catch the last Gondola down by 4:45pm unless you fancy a full mountain descent - which honestly, is a pretty great time, too!
Fall Mountain Biking at Stratton Bike Park: Ride the Rush
Close out the biking season with a bang! With over 10 miles of sinuous trails carved right into Vermont's lush landscape, Stratton's Bike Park promises thrills with every turn. Whether you're a newbie or a seasoned pro, these trails, curated by the master trail builders at Sinuosity, beckon with the promise of adrenaline and adventure. And if you've been here before, come on back, because Stratton has been busy adding miles of new routes. Ready, set, ride!
Vermont ATV Tours: Adventure Awaits, Pedal to the Peak
Ever wished for a magic carpet? Well, UTVs are the next best thing! Dive into Stratton's latest Foliage sensation – UTV Tours. Kick-off at the Sun Bowl, and then let the mountain paths guide you to the summit. Here's your moment for that jaw-dropping group selfie; just make sure you get first dibs on posting!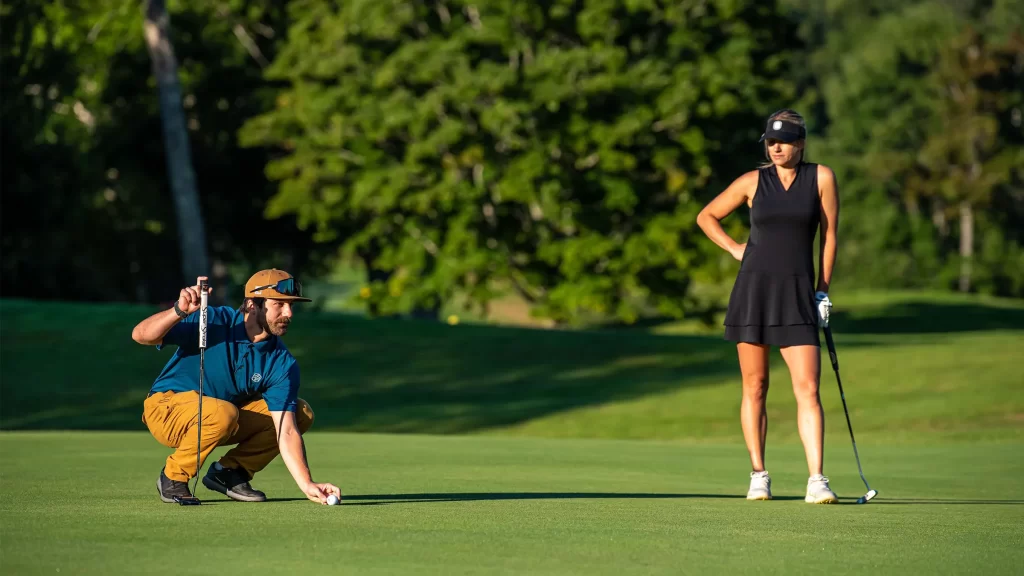 Golfing amidst Fall Foliage: Championship Course, Legendary Views
What is it like to golf at Stratton? How about twenty-seven holes of championship golf that's hosted LPGA tournaments? Three distinct 9-hole sections, be it Forest, Lake, or Mountain, offers a unique blend of challenge and charm. As Golf Magazine aptly puts it: "The golf is superb at this all-inclusive resort, which boasts a scenic and challenging championship 27-hole course that played host to six LPGA tournaments."
Hiking in the Green/Orange/Red/Yellow Mountains
Last but not least, if you really want to get up close and personal with Vermont's fall colors, hit the trails at Stratton's HarvestFest. There's something for every nature enthusiast, from laid-back strolls to challenging treks. Just pick a path, and let Vermont's autumnal beauty work its magic.
Conclusion: Seize the Vermont Vibe
Look, there's a reason we can't stop raving about fall in Vermont, especially at Stratton's HarvestFest. It's not just about the brilliant hues of gold, crimson, and amber that paint our landscapes. Nor is it merely the rush of mountain biking, the thrills of ATV tours, or the serene moments on the golf course. It's about the entire experience – the blend of adventure, relaxation, and pure, unadulterated nature.
But here's the clinker: reading about it is one thing, living it is another. And trust us, you don't want to be the person hearing about it from friends; you want to be the one sharing those incredible stories!
So dive deep into Vermont's fall magic and seize a weekend of memories waiting to be made. Click below, book your stay at Stratton, and transform your fall fantasies into vibrant, colorful realities.
See you on the mountain!
🍁Book Your Stratton Getaway Now🍁: Book a stay for Friday and Saturday night, and add on Sunday night to your stay for 50% off of the nightly rate in select condos. Book Your Long Weekend at Stratton.