October 1, 2020
"Many areas in Vermont are reporting near-peak foliage conditions right now, and they're only going to get better! We recommend Route 100 as one of the best scenic drives this time of year because there are several elevation changes that will give you a wide variety of color to see, and it goes the entire length of the state! Keep checking back here as we continue to gather information from our "Leaf Squad" to report foliage conditions throughout the state!
Reports are typically updated weekly, on THURSDAYS.
Between reports, you can find some gorgeous Vermont Fall scenery in our Autumn Photo Gallery, thanks to local photographers and visitors to Vermont. But truly, you've got to be here to fully enjoy the leaves. And remember, it's never too late to plan a fall vacation in Vermont!
-- Vermont.com
---
Foliage color generally starts to change in the higher, cooler areas, spreading down into the valleys, and moving from north to south across the state.
'Peak' colors can be found at many different times & places as the season progresses, and the timing varies from year to year, based on the weather.
Beyond leaf peeping, there are plenty of ways to enjoy Vermont's mountains, meadows and villages during the fall. Discover Vermont Fall Festivals and other fun things to do in Vermont with our Vermont.com Calendar of Events. Don't see your event? Feel free to suggest an event so we can add it to our Calendar.
---
COVID-19 REMINDER
Masks are mandatory in public places effective 8/1/20. #MasksOnVT
If you're planning to attend an event in Vermont, please check directly
with the event to see if it has been rescheduled.
---
FOLIAGE REPORTS FROM AROUND THE STATE


The Vermont.com Foliage Reports are provided thanks to the Vermont Department of Tourism, and by volunteer members of our "Leaf Squad" from around the state. To submit a report for your area, please send it to

[email protected]

, along with a photo of the location you are reporting from, and the date when the photo was taken.

To view past Foliage Reports, visit the Vermont.com Blog.

For more info on current conditions, call Vermont's Seasonal Hotline at (802)828-3239 ... and tell them Vermont.com sent you!

September 30, 2020 in Stowe, VT

"An aerial view of Stoweflake Mountain Resort & Spa's townhouses. The colors are popping!"
-- Courtney Dall'olmo,
Stoweflake Mountain Resort & Spa
---
September 29, 2020 in Burke, VT

"We are at peak in the Burke area. Foliage season came quick this year and the colors are amazing right now. The wind has been blowing so the leaves are starting to fall now."
-- Laura Malieswski,
Burke Area Chamber of Commerce
October 1, 2020 in Killington, VT

"The Killington Region and Central Vt is getting close to peak. Next 7-10 days will be gorgeous!
Call [us] to book now! Vermont is open and safety minded!"
-- Patty McGrath, Innkeeper,
Inn at Long Trail
---
September 30, 2020 in Mendon, VT

"Colors are at or near peak here in the Killington Valley, and the hills are aflame with orange, red and yellow leaves. Visitors and locals alike are enjoying the season with driving tours and activities like the scenic gondola tramway ride at Killington Resort.
This Thursday, finish your day at the Red Clover and soak up live jazz from tables safely distanced within numerous dining rooms (with possibility for outdoor dining, depending upon the weather). We here at the Red Clover Inn & Restaurant are hosting an intimate wedding from October 2 - 4 and as always, the inn will be 100% dedicated to the happy couple's family and friends on Friday and Saturday. Because of the wedding we will be closed to the public this weekend, so join us for dinner or drinks on Thursday!"
-- Carol Ryan, Innkeeper,
Red Clover Inn & Restaurant
---
September 30, 2020 in Shrewsbury, VT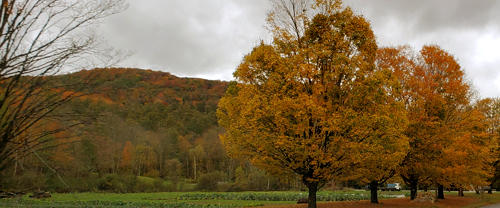 "Pictured is Route 103 near Shrewsbury, taken on the way to Rutland from Londonderry. The weather grew a bit warmer over the past week, and last night we had a lot of rain - finally! We've been pretty dry in the southern half of Vermont for a while now, and I think that, added to the cold snap we had last week, really helped to bring out the color in the trees this week. The rain last night and today may have washed some of the leaves off the trees, but there are still plenty clinging to the branches. I think we still have about another week, maybe more, of some beautiful color remaining for this year's Fall Foliage season in Vermont."
-- Renee-Marie Smith, Leaf Squad Coordinator,
Vermont.com
October 1, 2020 in Manchester, VT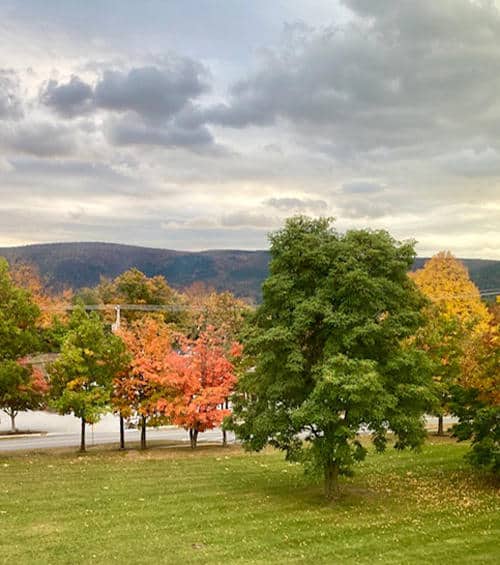 "Leaves are changing fast into vibrant autumn hues on our front lawn and in the Mountains beyond. Guests are enjoying their days leaf-peeping and exploring town. It's a beautiful fall season in Manchester!"
-- Colleen Mullaney,
Hampton Inn & Suites
---
September 30, 2020 in Manchester, VT

"Well, foliage really decided to show up this week! Within a matter of a few days the color was vibrant. On our property, peak will be in about 7-10 days. But the trees are begging for pictures already. Our gardens have been transformed with grasses and mums, and all our lamp posts are now draped with corn stalks and pumpkins. The colorful fallen leaves decorate the lawn like confetti and the change of seasons is in the air, cool breeze, rustling leaves, less humidity, sunshine... my favorite time of year. What's not to love about sweater and boot weather?! Lining up for cider donuts and picking apples at the orchard. Time to get the oven going and bake!
Join us Saturday nights (while weather allows) for our wood fired pizza night, outdoors only, 4-8pm or book a room or suite and enjoy our farm to table breakfasts in the morning any day of the week!"
-- Andrea Conrad, Owner/Manager,
The Barnstead Inn
---
September 30, 2020 in Manchester, VT

"As we approach the peak of fall foliage here in Southern Vermont, our landscape at Kimpton Taconic Hotel has changed from green to vibrant colors of red, orange, gold and plum. This photo was taken from our front porch. We think the foliage matches our fall décor quite nicely. Don't miss out on experiencing this stunning time of the year. Visit [our website] and read our recommendations on local and fun fall activities."
-- Anastasia Nichols,
Kimpton Taconic Hotel
---
September 29, 2020 in Bondville, VT

"We've Peaked! Or so it would appear. Many of us around the resort are saying it feels like we've peaked overnight. Views from the summit are nothing but a sea of reds, yellows, and oranges. Walking around the golf course along the homes that dot the hillside, autumn has truly arrived despite the yo-yoing temperatures.
With all the color, there isn't a bad view insight. From lunch on the deck of The Green Apron, to the Base area semi to fully, turned trees are everywhere. Of course, the best view is a 360 degree one from the cabin of a scenic gondola ride.
Our annual Harvest Fest is upon us and with temperatures cooling off, peak foliage conditions will be visible for days to come."
-- Luke Robins,
Stratton Mountain Resort
---
September 29, 2020 in Manchester, VT

"This autumn in the Green Mountains is bursting with color! Many trees are aglow with bright yellows, orange and red. The drives along Route 7A and 11/30 through town are amazing. The Manchester View is looking very seasonal with pumpkins and mums."
-- Robin Green,
The Manchester View
---
September 29, 2020 in Grafton, VT

"The scene as of Tuesday, September 29: The hillsides surrounding Grafton are bathed in reds, oranges, and yellows. The large red maple in front of the Inn has already showered our front lawn with its crunchy leaves, but the rest of our trees are in their in-between phase. You haven't run out of time to enjoy foliage here!"
-- Ali Pierre,
The Grafton Inn
---
To view current Foliage Reports, visit the Vermont.com Foliage Reports page.
To view past Foliage Reports, visit the Vermont.com Blog.