The Willow Experience
Immerse yourself in the tranquil embrace of Willow, a picturesque retreat nestled in the heart of bucolic southern Vermont. Willow offers more than just a place to rest; it's a true sanctuary where you can rejuvenate your body and mind amidst the serenity of the Green Mountains.
With over 5 acres of captivating grounds (adorned with the presence of five willow trees) your exploration begins right at their doorstep. Explore walking trails weaving through mountain forests and rolling hills, or find peace beside the tranquil pond and beautiful gardens.
Each room here tells a story of elegance and comfort, from the heartwarming aesthetics of their Colonial Revival Main House rooms to the adventurous allure of the Pete Nelson-built private treehouse. More than just a place to sleep; each is a cozy retreat where contemporary comforts meet the timeless charm of handcrafted furnishings and enchanting views.
Your hosts, Tom and Ravi, are passionate about creating an environment that sparks joy and discovery. Engage in a myriad of enriching experiences, from their meticulously curated retreats that promise a pause from the outer world to the artistic and outdoor adventures that beckon in every corner. Meditation, artwork, culinary adventures, and yoga - Willow is your gateway to meaningful moments.
The Main House
The Colonial Revival main house offers open living space on the first floor. There's a grand foyer with sitting area and library, a spacious and light-filled living room with fireplace, a sunny veranda, a dining room, and a 14-person yoga studio. There are six private rooms with individual bathrooms. All rooms come equipped with a smart TV, air conditioning, electric fireplace, comfortable beds and ample storage.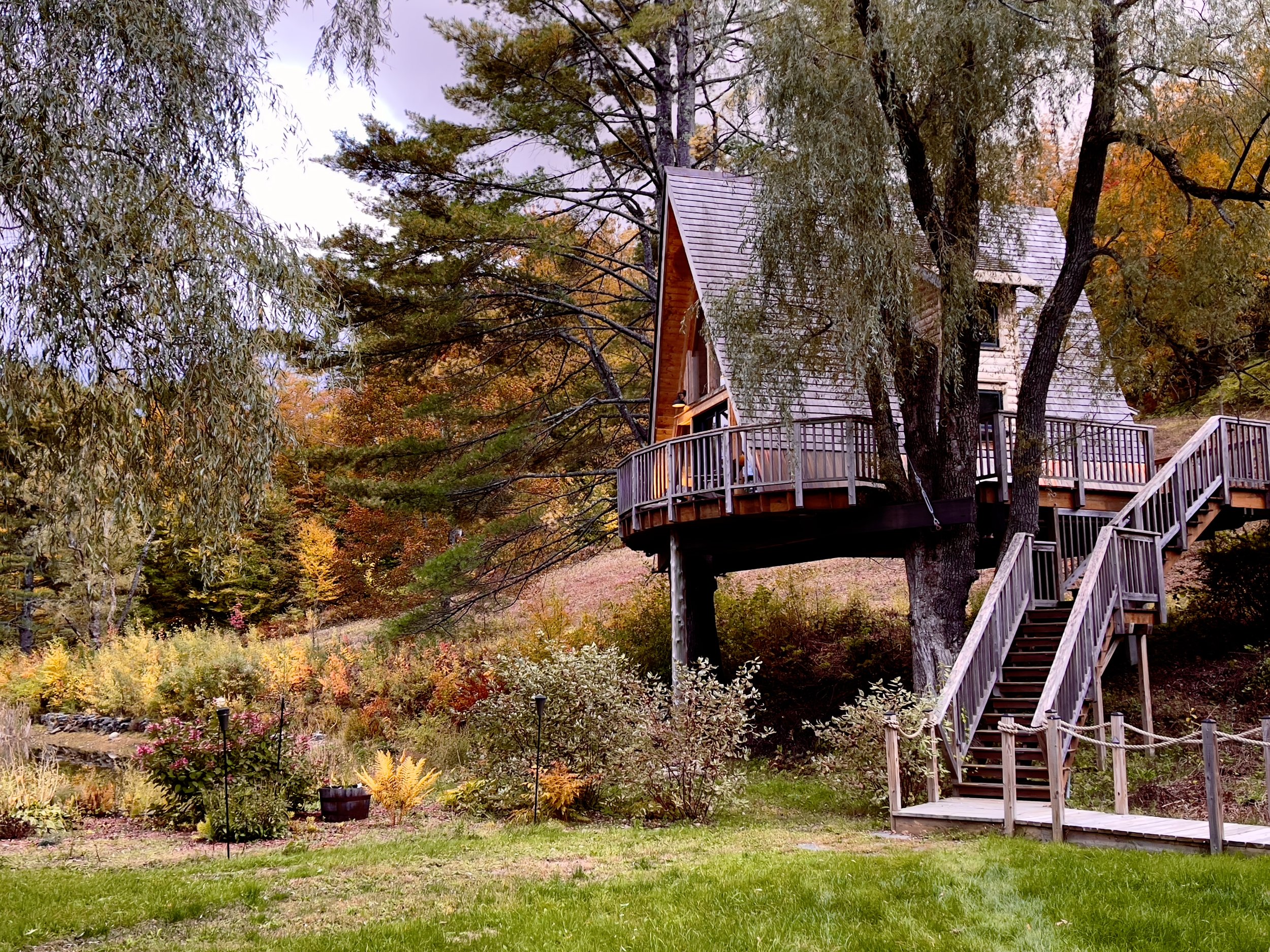 The Treehouse
On the hill behind the main house is a modern and privately situated treehouse offering sanctuary for the lifelong adventurer! The treehouse includes a galley kitchen with microwave and mini fridge, loft bedroom, living room, bathroom, and a wrap-around deck overlooking a gorgeous pond. Its A-frame design with cedar and copper cladding fits right in with southern Vermont. The Treehouse is air conditioned and heated. It comes equipped with electric fireplace, linens, blow dryer, shampoo, conditioner, and locally made natural soap.
The treehouse was designed and built by Pete Nelson. The build was featured on an episode of Animal Planet's Treehouse Masters. One pine, a willow, and four piers support the treehouse. The post at the front is made from a cedar log. A lighted walkway and staircase lead to the deck.