The beautiful fall foliage colors that are so well known in Vermont are slowly starting to creep their way along the treetops throughout the state. Keep checking back here as we continue to gather information from our "Leaf Squad" to report foliage conditions throughout the state!
In the meantime, you can find some gorgeous Vermont Fall scenery in our Autumn Photo Gallery, thanks to local photographers and visitors to Vermont. But truly, you've got to be here to fully enjoy the leaves. And remember, it's never too early to plan a fall vacation in Vermont!
Beyond leaf peeping, there are plenty of ways to enjoy Vermont's mountains, meadows and villages during the fall. Discover Vermont Fall Festivals and other fun things to do in Vermont with our Vermont.com Calendar of Events. Don't see your event? Feel free to suggest an event so we can add it to our Calendar.
---
This "Current Conditions" map provides an approximate view of the current foliage color in Vermont.
Foliage color generally starts to change in the higher, cooler areas of the Green Mountains, spreading down into the Lake Champlain Valley and Connecticut River Valley, and moving from north to south across the state. The exact timing of the color change varies from year to year.
For more info on current conditions, call Vermont's Seasonal Hotline at (802)828-3239 ... and tell them Vermont.com sent you!
---
NORTHERN VERMONT: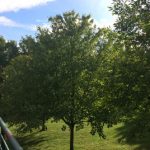 September 9, 2019
"This is the view from my back porch. In terms of the current conditions, everything is still very green but there are hints of color starting to come through, especially some yellow tones."
-- Shea Lincourt, Burlington, VT
---
CENTRAL VERMONT:
September 6, 2019
"We already see hints of red and yellow among the trees in the Killington Valley. With Labor Day behind us, cooler nights accompanied by sparkling warm days are here, and the peace of early fall is settling in. Celebrate the harvest with your own tour of Vermont's country stores, cheesemakers and breweries. Another fun way to check out the region's array of local products is at the Rutland Farmers Market, Wednesdays and Saturdays in Depot Park through late October."
-- Vicky Tebbetts, Red Clover Inn & Restaurant, Mendon, VT
---
SOUTHERN VERMONT:
September 9, 2019
"My drive to the office was beautiful today, with bright blue skies and a few puffs of bright white clouds here & there. The air was pretty brisk this morning, which has got me thinking about when we should turn on the furnace at home. The leaves on the trees are starting to change to light green and yellow in my area of Southern Vermont. There are a few light orange leaves here & there, and I expect that the colors should really start to brighten by next week."
-- Renee-Marie Smith, Vermont.com, Manchester, VT
---
September 8, 2019
"The season is already changing here on top of the mountain in Woodford. Won't be long before there will be color in any direction you look."
-- Linda Warner, Woodford, VT
---
Best Bets: During the earliest part of foliage season, viewing is more about elevation than location. Your best chances for spotting color are to 'get high' or 'get low.' Higher elevations with panoramic views will allow you to spot smatterings of color in the valleys below. Alternatively, you can 'get low' - marshy areas near bodies of water typically offer the first areas of foliage change and also offer a wide variety of tree species which enlarges the palette of early season colors.
---
The Vermont.com Foliage Reports are provided thanks to the Vermont Dept of Tourism, and by volunteer members of our Leaf Squad from around the state.