Have you ever noticed when you live near a resort/attraction you seldom go? As a child, I lived 30 minutes outside of DC for five years. The only time we went into the city was when out of town guests came to visit or on school field trips. Several decades ago we lived in CT and came to Vermont for two weeks every summer. For four years we visited VT and with each visit, a trip to Bromley's Alpine Slide was mandatory. Having lived in Southern Vermont now for over 20 years now, it is the same. I have been to Bromley probably 4 times.
This summer we had out of town guests. They hadn't been to Vermont in a long time. Their eight year old had never been. So what do they want to do? Go to Bromley, naturally. I have been wanting go go all summer but living in a place and vacationing in a place are two very different things. I needed to work. My guests needed to have fun. Everyone was recovering from "something" that had been going around, so literally at the last minute, I called Michael at Bromley and arranged to have tickets for my kids and company, while I stayed at the office to work.
The group consisted of a teenager, a "tweenager", an eight year old, our "forty something" friend (an adrenaline junky), and her "seventy something" mom.
I worked, they left. It was quiet. The day dragged on.
Since I didn't get to go, I will share with you their notes.
---
All staff was very pleasant and helpful.
Adrenaline Zip Line - 5 star scenic ride with a bounce ending!
Alpine Slide - very addictive. This first time rider over 70 progressed rapidly to the fast track.
Miniature Golf - played 18 holes with a wonderful young partner (BBK) - Course nicely varied. Enjoyed contour topography, water features, and elevations changes.
Day was too short to experience all the activities!
Must return!
V.I. Great Barrington, MA - (70 something) - AKA "Grandma"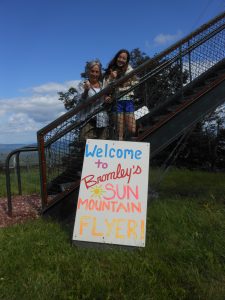 ---
Last week I visited Bromley Mountain. I had so much fun going to all the attractions. I must have gone on the Alpine Slide a dozen times!
The view while zipping down was amazing, and I couldn't tell if it was the view or how fast I was going that took my breath away…
-E.R.K. - Manchester, VT (14 years old)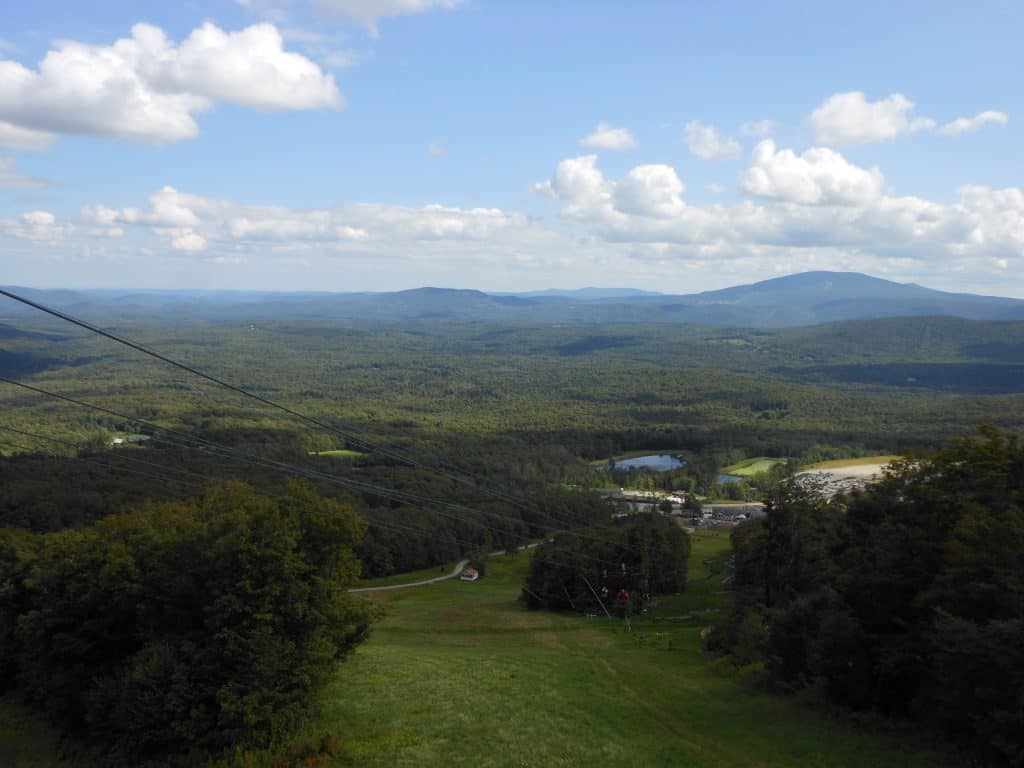 ---
Bromley was enjoyable for me and friends to have a great time. I recommend the Alpine Slide. It was exciting when you zoom down the mountain as fast as you can. (Editor's note: there are brakes but what 12 year old boy is going to want to use brakes?) I also enjoyed the food. It was delicious after the alpine slide.
B.B.K. - Manchester, VT (12 years old)
---
The Alpine Slide was the best! I only rode the slide and did the trampoline, but I kept riding the slide over and over again. It was so fun. I went faster each time.
I had such a good time I am keeping my Bromley wrist band on for as long as possible!
-I.I. - Tampa, FL (8 years old)
---
"Wow!" is all I can say. Having not been to Bromley in over thirty years, I was pleasantly surprised by all the new summer activities.
Our party consisted of three generations of devout individuals, and everyone had a blast -- not an easy accomplishment.
The youngsters were able to romp and tromp around this super family establishment unsupervised, while Granny found the Alpine Slide and zip line so engaging that she also splintered off to do her own thing. This allowed me to spend time alone with the quiet teen in our group ... on the trampoline, which was wonderful.
The Bromley staff are ubiquitously friendly and helpful. The only drawback for us was the 4 hours we spent there was not sufficient to do everything we wanted to do which means we will be back next year to do the arial climbing course, which I understand takes a couple of hours.
-M. I. - Tampa, FL - (40 something)
---
That's it. Their words.
TEN THUMBS up for Bromley Mountain this summer. After Labor Day, they will be open weekends thru October 14, 2013...and then... there is winter at Bromley!
Thanks to Michael for arranging tickets for this very appreciative group. We'll ALL be there next summer.