The power of community is undeniable, especially in the face of adversity. Vermonters have always exhibited resilience in difficult times, a trait that shines even brighter following the recent extreme weather events. This strength is once again evident as our local businesses rally together to support flood-stricken communities.
Enter Drinks for Dehumidifiers, a state-wide initiative slated for Friday, July 28. Local cafes, bars, tasting rooms, and restaurants across Vermont are pledging a percentage of their drink sales for the day towards buying dehumidifiers and other necessary supplies. These crucial devices will aid flooded communities, drying out homes and businesses, and contribute to recovery efforts.
Spearheaded by the good folks at Adventure Dinner, in collaboration with Senator Kesha Ram and the Queen City Saints, the goal is to raise $15,000 through this initiative. It's an ambitious goal in a short time, but as Vermonters, we know the power of pulling together when the need is immediate and the cause is worthy.
Want to participate? It's as easy as enjoying your favorite drink at a participating venue! Look at all these tasty spots!
Participating Restaurants in the Fundraiser
Donating Percentage of Sales
Donating Fixed Amounts
Donating 100% of Sales
Donation Collection Sites
Visit their pages, enjoy their delicious offerings, and support the fundraiser!
Not in Vermont or can't make it to a participating business? No worries, you can still contribute to this great cause! Simply use the Venmo below to donate to Queen City Saints, the community group leading this effort. Every dollar will go towards purchasing dehumidifiers and supplies for communities in need.
Even as we enjoy our drinks and camaraderie, let's remember the reasons behind this cause. While we're not focusing on the devastation, we're well aware of its impact. This is a way for us to lend our support, show our love, and help keep Vermont Strong.
So come out on July 28, enjoy great food and excellent craft cocktails, support local businesses, and make a difference in our communities.
For more information, resources, and additional donation opportunities, visit our Disaster Resource page on Vermont.com.
All listings featured on Vermont.com are independently selected by our editors. If you book or purchase something through our links, we may earn an affiliate commission - which in turn helps support our work - so, thank you!
Pure Maple Syrup. Nature's and Vermont's flawless addition to the culinary landscape. It's tough to improve on the sweet perfection of some Grade A VT's finest, and yet, each of these products below somehow have found a way to do just that.
Whether we're talking about infusions that will leave you lovestruck, candies that always hit the sweet spot, or maple/hot sauce hybrids that will leave your mouth on fire and asking for more - it's amazing how adaptable and complimentary Vermont maple syrup can be to a myriad of recipes.
So when the sap is flowing and the boilers are bubbling, we're of course eagerly awaiting the first batch of syrup, but we're also just as hyped about what Vermont Makers will create next. Here are 11 of our favorite Vermont maple products that we know you're also going to go crazy for.
All listings featured on Vermont.com are independently selected by our editors. If you purchase something through our links, we may earn an affiliate commission - which in turn helps support our work - so, thank you!
It's not a secret that the beer scene in Vermont is positively booming. With more breweries per capita than any other state, folks come to the Green Mountains from far and wide to sample the latest IPAs, find the hottest new releases, and bring home a few pints of the next best thing in brewing. It's no wonder that a Vermont beer-cation is seen by many aficionados and casual enthusiasts alike as a veritable mecca. 
Now of course, popping open a crisp lager on a hot day is hard to beat, but don't feel that you need to wait for the dog days of Summer or Vermont Foliage to embark on your brewery odyssey. If you haven't done aprés ski at a brewery or bierhall, it begs the question - have you really done aprés ski at all? 
Whether you're grabbing a pint after a deep day of pow, sitting by the lodge fire with a hearty porter, or tipping back a cool DIPA after a bluebird day on the hill, there's no question that a great beer just makes it that much sweeter. Without further ado, here are a few of our favorite Vermont breweries after a day of skiing and riding.
-----
With ski season in full swing, there's no better time to book your Green Mountain getaway and imbibe with a growler or two. Be sure to check out of full Skiing and Riding Guide for a deeper dive into the season. And as always, stay up to date on the latest Deals and Packages for your next Vermont adventure.
Sponsored Content - All views and opinions expressed are that of Vermont.com and its writers.
Stratton in the Summer is a complete stunner. The tallest peak in Southern Vermont is mutiple captivating shades of brilliant green, and any heat or humidity you may have been feeling at home is quickly forgotten about amongst the cool mountain breezes. Outdoor adventures and rugged mountain experiences by day - refined dining and lush accommodations by night. This is what a Vermont-weekend getaway is supposed to be.
If you're looking to make the most of your time in the hills of Southern Vermont, our guide below is absolutely packed with heart-pumping adventures and tucked-away gems. Ready to elevate your getaway game? Stratton will absolutely show you how epic a weekend in Vermont can be. Let's dive in!
Friday Night:
After a long work week, the scenic drive up into the Green Mountains is relaxing and almost meditative, but that doesn't necessarily mean you're ready to party hearty upon arrival. We prefer taking things nice and easy and having a low-key first night. First up, checking in.
With nearly a dozen varieties available (from inns to hotels, townhouses to villas), there's a lodging option for every size group or family. One of our faves is found in the rugged luxuriousness of the Hearthstone Lodge. Centrally located for all Stratton-based activities, the Hearthstone is a towering stone and timber beauty reminiscent of grand Western lodges. With two and three-bedroom units (all fully outfitted with cozy fireplaces, kitchens, and picturesque balconies) there is plenty of room to spread out over the weekend and deeply relax. More on this later.
After dropping off your bags, you're going to want to make your way across the street to the Fire Tower Restaurant and Tavern. A Stratton Village staple for years, the Fire Tower is one of our favorite spots for a great cocktail and meal. There are several gas firepits on the front patio, and starting off with a pre-dinner drink is always recommended. Fire Tower does cocktails right with fun and creative offerings that change with the season, but we've always been partial to their Bacon Old Fashioned (House Infused Bacon Bourbon, Maple Syrup, Muddled Cherry & Orange, Bitters). You'll want to move inside for dinner - both the tavern and main dining room are warm, welcoming, and comfortable - where you again can't go wrong with any of the selections. Offering a continually evolving menu, punctuated with eclectic specials and equally delicious favorites, this is the exact welcome meal you needed.
Making your way back to the lodge, you'll continue to relax and unwind as you find yourself out on Hearthstone's heated patio enjoying their year-round heated outdoor pool, hot tub, and sauna. The summer stars and warm waters sure go a long way in melting away any remaining city stress. Life is good.
Saturday Morning:
Following a great night's sleep filled with that fresh mountain air, our suggestion is to again head out into the Stratton Village and grab breakfast at the Stratton Mountain Deli. Located about halfway down the pedestrian-only shopping and dining thoroughfare on your right-hand side, the Mountain Deli serves up the perfect breakfast to fuel your upcoming adventures. We're fans of the Sloppy Jose breakfast bowl (chorizo, avocado smash, pepper, onion, and cheddar), but there are a host of veggie, vegan, and sandwich options to choose from as well.
Following a leisurely breakfast and coffee out on the deli's patio, you can stroll through the village and over to the Gondola. Running all Summer long, the Gondola affords unbelievably stunning views of the entire surrounding mountains and valleys below, but for now, we're suggesting a ride as a means to attend a high-altitude yoga class!
That's right, your next Stratton activity is Mountain Top Yoga, a 90-minute relaxing yoga class where you can recharge with a sun salutation atop Southern Vermont's highest peak. This mid-morning yoga class is held every Saturday and Sunday on a massive wooden deck where cool mountain breezes and sweeping Green Mountain vistas help bring you to a place of Zen. Namaste indeed.
Saturday Afternoon:
For the afternoon, we suggest one of three different paths to choose from, starting with a round of golf on the 27-hole championship course. Featuring three distinctive 9-hole settings, Mountain, Lake, and Forest, the Stratton Golf Course has played host to six LPGA tournaments, and takes you on a tour of undoubtedly one of the most picturesque courses imaginable. Golf almost always has dramatic views and scenery, but Stratton takes it to the next level.
And speaking of taking it to the next level, you could also find yourself ripping berms and boosting kickers at Stratton's Bike Park. First opened in 2019 and expanded each year, Stratton now offers up over 10 miles of lift-service downhill mountain biking excellence. Crafted by the premier trail makers at Sinuosity, there are trails and options for every level rider and age group. We're talking big hits, flowy singletrack, and technical rock gardens. There's nothing quite like the excitement of tearing down the mountain, through the trees and meadows, and just having a blast!
Alternatively, if you're feeling like a little retail therapy might better suit your needs, Stratton has you covered there as well. The Village Shops are an excellent way to spend a few hours, perusing shops like Burton and The North Face, and one of our favorites; First Run. You'll have no problem finding a mountain memento or two to bring home.
No matter which option you choose to pursue, you should 100% plan on wrapping up the afternoon with a massage at the Sports Center. With a traditional Swedish massage option, as well as Deep Tissue or Sports massage varieties, any knots or bumps from the day's activities will be skillfully eased away. Be sure to call in advance to reserve your session.
Saturday Night:
There's no better way to finish a great day than with a high-end culinary experience and for this, we recommend a reservation at Verde. Whether you're inside at a table or booth, or out under the stars on the fire-lit patio, Verde impresses. An extensive wine selection pairs perfectly with their seasonal offerings, and the ambiance is spot-on. Go on, have another glass of wine with dessert, you're on vacation.
Sunday Morning:
Sunday mornings are meant for Brunch and subsequently, we advise finding a table at Benedict's. A menu filled with breakfast and brunch classics and twists on classics, we like to dive into one of their Skillet plates, the Three Piggies (kielbasa, North Country Smokehouse bacon, ham, and VT cheddar, served with a three-egg scramble with house potatoes). Alternatively, the Cali Benedict (sautéed spinach, tomato, avocado, hollandaise sauce, and local microgreens) or Brioche French Toast are similarly delicious. No matter what you decide, you're going to leave satisfied - and full!
Which leads us to our next calorie-burning adventure, the Fire Tower hike. Now depending on how vigorous you're feeling (or how many benedicts you ate), you can either hike up from the base lodge (see trail maps for route options), or you can take the gondola up to the summit and begin your hike from there. From the summit, follow the trail signs for the Fire Tower where a 1.5mi. out-and-back trail through the woods awaits. A beginner and family-friendly pathway, you'll encounter a tight tree-lined forest path, with log platforms, impressive rock formations, and excellent views. However, the true payoff of this hike is the Fire Tower at the end. Climb the tower on a clear day and you'll be able to see a stunning 360-degree view.
Sunday Afternoon:
You'll most likely be looking to cool down after your summit hike and we've got just the right spot. Get changed into your swim trunks again and just a short drive past the Sun Bowl you'll find a cascading 20-foot waterfall and a local's swimming hole called Pike's Falls. The walk down is through a path in the woods with large boulders and tree roots making for a striking natural staircase. Once down to the river below, enjoy swimming in the brisk mountain water, gliding down the natural rock water slide, or jumping off the varying heights of the falls itself - no matter which way you get in, you're going to emerge feeling cooled down and completely refreshed.
It's about time to check out and head back home, but we have one more bonus recommendation for your trip back. Located in Rawsonville in the foothills of the mountain, you'll come across a remodeled gas station-turned-eatery called Honeypie. Hang a right, grab a spot, and fuel up your body for the trip home. Honeypie is something special. The Vermont As Funk Burger (double burger with sautéed mushrooms, caramelized onions, fried egg with melted Woodcock Farm Timberdoodle) is mind-blowing (as is most of the menu), and the Salted Caramel milkshake is a lesson in decadent perfection. Also, no matter how full you might feel, grab a slice of the eponymous honeypie…unreal.
—
Now that's one heck of a way to spend a weekend, but one of the things we love most about our time at Stratton is that there's always something new happening and somewhere exciting to explore, and that leaves us always pumped for our next adventure.
—
Sponsored Content - All views and opinions expressed are that of Vermont.com and its writers.
For the fifth year in a row, and for the sixth time in the past seven years, the Hill Farmstead Brewery of Greensboro Bend, Vermont was named as the Best Brewery in the World, United States, and Vermont by RateBeer.com-- a website home to thousands of tasting reviews and ratings from beer consumers and critics across the globe. The Hill Farmstead Brewery, founded in 2010 by owner and brewer Shaun Hill, sits upon the land of the Hill family's ancestors in the Northeast Kingdom. What once used to be farmland is now home to a bustling brewery, retail shop, tasting room, and taproom whose products can be found in a variety of local spots across Vermont.
Recently, my family and I decided to take a day trip to the Northeast Kingdom in search of the world-renowned brewery and its famous beer. Tucked away on Hill Road, in Greensboro Bend, the views from the brewery were incredible-- even if cell phone service was patchy. Be sure to print your directions before you leave so you don't get lost!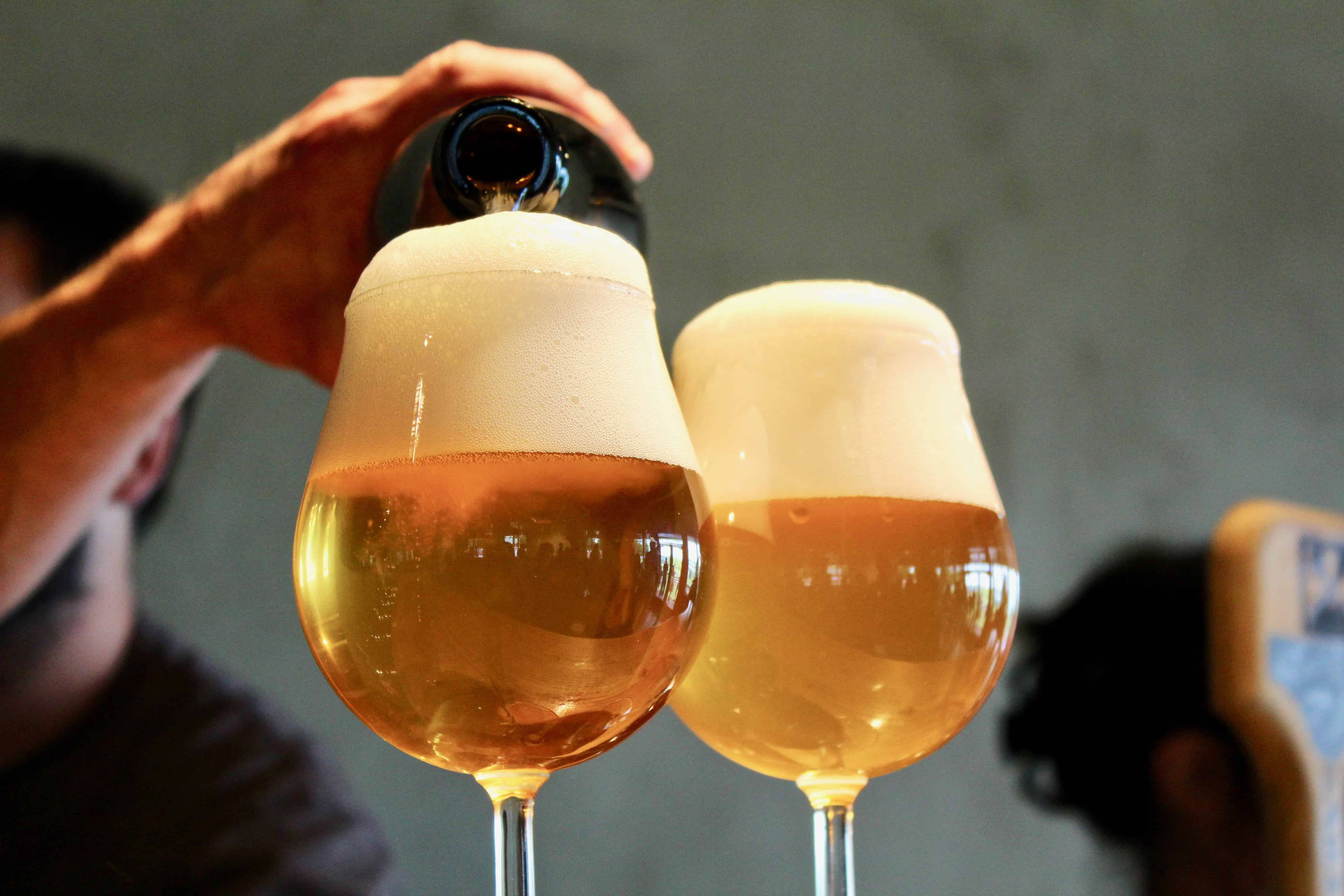 Being considered the best brewery and beer in the world, it was quite crowded upon arrival, with the line of eager customers wrapping around the inside of the taproom. Being only 20 years old, I was reliant on my parents to do all of the beer tastings for me. Seeing as experimentation and collaboration lie at the core of the Hill Farmstead brewing philosophy and that they rarely make the same beer more than once or twice a year, their selection of bottled and draft beers is limited. Customers are able to pick from a constantly changing menu, which is dependent upon what is readily available day to day. Each beer is part of a series-- whether it be ancestral, philosophical, single hop, etc.-- which is often suggested by its name. My parents decided on a bottle of Brother Soigné, "a Farmstead® Ale brewed with hibiscus, blood orange, and lime" from the grassroots brewing series; and a glass of Conduct of Life, "an American Pale Ale brewed with Amarillo® and Citra® hops" from the philosophical series.
While in the taproom, I also had the pleasure to speak with Phil Young of the Hill Farmstead Brewery and ask him a few questions. When asked about their secret to success, he attributed it to paying close attention to the quality of the beer and concentrating on the product, not the hype surrounding it. We also discussed new flavors for the brewery and how they hope to continue to shape what hops get grown by continuing to test out different experimental hops. In the past, they've had great success with this technique, as this is how their Mosaic hop was born. On the brewery's long term goals and future success, his response was to "keep trying to do what we're doing, and do it well,'' not only in terms of product, but also in keeping the retail side busy on location in Greensboro, and continuing to take great care of their employees.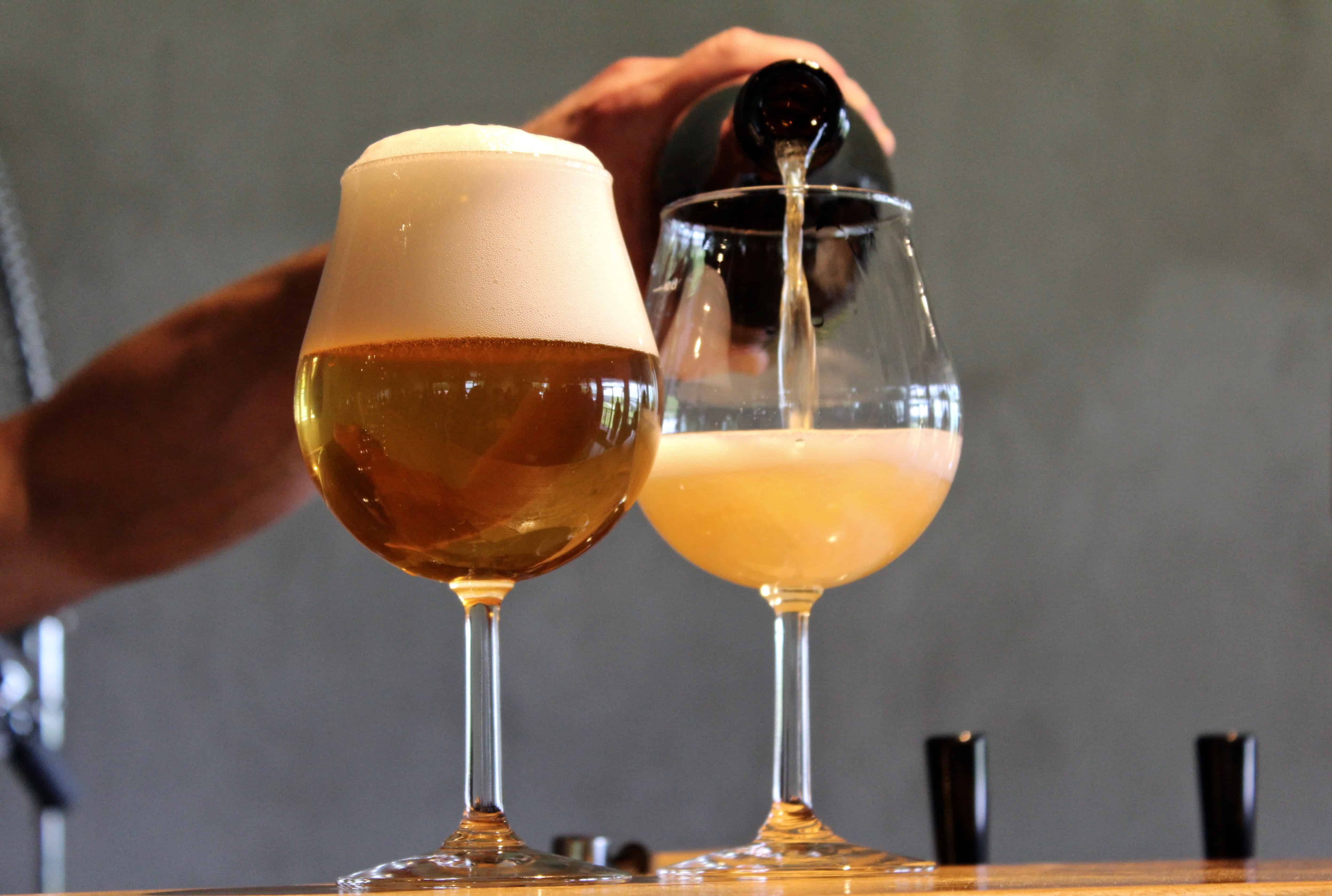 After my parents finally got their drinks, we went outside where happy customers were enjoying their beer and the view. The atmosphere was relaxed and laid back, with people playing corn hole at the end of the yard or standing around barrels that were cleverly being used as tables for drinks. There's also a different food truck that comes each week, in case customers desire a snack with their beverages.
Once we finished outside, we paid a visit to the retail shop, where there was a selection of beers to go in the form of growlers, cans, and bottles. Like in the taproom, flavors are limited, making it tempting to purchase one of each kind available.
Beer lover or not, the Hill Farmstead Brewery should definitely be on your list of places to visit if you're ever in the Northeast Kingdom. Only a half-hour from Lake Willoughby and other local glacial lakes, it's definitely worth taking the time to go and taste some of the best beer in the world at one of the world's finest breweries-- even if to just say that you tried it.
Hill Farmstead Brewery: Hours: Wednesday-Saturday, from 12:00-5:00 p.m.
For as long as anyone can remember, maple syrup has been at the heart of Vermont culture-- to the point where Vermonters would bleed maple syrup if they could. It was this exact cultural phenomenon, coupled with a professional cycling career, that inspired local New Englander Ted King to partner with the Cochran family of Richmond, Vermont to create UnTapped.
Since a very young age, maple syrup has been a big part of King's life, due to a family friend's sugar farm in central New Hampshire. King later went on to attend Middlebury College in Vermont, where he first got into cycling. He raced a bike professionally for ten years total, and within this time it came to his attention that professional cycling was fueled predominantly by energy bars and gels that were created in labs. While living abroad as a professional cyclist, friends and family would ship him maple syrup, which King began to use in a less traditional manner as a purer way to fuel his rides. Finally, in 2014, King teamed up with the Cochran family of Richmond, Vermont to create UnTapped's first product-- packets of pure maple syrup for quick energy.
Since then, UnTapped has grown into multiple product lines of waffles, energy packets, and drink mixes- with all three products together covering the general needs of sports nutrition. There are now five flavors of stroopwafels to satisfy hunger while exercising, or even just for an everyday snack-- including classic maple, raspberry, coffee, chai, and Vermont.com's personal favorite, lemon. For quick energy, reach for a maple syrup packet, which comes in pure maple syrup, as well as coffee infused for a caffeine hit, or raspberry with sea salt to boost electrolytes. For hydration and more electrolytes, add one of UnTapped's drink mixes to your water bottle, whether it be Ginger Mapleaid to help soothe your stomach after intensive exercise, or Lemon Tea Mapleaid for a caffeinated pick-me-up.
Through its consistent usage of real maple syrup in all of its products, UnTapped has achieved its mission to provide better tasting, better performing, and better digesting sports nutrition by using pure and clean ingredients. Since maple syrup is a fast acting sugar and carbohydrate that can be easily broken down by the human body, it's a more natural and healthy approach for athletes. As a result, UnTapped's popularity has led to its products being carried across the country, and can be found in bike and ski shops, outdoor gear stores, as well as co-ops, grocery stores, and at https://untapped.cc.
For the time being, UnTapped is focusing on continued growth and creating products that make sense and satisfy the needs of athletes. Also, be sure to look out for them at endurance sports events such as Dirty Kanza, Rooted Vermont, Vermont Overland, and more. Check the UnTapped website and subscribe to its newsletter to see dynamic updates on where UnTapped will be next. Look for the maple creemee trailer or the timber frame to score some delicious maple products!
In response to COVID-19, UnTapped has started an initiative to support its partners by adding an option at checkout to let you identify your local sports nutrition retailer to whom UnTapped will send a check for 20% of your purchase, regardless of whether that retailer carries UnTapped or not.
Maple Syrup. Farm to table dining. Apple orchards. Craft Beer. All world-class products easily associated and warmly linked to Vermont. But wine and vineyards? You better believe it. With over 15 vineyards currently calling the Green Mountains home – and more joining them each year – Vermont is quickly becoming a destination for oenophiles from around the globe. We spoke with Shelburne Vineyard's Director of Marketing and Events, Gail Albert about the coming harvest, the challenges of marketing a Vermont wine, and the camaraderie between the Vermont vintners.
Vermont.com // Vermont is known for many wonderful things, but a long growing season isn't particularly one of them. What kind of grape can survive a Vermont winter?
Gail Albert // The first grapes we had planted were New York State hybrids, and they were grapes that did well in this region, but if it got to be 15 degrees below zero, they would lose their buds and we wouldn't be able to have a crop. Then, in 2008, some new varieties were developed in the mid-West that were hearty down to 30 degrees below zero. When those grapes began to be available we knew that we could make some amazing wines in this region. With these types of grapes we're even able to make a mid-winter ice harvest and produce a whole new variety of wine.
VTC // How is the relationship between the vineyards? Are techniques and processes treated as closely guarded secrets?
GA // It's very interesting because Ken [Gail's husband and founder of Shelburne Vineyard] had worked all his life in Corporate America, where it was very secretive and the sort of world where if you leave, you lose the keys that same day. But the wonderful change for us has been that we're all learning together. Years ago, when we first started growing grapes in Vermont, even before there were a great number of vineyards, those of us who were doing this were like pioneers, always getting together and tasting each others wines or talking about different varieties of grapes.
Because everyone's land is different; the terroir of the grapes affects the way the grapes taste, the winemaker affects the way the grape tastes, the weather and micro-climates of each vineyard – everything changes so we don't really need to be secretive because we're each making a different product even if we're making the same type of wine. It's been an extremely nice camaraderie and very helpful and instrumental in each vineyards growth.
VTC // What are people's reactions to Vermont made wines?
GA // Well, I think that we would like to put ourselves in the position to be as successful in the world picture as Vermont brewers have been. Vermont beers are really on the map and Vermont wines haven't fully gotten there yet. We're working towards that by having better and better wines each year, but I think that there is something about beer that people are more willing to try the craft varieties. People just don't think of Vermont as a place for wine yet. There are pockets that people think of as wine regions; Europe, Australia, California, and maybe parts of Virginia and Ontario – and we're trying to expand upon that mindset.
The challenge for us here in Vermont is that we can't grow the grapes that people are familiar with for the most part. We grow a little bit of Riesling, which is a pure European variety of grape, that people are very familiar with. But that's probably the only pure European variety that can thrive here. We make some amazing varieties that people would compare to their current favorites, but we hesitate to say "This is like a Pinot Noir" or "This is like a Chardonnay" because we want people to appreciate it for what it is. On the other hand, people come here and they're looking for what they're familiar with. One of the reasons that we decided that we really needed to open a tasting room is because if people have the chance to taste them, they can really fall in love with new wonderful varieties and broaden their horizons.
The Fall harvest has just recently begun at Shelburne Vineyards – definitely get in touch to learn more about the process and even to join in. From what we understand the Winter Ice Harvest is a beautiful event as well, not to be missed – just slightly colder. Make sure to stay tuned to blog.vermont.com as we have several articles coming up that will follow the winemaking process throughout the year at Shelburne Vineyard.
—
Shelburne Vineyard is located at 6308 Shelburne Rd. (Rt. 7) in Shelburne, Vermont. They are open seven days a week from 11AM-6PM and offer tours every hour from 1PM-4PM. It's always great to see folks who are this passionate and knowledgeable about their craft. Stop in and say hi, you'll be glad you did.
So I'll let you in on a little secret. A good beer makes everything better. A tough day or a great day. A day on the slopes or a day at the desk. With certain obvious exceptions (before performing surgery perhaps?) there are few things in life that are not more positively enhanced by the perfect pint. We keep a good amount of craft beers in the Vermont.com offices for just those occasions, and our new favorite is brewed by Drop-In Brewing Company of Middlebury.
Helmed by brewmaster and industry leader Steve Parkes, and aided wonderfully by an amazing crew, [props to Chris, a brewer at Drop-In, for making us feel so at home and keeping the samples flowing], there is a certain joy and playfulness in the brewery that comes through in every drop. Doors to the brewery open and you are instantly hit by really good music. There's no Top 40 Hits of Today playing on some neglected radio in the corner, these guys take their tunes seriously. In the time we were in, Hendrix, The Clash, Green Day, The Doors, and of course The Ramones, were all cycling through, putting you in a mood to buy a growler or two and post up by the P.A.
Posters of the best are proudly up for display, setting the tone and presiding over the operations. The space up front really isn't that big, but a permanent stage in the corner really just drives home the point that the music is in every batch they brew.
And as well it should be. Steve Parkes was 17 years old in 1977 and grew up in the punk era with a family that exposed him to all the classics and everything in between. "My dad was 17 in 1957 and grew up listening to Elvis and riding down to the record shop in England to buy all the new 78s – I distinctly remember when I was 8 years old and he came home with the new Sergeant Pepper album and I heard that for the first time…I've lived through the whole Rock and Roll era, its easy, I've experienced it first hand." The different brewing tanks are all named after different members of The Ramones – and the tank that holds the runoff and waste by-product from the brewing process (basically it holds all the sh*t) is called Trace Adkins. And we love that.
But it's not all just fun and games. Steve is an industry innovator and leader. Holding a degree in Brewing Science from the prestigious brewing school at Heriot-Watt University in Edinburgh, Scotland, and having essentially created the industry's internet based education programs, Steve knows this industry inside and out. Originally recruited to brew in the U.S. as brewmaster for the Humboldt Brewing Company, and eventually moving East to work with Wolavers to turn around the then failing Otter Creek, Steve is a also a Great American Beer Festival and World Beer Cup judge. 'Nuff said, guy knows his beer.
And Jesus, is the beer delicious. Their flagship Sunshine and Hoppiness (Belgian-style Golden Ale brewed with Weyermann's Malt from Germany, Cascade hops from Oregon and a blend of two Belgian yeast strain) is our new go to draught. It's complimented by a rotating assortment of options. When we stopped in right before the holidays, there was a Christmas Cake on tap that literally tasted as though you were drinking a refreshing, delicious, alcoholic version of a holiday treat (Dark Brown Ale brewed with Raisins, Sultanas, Currants, Orange Peel, Grapefruit Peel, Brown sugar and a Super-Secret ingredient). For the slightly more traditional beer drinker in you, Red Dwarf is a must have (American Amber Ale, brewed with American 2 Row Malt, English crystal malt, Columbus, Willamette, Mt Hood and Cascade hops, and a West coast American yeast strain), again – amazing.
In closing, let me say this. We make the drive from our Burlington office to our Manchester office quite frequently. We always take Rt. 22A in Vergennes to avoid the Rutland traffic. After visiting Drop-In Brewing Company in Middlebury, we've changed our travel itinerary to drive down Rt. 7 and bring a growler or two down to Manchester. Rut-Vegas be damned, it's well worth it.
—
Drop-In Brewing Company is located just south of Middlebury center at 610 Route 7 South,
Middlebury VT 05753. Their tasting room is open Monday-Saturday: 11am-7pm and Sunday: 12pm-5pm. Stop in, say hi to Steve and the crew, listen to some great tunes, and enjoy a taste or two. Cheers!
As you may know, we are big fans of Hotel Vermont (Four Great Places To Stay In Vermont During Fall Foliage). Their rustic, yet modern rooms give the boutique feel of a big city, yet still manages to stay true to it's Vermont roots. A convenient, central location in downtown Burlington make it not only a step away from any number of activities, but also incredibly easy to get to no matter where you might be coming from. Numerous, well-organized, exciting events such as their yearly Ice Bar, or WhistlePig's Boss Hog's Speakeasy seem to be happening every weekend (and practically every week day too it seems). Yet for all of these valid points, perhaps the biggest reason we love Hotel Vermont is Juniper Bar and Restaurant.
Orchestrated by Chef Doug Paine, Juniper is always creative and delicious, consistently utilizing local ingredients in a unique and surprising manner. Because of this confidence in execution they are amongst the finest of the restaurants in the state that are spearheading the local-food movement. With constantly evolving dining options, you can always have something new and special. The most recent iteration of their Winter Menu is in full swing, and here are five of our favorites dishes.
1. Juniper Roasted Quail
We're just going to jump straight to the knockout punch here. Yes, that is fire coming from atop this dish, and yes, it is spectacular. Caramelized apples, turnips, kale, wheat berries, and a hazelnut gastrique are some of the elements that make this dish as unique as it is – but it is truly the Juniper sprig that is lit on fire at the table that is the triumphant coup de grâce. Imparting an calming essence and aroma that stays with you throughout your meal, you have to try it yourself to appreciate it fully.
2. Vermont Cheese Fondue
Everybody knows that one of the greatest parts about eating a meal is the social factor. Going out with a group of friends, a great date – it's all about the interaction and the experience. Juniper plays perfectly into this mindset with a 'Sharing' section of their menu. Not just your average appetizer that you scarf down all by yourself (although, with how delicious these are, you may very well be tempted), but a full on smorgasbord of tantalizing options. The Vermont Cheese Fondue (made with a plethora of local cheeses – West River Creamery amongst them) is paired with house-made sausages, Red Hen bread slices, pickled radishes and pickles, and is the perfect ice-breaker or bonding experience for your gastro/social evening.
3. Venison Chili
As you might have heard once or twice on the news or your friend's Facebook posts, it has been slightly chilly of late (understatement of 2014 perhaps?). This hearty chili made with venison from Hollandeer Farm in Southern Vermont is the perfect answer to those winter chills. Served with warm, buttery corn bread, queso fresco, and micro cilantro, we think that this dish just might have what it takes to start your full body thaw.
4. Mount Desert Island mussels
Mussels are a staple on many restaurant's menus – however, there is something special about the way they do it at Juniper. First off, the size of the mussels themselves are particularly impressive, especially considering the landlocked nature of the state of Vermont. Pair their exceptional size with the perfect combination of onion, saffron, and grilled crostini, and you're starting to understand where we're coming from. Oh yeah, and did we mention that there is absinthe added to the mix? Like we said, these guys are special and we guarantee you'll love 'em!
5. Goat Cheese Gnocchi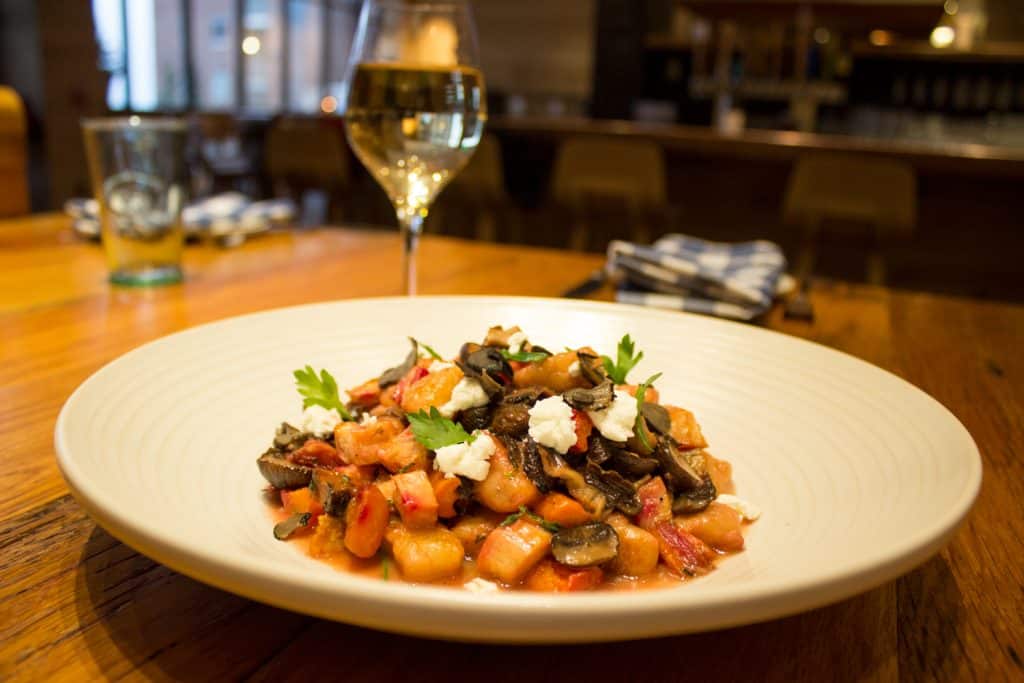 Gnocchi. While there may be some rumblings surrounding the pronunciation (gn-OH-cchi vs. gn-AH-cchi) there is one thing that most can agree upon – they are delicious. Light (when done correctly) but sizable, fluffy and delicate yet supremely substantial, gnocchi seem to be a contradiction at odds with itself in description, but that all disappears the moment they melt in your mouth. With many variations on core ingredients, we are partial to Juniper's version of goat cheese gnocchi. Mixed with roasted roots, mushroom ragout, black truffle, and mead buerre blanc, these are some of the best that we have ever had.—
Juniper Bar and Restaurant is located inside Hotel Vermont at 41 Cherry Street in Burlington Vermont. Serving dinner seven days a week from 5PM-10PM and breakfast from 6am-10am Monday-Friday and 7am-11am on weekends – Juniper is a premier restaurant in Burlington, the state as a whole, and a must visit attraction for any serious food lover. In addition to their great Dinner and Breakfast menus, the also offer a full bar with an amazingly creative drink list and live music from local and touring musicians. Juniper is truly something special, be sure to check it out for yourself.
We all know that Vermont maple syrup tastes good, but did you know that maple syrup is also good for you? Maple Syrup contains a large amount of natural minerals such as magnesium, potassium, manganese, and calcium. It's also a natural source of beneficial antioxidants, just like bananas and broccoli.
Antioxidants are known to lower blood pressure, help prevent cancer, support the immune system, and slow the effects of aging. It's also a better source of some nutrients than those found in apples, bread, or eggs. Not only does it have healthy glycemic qualities, it also contains one of lowest calorie levels and is more nutritious than all other common sweeteners.
Native American people were the first to discover 100% pure maple syrup as a source of energy and nutrition, which is one reason it's considered the original natural sweetener. Researchers have since been documenting that maple syrup has a higher nutritional value than all other common sweeteners. Researchers have also found that pure maple syrup contains numerous phenolic compounds, which are commonly found in plants, and in several agricultural products such as red wine, blueberries, tea, and flax-seed.
---
Of course, there's nothing like pure Vermont maple syrup when sugaring season is in full swing. Plan a trip to Vermont for these two great events:
Maple Open House Weekend (March 21-22, 2020): Vermont's sugar makers will open the doors to their sugarhouses, inviting visitors to experience and enjoy this remarkable time of year when pure Vermont maple syrup is made. Whether it's the sight of steam rising from the sugarhouse, the inviting aroma of boiling sap, or the sweetly divine flavor of syrup as enjoyed in traditional sugar-on-snow, visitors are treated to an experience for the senses!
Vermont Maple Festival (April 24-26, 2020): A celebration of Vermont's first agricultural crop of the year: Maple Syrup. The three-day event is held annually in St. Albans Vermont. Come explore Spring in Vermont and the many Maple Exhibits and food demonstrations, Parade, live entertainment for the family, an Antique Show, Craft & Specialty Food Show and so much more.
For more information on these events and to find more fun things to do in Vermont, visit the Vermont.com Calendar of Events.
---
Now that you know maple syrup is good for you, go ahead and satisfy your sweet tooth! Here are a couple recipes to try:
updated: 03/02/20
originally published: 03/16/16
On a recent Saturday night we wanted a spot for a congratulatory dinner for my daughter who had just landed a wonderful job.  A golfing buddy of my husband's recommended Peter Havens in Brattleboro, so we thought we'd give it a try.
As many times as we had driven down Elliott Street, we had paid little notice to the restaurant possibly due to the large number of restaurants in town.  Perhaps if we'd been locals we would have known all along what a wonderful find was hidden behind the door.  (After all, Peter Havens has been a fixture on Elliott Street for over 20 years.)
The restaurant itself is small and intimate with only ten tables plus bar seating. (Luckily we'd called for reservations! Had we not, we probably would not have been able to get a table as the place remained busy the entire time we were there.) Décor is simple, lighting subdued and restful. Service was typically Vermont – knowledgeable and very friendly.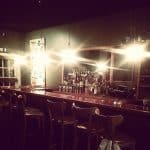 We began with cocktails from the rather exceptional cocktail menu. Each unique drink was described by listing ingredients.  Selection was difficult as they all sounded so interesting.  I opted for the French 77 which included gin, fresh lemon, St. Germain and Prosecco. It was served extremely cold in a tall flute with a curl of lemon rind.  My daughter chose the El Borracho made from tequila, mango, pomegranate, agave and lime.  It arrived all pink and icy in a cocktail glass.  My husband selected from the interesting choice of beers.
Just as we had trouble choosing which cocktail to order, the menu created even greater problems. Everything sounding wonderful.  We ended up ordering two appetizers to share: the softshell crab and smoked trout.  We were impressed to find that the restaurant smokes their own trout. Both dishes were so good we somewhat regretted not ordering a third appetizer.
For my entrée there was no doubt.  I ordered the pan roasted duck breast.  I always order duck if it is an option.  This duck was served with "French green lentils, haricots vert and sauce bigarade." It was delicious and right at the top of the list of best duck I've ever eaten.
My daughter will always order gnocchi if it is on the menu.  And it was ("house made potato gnocchi, cherry tomatoes, local ramps and shaved parmesan"), so she ordered it. And enjoyed every bite.  My husband was enticed by the "brie stuffed roasted chicken, fingerling potatoes, fresh arugula, enoki mushrooms, and honey butter."  Also a big hit.
What do you do when you've had a wonderful meal and eaten every bite? Why, order dessert, of course. Even though it was pushing the limits, we ordered the warm apple tart, the vanilla bean crème brulee, and the coconut-maple panna cotta and shared among ourselves.
While walking back to our car, we agreed that Peter Havens would be added to our list of favorite dining establishments.  In fact, we are looking for an excuse to visit again soon.  After all, there are still plenty of menu items remaining to be tried.
For more information:
Peter Havens
Vermont has a strong farming tradition that continues today.  The majority of Vermont's farms are family-owned and operated, many of which have been passed down through generations. Dairy is the top agricultural product in Vermont, but chickens, eggs, meat and hay are also significant.  Vermonters have a huge respect for the land… after all, it's the land that has supported their families since before Vermont was a state.
Life in Vermont didn't change much over generations until the building of the interstate. With that came growth, an influx of visitors, and new challenges. Vermonters relied on their traditional common sense and New England determination to find a way to make economic and environmental interests coincide.  Within the farming community, adoption of practices to preserve the land, produce high-quality products, and continue the traditions of their forbearers was a natural. It's not unusual to find organic farms and animal products raised without antibiotics predominating the farm culture.
At the same time, a movement among chefs was taking hold to use only the freshest, natural ingredients in their cooking. The Vermont Fresh Network (VFN) was established as a non-profit in 1996 to help farmers and chefs build relationships beneficial to each. Their website claims, "The Vermont Fresh Network is dedicated to a flourishing local food system for the benefit of our environment, our communities, our health, and overall strength of the rural economy." Through events, education programs, newsletters, and associated website, DigInVT.com (for agricultural and culinary tourism), VFN continues to expand their network to the benefit of chefs, farmers, food artisans, and diners throughout the state. These relationships have helped Vermont restaurants and chefs wholeheartedly adopt the locavore movement by purchasing directly from local farmers, cheese makers, wineries, breweries, and so on.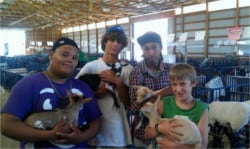 DigInVT.com offers a number of ways for consumers to find out more about farming traditions in Vermont. Attend an event and talk to the food producer. Visit a farm – a list of participating farms is included on the website. Make it a day trip or book a stay and help with the chores. There is also a section called "Explore a Trail" with themed adventures for visitors to pursue.  For example, The Vermont Cheese Trail or the Vermont Brewery Challenge. By exploring Vermont farm traditions as a visitor the loop is closed -- from farm to chef to diner and farm tourist and back to farm.
For more information on Vermont including suggestions on where to stay and where to eat, consult Vermont.com.
For more information:
Vermont Fresh Network (VFN)
DigInVT.com
You may already know about the large number of craft breweries in Vermont and how these products are an extension of the farm-to-table movement in this rural state. However, did you know there is also a growing Vermont distilled spirits industry making headlines and winning awards? The number of these distilleries has grown so much that in 2011 the Distilled Spirits Council of Vermont was established to support the distillers and promote the industry locally and statewide. Many of these distilleries have tasting rooms where you can sample their unique offerings. Additionally, distilled products are often available at farmers' markets and special events around the state. Here is just a sampling of some of the many selections unique to Vermont.
Vermont Spirits in Quechee. VT offers spirits made from local ingredients such as maple, whey, and apples. Vermont Gold Vodka is the first of its kind distilled from maple. Their No. 14 Bourbon is the perfect marriage of five year old bourbon with pure Vermont maple syrup. Open year-round for tastings, this is a distillery worth the visit.
Vermont Distillers in Marlboro, VT produces unique liqueurs using the finest local ingredients. Try their Metcalfe's Vermont Maple Cream or Metcalfe's Raspberry Liqueur.
Smugglers' Notch Distillery has tasting rooms in Jeffersonville, Waterbury Center, and Burlington. They specialize in small batch spirits using only the finest locally grown raw materials and pure Vermont spring water. The latest release from the distillery is a Gluten Free Organic Vodka with $1 from each bottle sale going towards cancer research.
SILO Distillery in Windsor, VT prides itself on producing artisan spirits from locally sourced ingredients. They state, "Vermont is a place where the land supplies a bounty rich in flavor and character, and we like to believe we reflect that essence in our spirits." Visit their tasting room to sample their vodkas, gins, and whiskeys.
Saxtons River Distillery in Brattleboro, VT combines founder Christian Stromberg's appreciation for Vermont's maple syrup and a family tradition of crafting fine liqueurs in producing uniquely delicious products. For example, Sapling Vermont Maple Liqueur utilizes the finest quality Vermont Grade A maple syrup and refined ultra-pure spirits to bring the taste of Vermont to life. Visit their tasting room to sample this or any of their other uniquely crafted spirits.
Apples and Vermont are almost as common an association as maple and Vermont. And, Boydon Valley Winery & Spirits in Cambridge, VT embraces the apple to produce some award-winning apple liqueurs. By combining their Vermont apple brandy, cream and maple syrup they create their amazing Vermont Ice Maple Cream Liqueur. Visit the tasting room to sample the wines and liqueurs produced on the family farm to learn more.
Intrigued? These are just a few of the almost 20 distilleries throughout the state. Visit the Distilled Spirits Council of Vermont for a listing of all members. When planning your trip to Vermont, don't forget to check Vermont.com's lodging suggestions for the ideal place to stay.
Many visitors come to Vermont for the winter snow sports. And then there is the fall foliage season with tourists arriving in droves. In the last few years, visitors have been drawn to Vermont for a very different reason…beer! That's right, beer tourism has become big business because Vermont's craft brews have become famous. (For example, RateBeer named Hill Farmstead Brewery of Greensboro, VT the number one brewery in the world in 2015!) The Vermont Brewers Association reports that Vermont craft beer totaled $378.2 million in overall economic impact in 2017 with $126.7 million direct to tourism. In addition, Vermont has the highest number of breweries per capita of any state.
How did this phenomena come about? A number of those in the know credit Greg Noonan as the person who began the movement in Vermont. He not only founded The Vermont Pub & Brewery in Burlington, he wrote the go-to guide, Brewing Lager Beer, in 1984. Many successful brewmasters today learned the essentials under the direction of Noonan. In addition, the locavore food movement as well as the consumers' wish for high-end artisanal products helped boost small craft breweries popularity. Just as with the locavore cuisine, Vermont brewers experiment with local ingredients to craft unique and exceptional beers.
This extreme variety has helped establish the basis of the brew tour. Whether walking from brewery to brewery in Burlington, or travelling by car across the state, no two brews will be the same. At some breweries, you will need to wait in line in order to purchase the product since demand often outpaces supply. The beer connoisseur does not want to be compared to the wine snob, but he is just as appreciative of a fine product and just as motivated to explore endlessly. Vermont has become the Napa Valley of beer.
In addition to Vermont brewery tours (some self-guided, some available complete with designated driver), the many brewers' festivals offer an opportunity to taste samples from multiple producers. One of the largest, the Vermont Brewers Festival, is held on the waterfront of Lake Champlain in Burlington in July. October brings a number of Oktoberfest celebrations (and participation by multiple brewers) to areas throughout the state including this October in Bennington, Trapp Family Lodge in Stowe, and Mount Snow in West Dover. (See our Fall Festivals page for additional information.)
Once you've figured out which breweries you'd like to visit, find the perfect place to stay by consulting Vermont.com's lodging pages. We look forward to seeing you soon!
Most people think of Vermont as a state with a large number of dairy farms.  That's true.  And, as a result, Vermont is also home to the highest number of cheesemakers per capita in the USA!  Cheddar cheese, for which Vermont is most famous, was made as early as the 11th century in Cheddar, England.  When the English came to the New World, they brought the skill of cheddar making with them.  Traditionally, these cheeses were made on local farms by the farmer's wife from their own cow's milk.  However, in 1851, the Williams family set up the first cheddar "factory" in upstate New York and cheese making began to change.  Gordon Edgar, author of Cheddar, in an interview with The Splendid Table, explains, "It turned cheddar from a farm product into a factory product. It really began this road for cheddar being made in more and more efficient ways and with a lot less flavor further down the line."  Cheese making standardized and consolidated over the years.  However, in the last four decades, cheese making began a comeback.  A cheese making Renaissance is taking place all over, but especially in Vermont where there are still farms and fields and the desire to make a finely crafted product.
The story of beer in America is a similar one.  In the 17th and 18th centuries, most beer was brewed at home.  The first brewery opened in the USA in 1612 in New Amsterdam (now Manhattan), but the modern era of brewing didn't take place until the 19th century.  In 1873 there were 4,131 breweries in the country.  Then came Prohibition. With the end of Prohibition in 1933, breweries once again began making beer.  However, the biggest companies used production efficiencies and marketing to succeed over the smaller breweries.  By 1983, the total number of breweries had shrunk to 80 run by only 51 companies.  In addition, all the product was very similar.  British beer writer, Michael Jackson, observed, "They are pale lager beers vaguely of the pilsner style but lighter in body, notably lacking hop character, and generally bland in palate. They do not all taste exactly the same but the differences between them are often of minor consequence."
Whether it was the influence of California cuisine and the rise in local wineries or an outgrowth from homebrewers looking for beer with more flavor, the growth of microbreweries began to explode in the late '90s. Phil Markowski, brewmaster at Southampton Public House, adds, "I have no doubt that America is the best place to be a brewer because we don't have the burden of having to carry on a long brewing tradition. We have more freedom to be creative and can gather influences from all over."  Vermont is home to over 50 craft breweries with more opening all the time.  Most of these breweries don't distribute nationwide.  Some don't even distribute statewide.  So, you have to visit to try their unique products.
So, Vermont cheese and beer - handcrafted, unique, and often only available locally.  For these reasons, include a visit to a cheese-making operation or a craft brewery as part of your Vermont itinerary.
For more information:
Vermont Cheese Council 
10th Annual Vermont Cheesemakers Festival
August 12, 2018
Shelburne, VT
For more information:
Vermont Brewers Association
Vermont Brewers Festival
March 24, 2018
Killington, VT
Take a Guided Brewery Tour:
Vermontology Guided Tours
Burlington Brew Tours
When we first visited The Copper Grouse in the Taconic Hotel in Manchester last fall, we vowed to return. And, last Friday night, we fulfilled that promise. The first thing we noticed was that the restaurant (indeed, the entire hotel) was exceptionally busy as it was the end of school vacation week. The atmosphere was festive and folks were clearly enjoying themselves.  There were also many more children in attendance than we'd seen during the fall, but they were well behaved and merely added to the party mood. We had luckily called a week in advance for reservations and were seated immediately.
The night was bitter cold, but the restaurant was warm and cozy.  I nevertheless found myself hoping they had a rich, warming soup to start my meal.  I was thrilled to order the Cheddar Ale Soup which met all my expectations and more. Thick and rich with chunks of delicious Portuguese linguica.  It was such a perfect choice for the weather that my husband followed suit.
The Copper Grouse has a fairly limited menu which is not a problem at all.  Everything sounds so delicious that making a choice is the hard part. My husband was very tempted to order the Grilled Chicken Breast with truffle madeira sauce which he'd enjoyed immensely on the previous visit.  I convinced him he should really try something new and he ordered the Beef Tenderloin instead. Even though not a fan of chevre, he ate every bite of the Vermont chevre potatoes as well as everything else on the plate. I then broke my own rule and ordered the same thing I'd eaten on my last visit – the Pan Seared Arctic Char.  It was just too good to pass up. And, just light enough to leave room for dessert.
A co-worker who had dined at the restaurant a few nights previously had recommended the Brown Sugar Molasses Cheesecake with poached peaches.  We both opted for that and it was the perfect ending to a perfect meal.
It's worth mentioning that even though the restaurant was very busy that night, the service was perfectly paced and flawless. The perfect complement to a perfect meal. As always, when we finished we asked the question, "Was it worth coming again?" Both my husband I answered with a resounding "Yes!"
More information:
The Copper Grouse
The Maple Kitchen located at Holiday Inn Club Vacations Mount Ascutney Resort in Brownsville, Vermont, offers up local, farm-to-table dining across the entire menu.  Taste the Vermont flavor infused into appetizers such as Maple Spiced Popcorn or Candied Bacon (a crowd favorite).  The local theme continues with entrees such as Smoked Maple Plank Salmon and Cider Glazed Maplewood Smoked Ribs. Desserts, too, offer a taste of Vermont with choices like Fried Dough with a bourbon maple cream dipping sauce and Blueberry-Apple Crumble made with local fruit (in season) and served warm with vanilla ice cream. As a rule, berries, fruit and vegetables are purchased from local growers whenever possible, making for fresh, flavorful, garden-ripened selections.  Meats and cheeses are procured from the nearby Green Mountain Smokehouse.  The restaurant also offers a rotating selection of Vermont-brewed craft beers and many of the spirits are from local distillers.
With the careful selection of local ingredients, it is no wonder that The Maple Kitchen is superior to many hotel restaurants.  Visitors are often surprised that instead of getting a simple meal, the restaurant provides a true dining experience. Chef Hafid Rkiki utilizes his passion for fresh ingredients and extensive culinary experience to elevate The Maple Kitchen dishes to big-city levels. Don't be surprised if he visits your table while you are dining just to make sure you are enjoying your meal.
The Maple Kitchen at the Holiday Inn Club Vacations Mount Ascutney Resort is open to the public Thursday through Monday from 5 to 9 PM. With a minimum two-night stay, hotel guests receive a $25 resort credit for The Maple Kitchen for each night of their stay (Call 866-591-0448 and mention promo code IKREC).  On Mondays, locals receive 10% off at the restaurant. If you are in the Mount Ascutney area, plan a stop at The Maple Kitchen. You won't be disappointed.
A new restaurant is making a big impression in Burlington, Vermont. The Great Northern is the inspiration of husband and wife team, Frank Pace and Marnie Long, and business partners from the nearby Zero Gravity Craft Brewery.  The décor certainly evokes the name with soaring ceilings, plenty of wood, and a stone fireplace. Pace, the restaurant's chef, carries the "Northern" theme into the dinner menu with some dishes hinting of Scandinavia (as in salmon tartare).  Others, however, show Asian notes like the Scallop and Uni from the raw bar or grilled octopus. Much of the menu pays homage to good old Vermont (and New England) dishes with a modern twist.  For example, Vermont Quail with cabbage slaw, honey and peanut vinaigrette or Roasted Chicken with local squash, roasted tomatoes, baby fennel, foraged mushrooms, and mustard jus. Vegetarian and vegan dishes are also available.
The restored 19th century bar, carted to Vermont from Seattle, is the backdrop to an excellent drink menu including many local draft beers, interesting cocktails (some featuring Vermont spirits), and domestic and imported wines.
The restaurant is open Monday through Saturday for breakfast through dinner and offers brunch on Sunday.
For more information:
The Great Northern
OK, I'll admit it, I'm a bit of a procrastinator.  The Kimpton Taconic Hotel in Manchester Village has been open well over 18 months, and though I had been to a number of meetings/conferences there, I had never gone to  the onsite restaurant, The Copper Grouse.
My husband and I decided, rather spur of the moment, to head to Taconic for dinner on a recent weeknight.  I was already familiar with the decor, which I love, kind of "Vermont chic," comfortable without being too casual,  lodge-like, without dripping in testosterone. The mounted " animal heads"  are actually works of art, not taxidermy. The lobby and restaurant are filled with wood, leather, and stone fireplaces, softened with furniture upholstered in earth color fabrics.
As a mostly vegetarian, I checked out the menu ahead of time and noted that there was going to be more than enough for me to choose from with a minimal amount of my usual, "I'll take this without that," reconfiguration of the menu, which I'm often forced to do.
My husband called to make a reservation so that we could go after I picked up my daughter from rehearsal.  We live embarrassingly close to Taconic (I pass it at least 4 time s a day taking my kids to/from school), so within 15 minutes of getting home, which added another two trips past Taconic for that day, we were being greeted by Emily, the hostess, and John, the manager of The Copper Grouse.  We chatted a bit  about "being a Vermonter" since both are relative newcomers to Vermont. We have lived in Vermont over 26 years, and even though two of our three children were born  here, we're  still not sure if THEY are considered Vermonters. Anyway, Emily, showed  us to a "cozy table for two" and I immediately moved my chair closer to my husband. He thought I was being romantic, but then followed my gaze thru the window and realized I wanted a view of the outside fire pit. What can I say?  Thirty years is a long time to be with someone and fire pits are rather mesmerizing. Janet, our server arrived rather quickly and took our drink order.  Almost immediately, we were served a basket of warm Earth, Sky, Time farmers' bread  with butter.  Earth Sky Time bread is well loved by locals - fresh, crusty on the outside, tender on the inside , grainy, wholesome - the way bread should be.
The dinner menu was not extensive, but did have quite a variety of options, more than enough to satisfy most diners. As a "mostly" vegetarian, I actually eliminated some items based on preference, which doesn't often happen for me.  (I rarely choose, just find something I can work with or around.)  Janet told us the specials and indicated that the Mustard Seed Crusted Atlantic Cod was going to be replaced with salmon that evening.  Here's where my " mostly" vegetarianism comes in.  I do eat Caesar salad on a regular basis knowing  that the dressing is made with anchovies, and  about once  or twice a year, I eat salmon.  The  menu said the cod, now salmon, was served with  a "roasted acorn squash puree, vegetable hash. honey cream"  - so I  did not ask whether or not, the Butternut Bisque or Tomato Red Pepper Soup on the menu were vegetarian. (They are, by the way.) I decided I'd order the salmon dish, eat a few bites, concentrate on the vegetables and bring the rest of the salmon home for my husband to have the next day.  I ended up ordering  the Caesar Salad and the Mustard Seed Crusted SALMON.  My husband, a true omnivore, ordered the Beet Hummus - served with warm pita triangles and heirloom carrots, for us to share, Pan Seared Scallops, and, with a suggestion from Janet, the  Tea Crusted Pork Tenderloin.
 Truthfully, we were in heaven.  The  decor was relaxing, the food was excellent, and the servings generous.  The Caesar Salad was served well chilled with grilled bread instead croutons and was generous enough that I packed up half of it to take home to my son, for whom Caesar Salad is just about the only vegetable dish he will eat (and yes, he is also a vegetarian - an extremely picky one).  The beet hummus was tasty and a beautiful color - packed up half of it to share with our daughter - a rather adventurous vegetarian.  My husband loved his scallops served over sunchoke puree, watercress cream, fried beet chips, crispy sage. Honestly, by the time our "big plates" arrived, I wasn't sure I would eat much more - then came my salmon.  As I had planned, I concentrated on the vegetables.  Let me just say, one taste of the roasted acorn squash puree and the two words that competed in my brain were  "ambrosia" and "manna."  Perhaps I need to expand my vocabulary of religious terms for food to give you a better sense of just how good it was. I decided mid-way thru the pleasure to give the salmon a taste, just to be polite.  It was as good as the rest of the dish.  Unbelievably tender, it just melted in my mouth and the taste - divine.  My husband gave a taste, and agreed.  Alas, none of it came home for him to enjoy the next day.  His Tea Crusted Pork Tenderloin was just as satisfying, beautifully plated, and the creativity and presentation turned a choice piece of tenderloin into a memorable occasion.
By the time it came for desert, neither of us really needed it. I chose the Salted Caramel Brownie - knowing my kids would love it if I could not finish it.  It consisted of an intensely chocolaty flourless  brownie with a hint of coffee (I discovered later coffee grounds are added to lend it the subtle coffee flavor.)  served with a generous scoop of caramel ice-cream and a drizzle of caramel. I feared it might be too sweet, but it was delightful.  My husband chose the Apple Tart Tartin with vanilla ice cream.  It is made with a smoked maple syrup lending it a distinctive smoky finish. Along with dessert, he chose a lovely glass of port, that was so smooth, even I as a non-drinker could appreciate it. He had already chosen a Baileys on the Rocks and a Riesling from the bar menu to accompany his meal, both of which he enjoyed.
All in all, a very satisfying meal and evening.  I was already planning what I would try on a return trip, when I learned that the menu changes seasonally, so next month, the menu is likely to be different. I can imagine what delight might happen with Spring vegetables!  I will definitely not procrastinate when it  comes to planning a repeat visit.
The Copper Grouse  is located within the Kimpton Taconic Hotel - 3835 Main Street, Manchester, VT 05254 (802) 362-0176
Open 7 days a week for Breakfast, Lunch, and Dinner with Brunch served on Saturday & Sunday.
For over 20 years, Gringo Jack's Southwestern Bar & Grill has been delighting locals and visitors alike with the bold, authentic flavors of Mexico and the Southwest.  Located in Manchester,   Vermont, Gringo Jack's has maintained its popularity over the years because the ingredients are fresh, the food is made from scratch, and the flavors are just plain delicious.  Add to that an extraordinary atmosphere and friendly service and you have a recipe for long-term success. Throw in half price margaritas and sangria on Thursdays and you have a runaway hit.
If you are visiting the Manchester area this fall to take in the foliage, some of the local fall festivals, or even just the Manchester Designer Outlets, make a point to stop at Gringo Jack's - open for lunch and dinner every day.  If you like the food (and who wouldn't?), you can purchase Gringo Jack's chips, salsa, and BBQ sauces to take home.
For things to do in the Manchester area, check out the Vermont.com Fall Festivals page.  You'll find traditional fairs, harvest festivals, art festivals, Octoberfest celebrations, and more.  For even more suggestions of things to do in the area, see the Vermont.com Calendar of Events.
More information:
Gringo Jack's Southwestern Bar & Grill
Fall Festivals
If fall finds you in southern Vermont and you need a chance to relax and refuel, check out the Raven's Den Steakhouse and Taproom in Manchester, Vermont.  The restaurant is the culmination of years of award-winning cooking for Chef/Owner Edward St. Onge.  He and his team not only prepare the inn's famous Black Angus steaks, but also offer seafood, poultry, and smoked pork ribs as well as gluten-free and vegetarian meals.  In addition, the restaurant offers a Wine Spectator Award wine list, extensive craft beer selections, and savory craft cocktails.  You can choose to eat in the newly-remodeled dining room, the more casual, fireplaced den, or, weather permitting, on the outdoor patio with a view to the beautiful Green Mountains. The Raven's Den is open for lunch and dinner, seven days a week.
For things to do in the Manchester area, check out the Vermont.com Fall Festivals page.  You'll find traditional fairs, harvest festivals, art festivals, Octoberfest celebrations, and more.  For even more suggestions of things to do, see the Vermont.com Calendar of Events.
More information:
Raven's Den Steakhouse and Taproom
Fall Festivals
Publick houses have traditionally offered hospitality, food, and drink to travelers and locals alike.  The Burke Publick House is that and more.  Located in the heart of the Northeast Kingdom in East Burke, Vermont, the Burke Publick House bills itself as "a mountain gastropub."  Inspired by his passion for craft beer, owner Curt Cuccia had a vision for a great gastropub in his community. (Cuccia is also the owner of Covered Bridge Craft Brewery.) From this vision, the Burke Publick House was born.  Chef Kyle Phillips, also a native of the Northeast Kingdom, is as at home on a snowboard as he is in the kitchen.  His food is honest, utilizes local ingredients whenever possible, and is hearty enough to stand up to the many beer and craft cocktail selections available.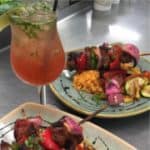 The Burke Publick House is the perfect stop to rest and refuel when visiting the Northeast Kingdom this fall.  Whether you are hiking, biking, just enjoying the fall foliage, or taking in some of the local fall festivals in the area, drop by the Burke Publick House for old-fashioned hospitality plus excellent food and drink. Open Tuesday through Sunday for dinner, Saturday and Sunday for lunch, and the bar is open late on Friday and Saturday.
For more information on fall festivals in the Northeast Kingdom, check the Vermont.com Fall Festivals  page or the Calendar of Events.
More information:
Burke Publick House
Fall Festivals
The Fire Tower Restaurant and Tavern located in the Village of Stratton Mountain Resort is named after the fire tower that sits at the summit of Stratton Mountain.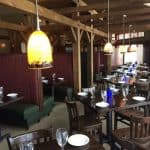 Looking to venture out for dinner?  The Fire Tower Restaurant and Tavern is one of the best restaurants in the Manchester  area and is just a short drive up the mountain. Once there you will enjoy eclectic comfort fare in your choice of the dining room or the Porcupine Lounge.  The rustic bar is designed for guests to relax with a Vermont local beer.  Zero Gravity Conehead IPA, Harpoon UFO White, Citizen's Cider, Long Trail Ale, Lost Nation, and  Queen City Porter were recent choices.  Or, try a hand crafted cocktail served  by great bartenders.  Bacon Old Fashioned?  Yes, please!
The creative cuisine has something for everyone.  Start off with the "Famous" Ahi Nachos
with tuna tartare, crispy wantons, pickled onions and a wasabi aioli or try the Duck Soup made with pekin tenderloin, black rice, button mushroom, lemongrass broth, crispy cracklins.  For dinner you can choose from an extensive menu, everything from flatbread pizza to Max's Seared Venison served medium rare, spice rubbed, along with a wild mushroom-shallot risotto, and a chasseur demi-glace. The younger set will be happy to find their favorites:   burger & fries, chicken tenders, pig in blanket, mac n cheese, and pizza. Culinary graduate Chef Max Turner, who also owns The New American Grill in Londonderry, carefully prepares every meal on the menu.  You're likely to find the owner, Peter Micioni there as well, to make sure you leave having the best dining experience possible.
Had a rough day at work and don't feel like cooking? They have a special take out menu. Just pick it up and reheat it in the comfort of your own home.  Call in your order before 3:00 pm and it will be ready when you get there.  Whether you are skiing, riding, hiking or finishing a day on the golf course, The Fire Tower is the perfect place to wind down in a warm and welcoming atmosphere.  Also available for special  events.
For more information or to make reservations on line:
The Fire Tower Restaurant and Tavern
802-297-2000
Winter hours: Monday - Thursday  4pm;  Friday Apres  3pm;  Saturday - Sunday -  11:30 am
Summer hours :   Thursday - Sunday - 4:00 pm - call to confirm hours in between seasons
Vermonters love all things local, so it's no surprise that the Green Mountain State has had a thriving craft beer scene for more than twenty years.
Burlington's Greg Noonan championed brewing legislation that opened the door for breweries and brewpubs in the 1980s. Among beer connoisseurs, he is legendary, and his books on brewing are considered mandatory reading for home- and microbrewers. To this day, Greg Noonan's influence on the industry is felt from coast to coast and craft beer is at an all-time high. Sadly, he passed away in 2009.
In 2011 and 2012, the Brewers Association ranked Vermont as the state with the greatest number of breweries per capita, and as of June 2014, there were 41 operating production breweries and brewpubs in Vermont.
Ingredients make beer. And passion, skill and attention to detail make craft beer. If you're looking for a place to enjoy some great Vermont beer (and some national favorites), here are a few places you should checkout:
---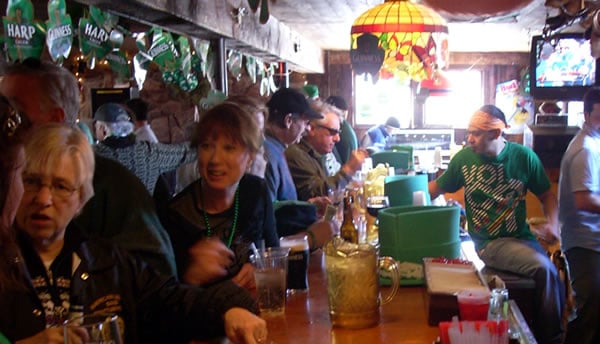 The Red Fox inn is centrally located to three ski areas in Southern Vermont - Stratton, Bromley, and Magic. Also known as the state's #1 seller for Guinness and home to Ma Bean's Apple Pie, the Red Fox has a Tavern that specializes in New England style comfort foods with all the flavor of an authentic Irish pub. The tavern is also known for its commitment to showcasing the best in live music in a wide variety of genres. For over 50 years their tavern has been a gathering spot for countless visitors and locals - we think you should check them out too!
Get your Irish on!
The Tavern at the Red Fox Inn offers weekly specials, and Wednesday night is Irish night! Enjoy 1/2 Price Guinness Drafts and 1/2 Price Fish & Chips (Fresh Haddock, Battered and Cooked to Order) while listening to live traditional Irish music.
Please mention VERMONT.COM when contacting the Red Fox Inn for more information at 802-297-2488.
---

The Inn at Long Trail is a classic Vermont bed & breakfast inn, serving skiers, hikers, and people who love the mountains, since 1938. The Inn is conveniently located on Route 4, about 1/4 mile from Killington's Pico base lodge, making it one of the closest inns to Killington. The Inn is home to McGrath's Irish Pub, the area's first and foremost Irish pub, where everybody is welcome, and live Irish music is held on stage every weekend when open.
McGrath's Irish Pub
McGrath's is said to be the first to sell Guinness on draft in Vermont, and offers the state's largest selection of Irish Whiskies. The pub has 3 real dart boards, a large screen TV for sports, and a delicious pub menu is served daily.
Please mention VERMONT.COM when contacting the Inn at Long Trail for more information at 800-325-2540.
---

At Ri Ra, you'll enjoy beautifully presented traditional Irish food and drink with the most authentic Irish atmosphere this side of the Atlantic. From the warm stone hearth in front of the crackling fire, to the best corn beef and cabbage, Ri Ra is Ireland through and through.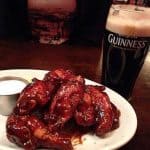 Celebrate at Ri Ra!
With a unique setting and outstanding menu, Ri Ra is the perfect place for your event. Whether you're having a birthday party, bachelorette party, rehearsal dinner, or just looking for a girls night out or after-work party in Burlington, there's no better place than Ri Ra.
Please mention VERMONT.COM when contacting Ri Ra Burlington for more information at 802-860-9401.
---

The Vermont Pub & Brewery is Vermont's oldest craft brewery, and one of the country's first brewpubs. Greg Noonan, together with friend Steve Polewacyk, opened the pub in 1988, after spending three years lobbying the Vermont legislature to legalize brewpubs. With so much history, and so much beer, there's really no excuse to not visit the pub right now!
Strawberry Chocolate Stout
One of the many craft beers created at the Pub, this delicious dessert beer features Madagascar cocoa nibs from Lake Champlain Chocolates along with fresh strawberries! Enjoy this sweet milk stout base with select dessert pairings.
Please mention VERMONT.COM when contacting The Vermont Pub & Brewery for more information at 802-865-0500.
---
Of course, there are many more great Vermont breweries, brewpubs, and taverns throughout the state. Do you have a favorite?
Don't forget, you can find information on Vermont brew festivals and more in the Vermont.com Calendar of Events!
Featured photo credit // Vermont Brewers Association
Leaves changing. Weather getting cooler. Everything seems to be in transition this time of year in Vermont. One thing that remains a constant though is the satisfaction you get after a meal at Stone Soup. You might know we're slightly obsessed with food here at Vermont.com (check out our Burlington Dining Guide for some proof), and we recognize that we probably say this during every season, but we're going to go out on a limb, live in the moment and say; fall food is the best food.
The warm, hearty meals shared with family really seem to represent some of the best that life in Vermont has to offer. Not only are we more often than not dining in full view of this state's spectacular foliage, but we're still able to benefit from the late summer harvest. The vegetables seem more robust, the fruit more appreciated - we love it all. Stone Soup takes things to a whole new level by combining these local ingredients into delicious fall dishes (several of which can be enjoyed all winter long). Here are three of our favorites:
1. Mustard Greens Salad
This is as fresh as it gets. With mustard greens available from local farmers right up until the first frost, it goes from the farmer directly to Stone Soup almost immediately. Topped with orange chipotle dressing, and served with roasted parsnips, butternut squash, carrots, cranberries, toasted almonds, and red onions - amazing!
2. Curried Pumpkin Soup
Made with lemon grass, ginger, leeks, curried spices, sweet spices, coconut milk, and local pumpkins. This dish just screams fall flavors.
3. Brisket
Stone Soup takes LePlatte River Angus Farm beef and braises it with star anise, homemade beef stock, and spicy peppers for more than six hours. The result? An out of this world brisket. Served with Yukon gold mashed potatoes and a side of kale - and made with lots and lots of love.
---
Stone Soup is located at 211 College St. in Burlington and is open Monday - Friday from 7AM - 9PM and Saturday from 9AM - 9PM. In their words "We source, prepare, and present our food as if we are feeding our family and friends every day—because we are. FOOD IS LOVE." We couldn't agree more. To find out more about Stone Soup and other great Burlington restaurants, check out the Burlington Dining Guide. Cheers!
Over the weekend, Dobra Tea opened its doors and welcomed their first customers to a new type of tea shop. Occupying what used to be Mad Hatters Deli, Dobra Tea has blown through their adjoining wall and created a space that is equal parts retail and relaxation.  We were able to speak with Owner Stacy Jolles and learn what the new space will offer and a bit about tea in general.
Vermont.com // Besides perhaps making a glass for my grandmother or my girlfriend if she's sick, I know next to nothing about tea. What exactly is the difference between a bag of tea from the grocery and what we can get here?
Dobra Tea // The biggest difference – our tea is really fresh. Most of what you would be buying in a grocery store is the leftovers of the processing – called the fannings. Our quality is much higher, we have the whole leaf, very carefully processed, not crumbled or smashed and always handpicked. Tea is just like wine – the terroir affects the way the tea tastes, in combination with how it is processed. There are numerous different tea categories; white, yellow, green, black, oolong – all of these are one plant (just like wine is from the grape), just all different varietals, and the way they are grown and processed. We have over 100 types of teas here – all different and unique.
VTC //  What about the way that some bottles of wine have huge price tags? Does that happen with teas as well?
DT // You could go out and get teas that are one-hundred, two-hundred dollars, just like a bottle of wine. But, Dobra is a Czech/Russian word that means good and our mission is to provide as high quality tea as we possibly can, but make it affordable and accessible.
VTC // Tell me about the new space, what are you most excited about?
DT // Before, we had a tea room, bulk loose leaf tea shop, retail tea ware, tea to go, food, music, tea classes, all of this in a tiny little space. Now we can take all of that out of the tea room and leave the peace and quiet and bring our retail over here. The other big gain for us is we get a classroom space. This community really enjoys education and tea is a very complex subject.
VTC // What type of classes will you offer?
DT // Over the weekend we'll be having our first yoga sessions and we will also will continue our tea classes. Recently we went to Hawaii and visited six or seven tea farms. We brought back quite a bit of tea and had a class tasting all the different types, showing a slide show from the travels, and talking about tea processing.
VTC // I see that you've expanded your tea ware selection as well – can you tell us a little about the new offerings?
DT // One of the biggest things for us is that we carry tea from all of the tea drinking lands; China, Japan, Vietnam, Korea, India, etc. and we serve it in the vessel that is appropriate for that country. So when we have a Chinese tea ceremony or a Japanese Tea Ceremony, we have the proper tea ware, served in the process and style that is accustomed. We now offer all of these different types of vessels in our retail area. We also have a lot of local artisan tea ware, from wonderful artists like Laura Baum all on display and for sale.
VTC // And to think, all this time my Grandmother and girlfriend were just being served in a coffee mug. Thank you so much for taking the time – I'm looking forward to coming in for classes and more tea tastings.
--
Dobra Tea's new retail space and classroom is located on the corner of Church and Bank Street and is open for business Sunday – Wednesday from 10AM-10PM and Thursday – Saturday from 10AM-11PM. Stop in, relax, and enjoy - these guys know their tea.
For more info visit  (more…)