Two things converged in my life which allowed me to spend two enjoyable days on the water with 3rd Alarm Charters and Captain Matt Trombley:
1) I decided I needed to get out of the office more and try different things, and
2) I had a conversation with Matt earlier in the year and he suggested I try fishing.
The last time I caught a fish was about 15 years ago when Wanda and Cosmo, my kids' betas, went belly up and I had to "fish" them out of their bowls. Prior to that, it had been sometime... last century. I had spoken to Matt in February, and he suggested touching base after Memorial Day. It took a while to schedule because I had two companions coming with me and had to coordinate their work schedules, Matt's, and my own. It turned out to be early July before we could coordinate everyone.
Matt's full time job involves neither rods nor reels. He works full time for the Burlington, VT Fire Department. His schedule is typically 24 hours on and 48 hours off, which allows him to turn his passion for fishing, into a fun and busy "part-time" job. His "part-time" job, 3rd Alarm Charters, usually has him on the water 100+ times a year. That's a lot of fishing!
GREENIES on Lake Bomoseen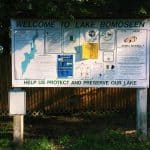 My fishing partners were my 18 year old son BK, who'd never gone fishing in his life, and my daughter's good friend Shea, who liked to fish and had recently gone fishing with her dad (she caught a rainbow trout on Father's Day at Townshend Reservoir). We met Captain Matt at Castleton Health Center on Route 4 around 530pm. Matt had been to Lake St. Catherine the day before, and said the fish weren't biting. One of the upsides of going with someone with plenty of experience on the local waters is knowing when and where to go and NOT to go. Since there was only a port-a-potty at the boat launch, we stopped at a gas station to use the restroom before following Matt, towing his 19ft StarCraft, to Lake Bomoseen.
Matt had told us the only things we needed to bring were sunscreen, bug spray, something to drink, and our Vermont fishing licenses. Buying a fishing license is easy online. Useful tip: look at the options before you buy. I purchased the annual adult in-state licenses, not realizing I could have just purchased a 3-day license. Rates depend on your age, residency, current military status, and term period. Kids under 15 are FREE in Vermont. In addition to paying unnecessarily for a full year, I also printed the licenses out and forgot them on my desk. Matt said that if we had been checked by a game warden, all we'd have to do is show proof of purchase within 48 hours, so we were fine.
It was hot when we met Matt, and in addition to BK and Shea, I was accompanied by a borderline migraine and stiff neck. How was I going to get thru this evening? First of all, hot on land is not necessarily hot on the water. The sun was strong but there was a cool breeze on the water. Secondly, fishing in a drift boat can be quiet. Matt's boat was equipped with a 90 HP motor, that can go 30-40mph. Once we got to our destination though, he switched to a very quiet, electric Minn Kota trolling motor. The motor had a cool feature called "spot lock." Matt could program it to tell the boat where to go, whether staying in the same location, or slowly moving along the river bank. This keeps his hands free to help. When you've got a boat full of "greenies," like us, his help was very much necessary.
As Matt explained, on a hot day, fish look for cools spots, so they either go to deep water, or they find shade along the shore, under trees or decks. Going late in the day as we did, is when the fish are more likely to be biting on a hot day. Matt showed us a couple of different methods. First, we tried a drop shot. You cast out, let the bait drop, then start reeling it in. How long you let it drop depends on the depth of the water.
In addition to the trolling motor with lock spot, Mat had all sorts of cool technology like fish and depth finders, to help out. Matt uses artificial lures almost exclusively, it would be cost prohibitive to use live bait when you are on the water 100+ times a year. Once you've hooked a fish, don't fight it. Let it fight and tire itself out, when it quits fighting, then reel some more. You reel steadily, always keeping the line taut. If the line goes slack, it's easy for a fish to get free of the hook. We had our first fish within 30 minutes.
After trying the deep water, we headed to the river bank, casting among the trees and docks, targeting the fish trying to cool-off in the shade. We used different rods and lures for this method. One of the lures looked like a mouse. Worms and small fish all seemed normal for lures, but a MOUSE! (I had a flash back to the time I had found a dead mouse floating in our hot tub. When I looked down, I noticed the entire bottom of the tub was covered with mouse skeletons. Lessons learned: hot tubs make excellent, though overly large, mouse traps AND, consider draining your hot tub if you are going to be gone for long periods.)
This is a very active kind of surface fishing, and the technique we used around the docks was called "walk the dog." Cast the lure out, leave it a few seconds to drop, then reel it in with a slight jerky fashion so that the lure looks like wounded bait fish (or mouse). We fished late, catching a few more fish. Casting along the bank, you are likely to also cast into trees and docks. Matt explained that when that happens, you let the lure stop swinging, then give one gigantic jerk backwards. Another option, and the one we chose, hand the rod back to Matt. He had a 100% success rate, and he got to demonstrate this technique with us many, many, many times. He has the patience of a monk.
There are many factors that affect your fishing success: time of day, time of year, body of water, moon phase, air and water temperatures. Matt said that avid bass fisherman may use 15 different kinds of rods and bait to adjust to the different conditions. This was a "catch & release" trip, and I was surprised at just how much fun it was to watch the kids concentrating on their casting and reeling and really surprised at how much they enjoyed it.
We didn't get off the water until almost 9pm, and though we offered to help Matt get his boat cleaned up, he said, "No," and insisted that we were there just to have fun. (My guess is what was going to take him about 15 minutes to do himself, probably would have taken 45 minutes with our "help.") It was a very enjoyable and relaxing evening. My headache was gone and probably the most ringing endorsement of the trip, was how excited the kids were to go out again the next day, even though we were going to have to get up at 5am to meet Matt in Vergennes to spend the next outing on Lake Champlain.
Our trip was in the summer, but Matt said that the fish are especially active and hungry in the fall, as the water cools off and they need to prepare for winter.
Matt offers trips in Rutland and Addison Counties as well as float trips on the the Otter Creek from Rutland to Vergennes. Casting trips on Lake Dunmore, Lake St. Catherine, Lake Bomoseen and Lake Hortonia as well as many other smaller lakes and ponds in the Killington and Rutland Region, providing a unique way to have fun while you experience Vermont's beautiful Fall Foliage.
You can find contact information for Captain Matt and 3rd Alarm Charters here. He can even recommend some great inns that offer overnight stays with a discount if you book a charter with him.
Look no further than Smugglers' Notch Resort for something fun to do this summer in Vermont. Here are 10 reasons why:
#10) No Risk Deposit Policy and Family Fun Guarantee
#9) Award-winning child care for infants age 6 weeks - 3 years, age appropriate programs & camps for kids 3-17 years, teen programming, and adaptive programming for kids & adults with special needs.
#8) Vacation Packages to fit your family's needs:
Lodging Only Vacations: For those who just need a place stay while they explore the surrounding area.
Simply Smuggs Packages: The SimplySmuggs Package combines lodging with family activities and entertainment in our beautiful mountain resort village, where you will enjoy pools, waterslides, hot tubs, the FunZone 2.0 Ozone level, guided hikes, walks and a variety of our family activities and entertainment for all ages.
FamilyFest Package: all the fun of the SimplySmuggs package PLUS the kids are supervised in award-winning children's programming so the adults can relax and have their own fun.
Mountain and village lodging: from studio apartments to luxury 4-5 bedroom condos - all come with fully equipped kitchens.
#7) What's Nearby: zipline, kayaking, canoeing, stand-up paddle boarding, farm tours, e-bike tours, winery tours, history walks, Stowe (21 minutes away, and you get to drive thru "the Notch"!), Burlington (52 minutes away), and Montreal (1 hour, 56 minutes away, and you get to practice the French you took in high school - and probably forgot).
#6) 8 heated pools, 4 waterslides, 2 freshwater swimming reservoirs, and 2 hot tubs.
#5) Daily and weekly activities in and around the village from sun up to sundown and beyond: farmers market, Vermont Country Fair, puppet shows, Marko the Magician, karaoke, nature center, scavenger hunts, giant swing, Eurobungy, pirate sing-along, pool side movies, pedal go cart races, arts & crafts, 802 disc dogs, bingo, meditation, yoga, volleyball, gaga ball, swimming, mini-golf, ziplining, FunZone 2.0, life-size games on the village green, segway rides, Zumba, comedy show (adults), dance party, laser tag, dodge ball (teens), sketching, painting, llama treks, fishing, ... and/or my personal plan of (in)action for the first day - take a nap in your condo or poolside and RELAX. (PS: the frozen, fruity adult beverages at the Mountainside Cabana are pretty tasty.)
#4) Breath-taking mountain scenery and magnificent sunsets. Don't forget to drive thru the Notch at least once.
#3) The 4th of July is celebrated all week long.
#2) Stay 3 or more nights and get the next night free, now thru July 15th.
#1) Smugglers' Notch Resort is America's Family Resort - you and your family deserve the BEST!
OK, I'll admit it, I'm a bit of a procrastinator.  The Kimpton Taconic Hotel in Manchester Village has been open well over 18 months, and though I had been to a number of meetings/conferences there, I had never gone to  the onsite restaurant, The Copper Grouse.
My husband and I decided, rather spur of the moment, to head to Taconic for dinner on a recent weeknight.  I was already familiar with the decor, which I love, kind of "Vermont chic," comfortable without being too casual,  lodge-like, without dripping in testosterone. The mounted " animal heads"  are actually works of art, not taxidermy. The lobby and restaurant are filled with wood, leather, and stone fireplaces, softened with furniture upholstered in earth color fabrics.
As a mostly vegetarian, I checked out the menu ahead of time and noted that there was going to be more than enough for me to choose from with a minimal amount of my usual, "I'll take this without that," reconfiguration of the menu, which I'm often forced to do.
My husband called to make a reservation so that we could go after I picked up my daughter from rehearsal.  We live embarrassingly close to Taconic (I pass it at least 4 time s a day taking my kids to/from school), so within 15 minutes of getting home, which added another two trips past Taconic for that day, we were being greeted by Emily, the hostess, and John, the manager of The Copper Grouse.  We chatted a bit  about "being a Vermonter" since both are relative newcomers to Vermont. We have lived in Vermont over 26 years, and even though two of our three children were born  here, we're  still not sure if THEY are considered Vermonters. Anyway, Emily, showed  us to a "cozy table for two" and I immediately moved my chair closer to my husband. He thought I was being romantic, but then followed my gaze thru the window and realized I wanted a view of the outside fire pit. What can I say?  Thirty years is a long time to be with someone and fire pits are rather mesmerizing. Janet, our server arrived rather quickly and took our drink order.  Almost immediately, we were served a basket of warm Earth, Sky, Time farmers' bread  with butter.  Earth Sky Time bread is well loved by locals - fresh, crusty on the outside, tender on the inside , grainy, wholesome - the way bread should be.
The dinner menu was not extensive, but did have quite a variety of options, more than enough to satisfy most diners. As a "mostly" vegetarian, I actually eliminated some items based on preference, which doesn't often happen for me.  (I rarely choose, just find something I can work with or around.)  Janet told us the specials and indicated that the Mustard Seed Crusted Atlantic Cod was going to be replaced with salmon that evening.  Here's where my " mostly" vegetarianism comes in.  I do eat Caesar salad on a regular basis knowing  that the dressing is made with anchovies, and  about once  or twice a year, I eat salmon.  The  menu said the cod, now salmon, was served with  a "roasted acorn squash puree, vegetable hash. honey cream"  - so I  did not ask whether or not, the Butternut Bisque or Tomato Red Pepper Soup on the menu were vegetarian. (They are, by the way.) I decided I'd order the salmon dish, eat a few bites, concentrate on the vegetables and bring the rest of the salmon home for my husband to have the next day.  I ended up ordering  the Caesar Salad and the Mustard Seed Crusted SALMON.  My husband, a true omnivore, ordered the Beet Hummus - served with warm pita triangles and heirloom carrots, for us to share, Pan Seared Scallops, and, with a suggestion from Janet, the  Tea Crusted Pork Tenderloin.
 Truthfully, we were in heaven.  The  decor was relaxing, the food was excellent, and the servings generous.  The Caesar Salad was served well chilled with grilled bread instead croutons and was generous enough that I packed up half of it to take home to my son, for whom Caesar Salad is just about the only vegetable dish he will eat (and yes, he is also a vegetarian - an extremely picky one).  The beet hummus was tasty and a beautiful color - packed up half of it to share with our daughter - a rather adventurous vegetarian.  My husband loved his scallops served over sunchoke puree, watercress cream, fried beet chips, crispy sage. Honestly, by the time our "big plates" arrived, I wasn't sure I would eat much more - then came my salmon.  As I had planned, I concentrated on the vegetables.  Let me just say, one taste of the roasted acorn squash puree and the two words that competed in my brain were  "ambrosia" and "manna."  Perhaps I need to expand my vocabulary of religious terms for food to give you a better sense of just how good it was. I decided mid-way thru the pleasure to give the salmon a taste, just to be polite.  It was as good as the rest of the dish.  Unbelievably tender, it just melted in my mouth and the taste - divine.  My husband gave a taste, and agreed.  Alas, none of it came home for him to enjoy the next day.  His Tea Crusted Pork Tenderloin was just as satisfying, beautifully plated, and the creativity and presentation turned a choice piece of tenderloin into a memorable occasion.
By the time it came for desert, neither of us really needed it. I chose the Salted Caramel Brownie - knowing my kids would love it if I could not finish it.  It consisted of an intensely chocolaty flourless  brownie with a hint of coffee (I discovered later coffee grounds are added to lend it the subtle coffee flavor.)  served with a generous scoop of caramel ice-cream and a drizzle of caramel. I feared it might be too sweet, but it was delightful.  My husband chose the Apple Tart Tartin with vanilla ice cream.  It is made with a smoked maple syrup lending it a distinctive smoky finish. Along with dessert, he chose a lovely glass of port, that was so smooth, even I as a non-drinker could appreciate it. He had already chosen a Baileys on the Rocks and a Riesling from the bar menu to accompany his meal, both of which he enjoyed.
All in all, a very satisfying meal and evening.  I was already planning what I would try on a return trip, when I learned that the menu changes seasonally, so next month, the menu is likely to be different. I can imagine what delight might happen with Spring vegetables!  I will definitely not procrastinate when it  comes to planning a repeat visit.
The Copper Grouse  is located within the Kimpton Taconic Hotel - 3835 Main Street, Manchester, VT 05254 (802) 362-0176
Open 7 days a week for Breakfast, Lunch, and Dinner with Brunch served on Saturday & Sunday.