October 22, 2020
"We've had a spectacular season this year. Much of the state is considered past peak right now, but there are still pockets of color to discover in the southern areas of the state, including the Connecticut River Valley and the Champlain Valley.
Beyond leaf peeping, there are plenty of ways to enjoy Vermont's mountains, meadows and villages. Late October sees the emergence of pumpkin people on street corners, porches, and country lanes. Even during these difficult times of social-distancing, there are plenty of upcoming events (both virtual and in-person), including hayrides, haunted houses, and more.
We're approaching the end of this year's Foliage Season and we might only have one more week of reports here at Vermont.com. Keep checking this page as we continue to gather information from our "Leaf Squad" to report on the foliage conditions throughout the state!
Reports are typically updated weekly, on THURSDAYS.
Between reports, you can find some gorgeous Vermont Fall scenery in our Autumn Photo Gallery, thanks to local photographers and visitors to Vermont. But truly, you've got to be here to fully enjoy the leaves. And remember, it's never too late to plan a fall vacation in Vermont!
-- Vermont.com
---
Foliage color generally starts to change in the higher, cooler areas, spreading down into the valleys, and moving from north to south across the state.
'Peak' colors can be found at many different times & places as the season progresses, and the timing varies from year to year, based on the weather.
Beyond leaf peeping, there are plenty of ways to enjoy Vermont's mountains, meadows and villages during the fall. Discover Vermont Fall Festivals and other fun things to do in Vermont with our Vermont.com Calendar of Events. Don't see your event? Feel free to suggest an event so we can add it to our Calendar.
---
COVID-19 REMINDER
Masks are mandatory in public places effective 8/1/20. #MasksOnVT
If you're planning to attend an event in Vermont, please check directly
with the event to see if it has been rescheduled.
---
FOLIAGE REPORTS FROM AROUND THE STATE


The Vermont.com Foliage Reports are provided thanks to the Vermont Department of Tourism, and by volunteer members of our "Leaf Squad" from around the state. To submit a report for your area, please send it to

[email protected]

, along with a photo of the location you are reporting from, and the date when the photo was taken.

To view past Foliage Reports, visit the Vermont.com Blog.

For more info on current conditions, call Vermont's Seasonal Hotline at (802)828-3239 ... and tell them Vermont.com sent you!

October 14, 2020 in Jeffersonville, VT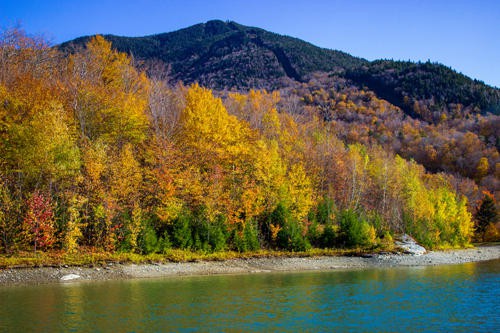 "While by many people's definition, we have now passed 'peak,' the colors are still bright at Smugglers' Notch! High alpine birches have lost their leaves, with the green spruces and firs remaining, but in the lower elevations, many of those birches, poplars, and maples still hold on to their colorful coats of foliage.
This is the last weekend to enjoy the Fox Run Meadows disc golf course, but the Brewster Ridge disc golf course (ranked 8th best in the world) remains open for another week. Fire up those hashtags and catch the remaining color soon! Rumor has it, there's snow in the forecast for the mountaintops for this weekend, making the perfect backdrop for snowliage photos. Fire up those hashtags and catch the remaining color soon!"
-- Mike Chait, PR Director,
Smugglers' Notch Resort
October 21, 2020 in Mendon, VT

"What a beautiful fall it has been! This week we are open for drinks and dinner on Thursday, Friday and Saturday. Call us to guarantee your table. Come by this weekend to enjoy Chef Mike's creative cuisine, custom cocktails, good friends and good times.
Now is the time... foliage season is winding down... starting Sunday, October 25, we are taking a late fall break and will see you in December. Thank you for all your support in this crazy year!"
-- Carol Ryan, Innkeeper,
Red Clover Inn & Restaurant
October 21, 2020 in Manchester, VT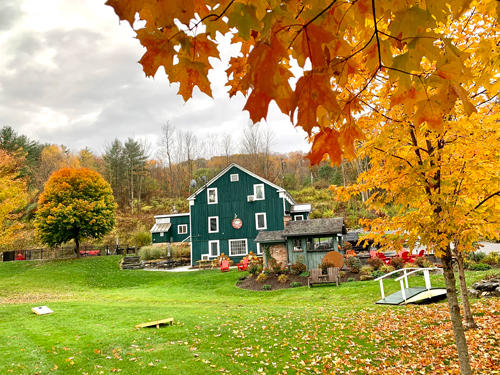 "Well, our micro-resort/boutique inn has finally found peak foliage on our private 2 acre slice of downtown Manchester. Our maple trees are all fiery red and orange with yellow. The grass is growing slower but is a lush green from the much needed rain the last couple of weeks and our corn hole boards are begging the competitive to come try it out. Town and lower elevations still have fantastic color but it's past peak in the surrounding mountain tops.
Some unseasonably warm days again this week call for yet another pop-up pizza night this Friday 10/23 from 4-8pm out of our little, wood-fired brick oven building that you see in this picture just beside our footbridge. 'The best pizza around,' is what we hear every night! Come check it out, enjoy the bold foliage that we have. Plus, the tavern will be serving local beer, wine and spirits, and the fire pits lit.' See you then!"
-- Andrea Conrad, Owner/Manager,
The Barnstead Inn
---
October 21, 2020 in Bondville, VT
"We coined a new term this past weekend -- Snowliage. Exchanging scenic fall colors for a blanket of snow, Southern Vermont's Highest Peak saw about four inches at the summit, according some brave hikers. In the valley we are still hanging on to vivid oranges and reds. Though the snow has melted, driving up the access road plenty of trees remain full dressed in their autumn best.
I suspect days of these warm rides into work are numbered, so too are the days of reporting on the foliage. Perhaps we'll squeak one more in next week.
For information about lodging and travel guidance please visit our website."
-- Luke Robins,
Stratton Mountain Resort
---
October 21, 2020 in Grafton, VT

"Despite the majority of our surroundings being past peak at this point, there are a few late-changing trees that still make a stroll through Grafton village picturesque in these final foliage days. As we say goodbye to foliage season and head into late fall, we're shifting our focus to Thanksgiving dinner at the Inn (available on-site with a reservation or to-go!) as well as safe and enjoyable outdoor activities at the Grafton Trails & Outdoor Center. Stay tuned!"
-- Ali Pierre,
The Grafton Inn
---
October 21, 2020 in Manchester, VT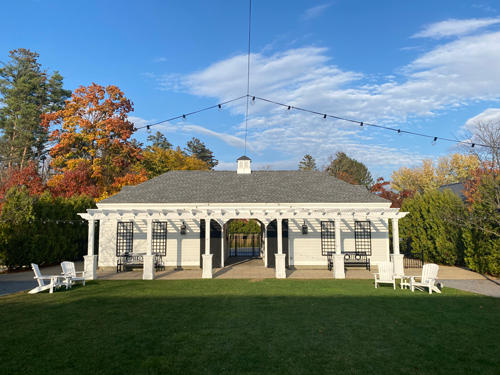 "As the fall season winds down, we are still seeing glimpses of the beautiful foliage here in Southern Vermont. This image was taken at the Kimpton Taconic Hotel and shows the deep shades of red and orange. We encourage you to participate in our Annual Sale where you can find some great hotel deals. But don't delay. The sale will be over as quick as the leaves will be off the trees!"
-- Anastasia Nichols,
Kimpton Taconic Hotel
---
October 20, 2020 in Manchester, VT

"The Golden Hour of the month has arrived, with crisp dark reds, deep oranges, and golden hues that seem to make everything glow. Leaves are falling, and fun for the whole family continues with tours of Hildene, the Lincoln Family home, which has beautiful hill top views for miles around, trails for walking, gardens for perusing, and an observatory! Enjoy the Manchester River Walk, shopping along Main Street, and dining in our heated outdoor cafe's, all a short walk away from us at the Manchester Hampton Inn & Suites. Book your stay today and inquire about Hilton Honors double points and rewards!"
-- Colleen Mullaney,
Hampton Inn & Suites
---
October 19, 2020 in Manchester, VT

"Leaf-peeping crowds have subsided, with the color still going strong. Some leaves have fallen due to the weekend rain, yet there's still so much beauty to behold. As the weather cools, majestic sunrises and sunsets fill the vista surrounding the Manchester View."
-- Robin Green,
The Manchester View
---
To view current Foliage Reports, visit the Vermont.com Foliage Reports page.
To view past Foliage Reports, visit the Vermont.com Blog.